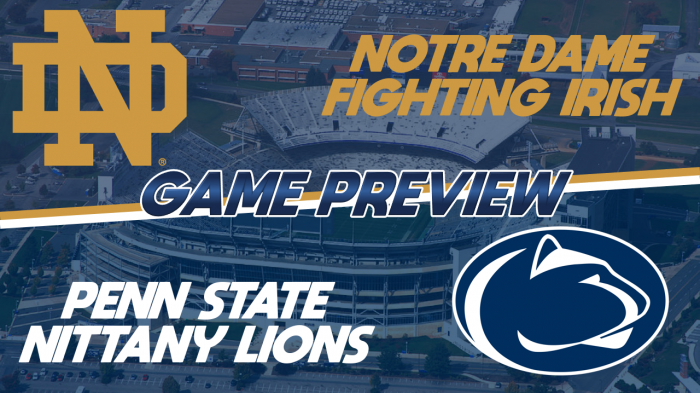 Michigan's upset win over Tennessee shocked the world league and helped the Wolverines claw back up the Big Ten Standings. Both Notre Dame (3-3) and Penn State (2-4) must win this game in order to avoid being tied for last place in the big conference after this mid-season shakeup. Ty White is coming off a game where he threw for nearly 450 yards and three touchdowns. However, White was sacked a whopping five times and the vaunted Oregon defense managed to get two interceptions on the way to their win. Penn State hasn't fared much better as of late. Michigan had their way with the PSU defense to the tune of 511 yards of total offense. Their defense is going to have to improve immensely for a shot at this one. Let's break down this matchup and see if either team can gather some momentum towards the seasons end.
Notre Dame
Offense
This offense needs to find the spark that made them so deadly to start the season immediately. A quick look at the stats reveals that this may be due to the decreased usage of Ty White on the ground. During the current losing streak, White has had 9 carries in both games. His usual average bounces between 12-16 carries with much greater results. This has resulted in modest numbers, albeit quite different than the 5.5 average you would expect from White. It may be a good idea to get him into a rhythm early to see if he can get back into early season form. In other news, Brody Bodine is still catching the ball at an impressive clip on the way to a 15.5 ypc average. Trent Bodine also is flashing some sure hands on the way to 44 catches. Keep your eyes to the skies in this matchup.
Defense
In life, there are a few things that you can count on 100% of the time. Like death and taxes, Tyson Ali being a DPOY candidate is one of these sure things. It's no question that he is a dominant force on the d-line with his 14 TFL 7 sack campaign. Against a streaky Jasper Johnson as the opposing RB, its time to feast. Another name to keep an eye on is Sophomore SS Michael Jerome Pluth. Pluth is coming in hot off a nine tackle game where he laid down the lumber time and time again. Shane Razorback also made his presence known with 3 tackles for loss against a good Oregon backfield. With PSU slumping and their offense not looking like a group of world beaters, ND will give us a strong reminder that their defense is not to be taken lightly.
Penn State
Offense
If you want a single stat to show you how Penn State's offense has been this year, look at Aidric Berry's TD/INT rate. Season One: 14-9. Not bad at all. Season Three: 6-7. Yikes. Six touchdowns and seven interceptions in just six weeks. Not quite the mark you want to have. Still, there is plenty of time to bounce back and return to season one form. As previously mentioned, Jasper Johnson is a bit of a streaky player so far in his early college career. That doesn't mean he isn't a talented back in the slightest. His 6.2 YPC average is extremely impressive over the span of 6 games. If he can keep that going, maybe we will see life return to this battered offense. Look out for a lot of outside runs away from Razorback to get Jasper working throughout the game.
Defense
With all the big names in the PSU secondary, having just two takeaways is a bit disappointing over a six week span. TJ White showed up against Michigan to the tune of 13 tackles and a big sack on Javon Mack. Their big problem was the lack of three-and-outs forced. They couldn't stop Michigan on third down if they had 12 men on the field. This has been a disturbing trend that has to stop if Penn State wants any hope to win this game. Tyler Smith got an interception last game. Lets see if he can force another one against Ty White who just threw two in his last game. Without winning the turnover battle, I don't see this defense slowing down Notre Dame all that much.
What to Watch For
Notre Dame Read Option vs Penn State Defense
The legs in this Notre Dame backfield can run all over you if you let them. Both Ty and Jacob are strong runners who can get the job done in any package. Their read option looks are especially deadly. Penn State is in a tough spot against this dynamic duo. It will be interesting to see if they go with a conservative look and zone up more. Keeping the corners in the flats will help in getting to the backfield a split second quicker as well as taking away those frustrating screen passes. If they choose to play aggressive and overcommit against the option, Notre Dame will burn them all game.
Key Matchup
Notre Dame TE Trent Bodine vs Penn State OLB Devan Davis
It's not often you see a TE as the key player of the game, but Bodine's size and versatility deserves a mention in this matchup. His hands have been soft all year on the way to a 44 catch, 507 yard campaign. On track for the 1000 yard club, Trent will be a tough man to cover for opposing linebackers. Devan Davis, the Junior OLB for Penn State, may be up to the test. 30 tackles for a secondary linebacker is incredibly impressive when you look at the names on this defense. His coverage skills are going to be put to the test when he must man up against the big fella. It's a tough job, but he may be able to disrupt him just enough to make some big plays.
Prediction
Despite their proximity in the standings, Notre Dame is a clear favorite. Penn State still has only won two games by a combined six points against winless teams. Notre Dame has been tested and barely lost to a strong Oregon team last week. I expect Notre Dame to bully this defense every drive down the field on their way to a blowout victory.
Notre Dame 45, Penn State 24