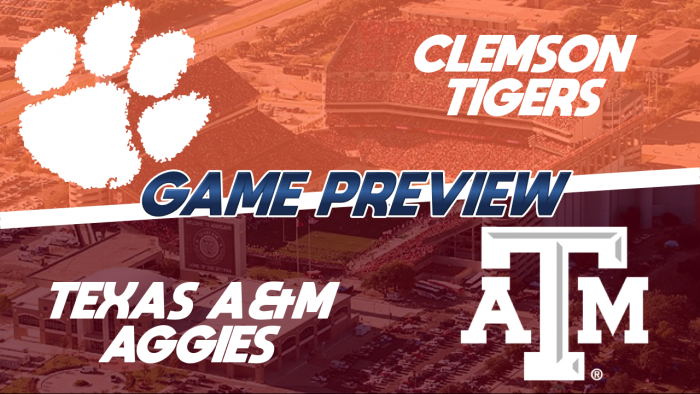 There is still football to be played as we wind down an already exciting week seven. Clemson(5-1) is riding a three game win streak, firmly putting them in the top three. They still have some ground to make up in the conference standings, but this game against Texas A&M (0-6) couldn't be at a better time. With Tennessee and Oregon both losing earlier in the week, the #1 spot is up for grabs with a win. It's not like Texas A&M is just going to lay down and let them have it though. While their postseason hopes are completely broken, beating a top opponent would invigorate a beaten down program more than anything. Lets take a look at some of the developing story lines leading into Saturday's opener.
Clemson
Offense
Clemson has dominated right out of the gate with a balanced attack centered around star QB DJ Moss. Moss is putting up unprecedented rushing numbers that put him second in rushing yards per game. His passing has been efficient despite his turnover problems, but it's really hard to knock a guy that is leading the top offense in the country. The early favorite to win OPOY is going to put up gaudy numbers against a porous A&M defense. Helping him dominate the air is WR Cadillac Chadwick. The four star receiver has put up some great numbers during his freshman campaign, totaling 335 receiving yards so far. His running mate Anthony Robertson III is putting up similar numbers in his own 393 yard season. With these three clicking on offense, A&M can't stop them.
Defense
If you thought that Clemson had a scary offense, you might as well go hide now before I get into the defense. This team gets more pressure on the QB than any other team in the league. This leads to some high turnover numbers and a frustrated opposing offense. Clemson is the only team holding opponents to under 30 points per game. Think about that for a second. In a league where the spread is everywhere and five star freshman running backs are breaking out onto the scene, Clemson is still holding teams under 30. Barry Allen has been everywhere and should be proud of the season he is having. 37 tackles and two picks aren't DPOY numbers, but it might just lead their team to a championship berth. Speaking of DPOY numbers, Mike Miller has those. 13 TFL and 9 sacks make him a prime candidate for the honor.
Texas A&M
Offense
A&M has been really disappointing half way through the season and this offense has to take some of the blame. Scoring just 33 points a game is not going to get it done with all the strong teams in season three. Individually, both Daniel Murphy and Tim Riggins have some pretty solid stats. Murphy is boasting one of the top 4 QB ratings in the league, albeit with less volume than his competition. Riggins still shows as one of the most consistent backs and will have a shot at breaking the 1000 yard mark tonight. The team has to find a way to get in the end zone more and stop losing drives to three and outs. Without a big step up against a top defense, don't expect too many fireworks from this A&M squad.
Defense
For a team with three five star players on defense to be so flimsy is simply befuddling. Drago and Kiper both need to hit the Clemson offense with effective edge rushes, keeping the pressure turned up from snap one. While the team can't get blitz heavy, having a 4 man rush put significant pressure would be a boon for this defense. DJ loves to get out of the pocket and hurt you. Putting both of the ends in containment may help get some extra hits on him even if they don't result in sacks. Billy Kidwell needs to play above his rating and get some stops at the line as well. Secure tackling on the outside could give this team hope at the upset.
What to Watch For
Clemson vs Texas A&M Time of Possession
This is a bit of a lopsided matchup to say the least. What should Texas A&M do to even the odds? Control the clock. Tim Riggins is a top back without question. He may be in line to carry the ball 35+ times tonight in order to keep control of the game. Clemson being so naturally talented on offense could score quick and put their defense right on the field. It may not end up being enough, but grinding through the game could give A&M a glimmer of hope.
Key Matchup
Clemson QB DJ Moss vs Texas A&M's Entire Defense
I hope A&M has been in the film room all week looking at Moss. Otherwise, expect Moss to cruise right through this Defense. The man is on a mission to get his shot at the title and isn't going to play down to his opponent. A&M needs to contain him as best they can to wear him down and force mistakes. An interception could be the momentum they need at the right time. Just one and we might see a close game. If not, welcome to another game where Moss puts up 500 offensive yards.
Prediction
I don't see this one being close at all. While I'd love to see Texas A&M come out with a heavy ball control scheme that limits the chances Clemson has to touch the ball, it might not be enough. Clemson is too talented across the board with guys in the right positions. This is just another tuneup game before they face a rough four game final schedule.
Clemson 54, Texas A&M 27