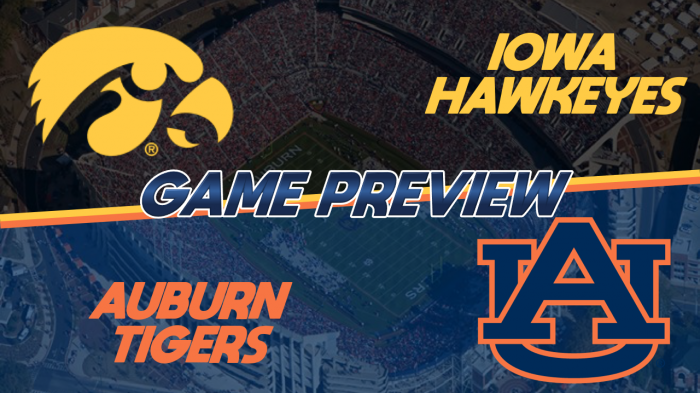 WEEK 8: IOWA VS AUBURN PREVIEW
By: HornsNation05
The Iowa Hawkeyes (4-3) travel to Alabama to take on the Auburn Tigers (4-3) in the spotlight Monday matchup.
IOWA
Iowa enters week eight after a massive victory over Oregon last week. Needing a win for their division standings, the Hawkeyes were led by their defense. Oregon only managed 339 total yards and were held to just three third down conversions out of 12. Neal Mason had a 61 yard pick-6, while Dez Jackson, Othello Jones and Joey Hanson combined for 15 tackles. This secondary will be relied upon again as they go up against the outstanding Auburn Tiger passing game.
Passing the ball was not on Iowa's mind last week as they benefited from a weak Oregon front. Running back Avery Jordan rushed 24 times for 153 yards. Marcos Hernandez provided 72 yards on the ground and two touchdowns. This Iowa offense currently ranks third in the CFSL in rushing with 240.9 yards per game. Their passing offense ranks 14th in the league with only 181 yards per game. With Auburn likely to key in on the run, Hernandez will need to be able to get the ball downfield to open up lanes for Jordan.
AUBURN
The Auburn Tigers held off a comeback by TCU, to win 24-21 last week. The Tiger offense looked sluggish at times as Blake Moon and company could only muster 363 offensive yards. Moon struggled in this game, en route to tossing two interceptions. Billy Carter picked up the slack with 125 yards on 24 carries and one touchdown. Superstar wideout Wayne Carter could only manage two catches for 44 yards. With Iowa being able to control Time of Possession, the Tigers will need to continue to convert third downs, something that they rank first in the league in.
The Auburn defense will be led by All-American Eric LeClear. LeClear, a junior, has put up 67 tackles with six for a loss so far this season. Assisting him tonight will be Tony Bryant. Bryant secured eight tackles last week with one interception. With the way the Hawkeyes run the ball, Bryant and Rick O'Shea will need to play tough defense and force Iowa into 3rd and long situations.
WHAT TO WATCH FOR
Iowa's Third Down Conversions.
The Hawkeyes can run the ball. Everyone knows that and it is expected after last seasons success running the ball. The thing to watch for tonight is their third down conversions. Currently Iowa converts only 46 percents of their attempts. This means, if Auburn can stop Jordan on 1st and 2nd downs, they would force Iowa into 3rd and long. This proves beneficial for Auburn as Iowa has struggled this season in that category. Auburn is in the middle of the pack with only allowing 45 percent of attempts.
KEY MATCHUP
IOWA DE Alvin Mack vs AUBURN QB Blake Moon
New season, same story. Blake Moon continues to lead the league in quarterback sacks. Moon is a great quarterback and can throw with the best of them. One major fault of Moon is that he runs into defenders. Tasked with taking down Moon tonight will be defensive end, Alvin Mack. Mack, a senior, has only been able to get to the quarterback three times this season. Tonight would be a good night to bump those numbers up as he looks to close the edge against Moon.
PREDICTION
Both of these teams are looking up in the standings and in the polls. At 4-3, they are both not in an ideal spot but they still have a chance to make some noise. Their history in this league is something to talk about. Iowa has never beaten Auburn. Last season, Auburn defeated Iowa 35-30. Moon rushed for 220 yards and accounted for five touchdowns in that game. In season one we had the massive overtime game of 74-72. Moon that game accounted for NINE touchdowns. Then there was the week one matchup in season one, where Auburn won 17-16 behind Moons 200 total yards. Do you see the trend here? Moon plays his best against Iowa and the Tigers continue their winning streak against the Hawkeyes. Auburn wins 51-45.