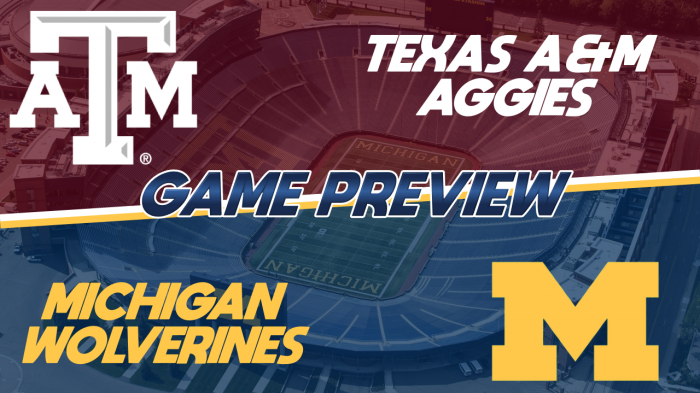 The Tuesday night games kickoff with Michigan taking a trip to College Station. The Wolverines are in position to climb back into the Big Ten discussion with a lot of help from teams around them. The Aggies are statistically out of the race for the SEC, but can play spoiler, and an upset win tonight would do exactly that.
MICHIGAN
The Wolverines have finally begun clicking as an offense. Quarterback Javon Mack had three touchdown passes and an interception in the win over Penn State. Those numbers were coupled with his 303 passing yards with halfback Ezell Mack picking up almost 150 yards on the ground. Not to mention, wide receiver Bobby Jackson almost had 100 yards receiving. This is the big three for the Michigan Wolverines, and if they're getting hot then the Big Ten could be well within their grasp.
The defense has played well as a unit, but the obvious standout is linebacker Nate Jones. 11 tackles, with two for a loss and a forced fumble, may not sound like much. But, here's the deal, Nate Jones has such a lead in tackles on the season that it's not even funny. The dominance that Jones has shown is crazy and he's gotten the help. Safety Shea Carroll recovered the fumble that Jones forced while corner Buchanan Simons came up with an interception. Despite a somewhat sluggish start to the season for this Michigan defense, they've improved as the season has progressed and are now very formidable. Especially with Nate Jones at the helm.
TEXAS A&M
Not how the Aggies hoped would things would pan out last week, despite their efficiency in the redzone as an offensive. Quarterback Daniel Murphy didn't throw an interception, but he didn't throw a touchdown either. Halfback Tim Riggins was held to under 100 rushing yards, and that didn't help. The wide receiver corps was pretty limited in getting open and helping out. One redzone trip doesn't help either, even if they did score a touchdown off it. This means that they struggle getting into scoring range as an offense. If they can resolve that issue, then the offense will be in pretty good shape.
This is where things are rough. Linebacker Fletcher Reyne and safety Derrick Doyle each had over 10 tackles and a tackle for a loss in last week's loss. The larger problem is that the defense doesn't have the talent to stop some of the more potent offenses in this league. Both in the running and passing game. The pressure is on the defense to make big stops, and unfortunately, unless they gel and step up, then this team could be in big trouble.
WHAT TO WATCH FOR
Texas A&M is in trouble, as the offense is going up against an improved defense. The Aggies offensive struggles may continue, especially with Nate Jones in charge of the Michigan defense.
PLAYER MATCHUP
MLB Nate Jones v. HB Tim Riggins
This is the key, and we know Jones is serious. However, Tim Riggins is a threat in his own right and with his power, going head to head with Jones will make things interesting all game long. Especially since Riggins and Jones are both tough veterans of the CFSL.
PREDICTION
This game is unfortunate timing for Texas A&M. The Wolverine offense is clicking and continues to improve their rhythm and unfortunately, their defense is a lot closer to being on point. Bad news for the eager Aggies, so give me the Wolverines to win and keep up in the Big Ten.
Michigan 41, Texas A&M 31