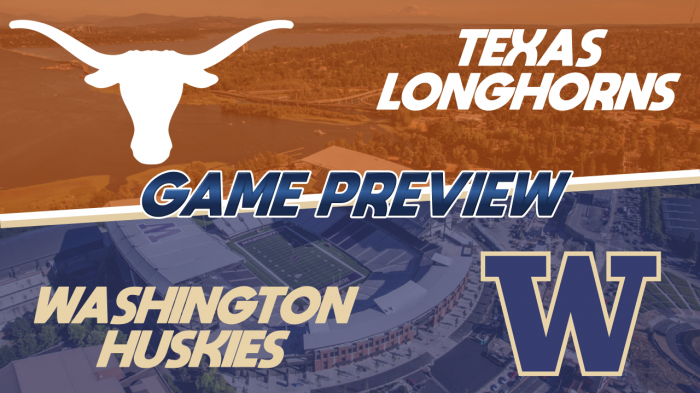 The nightcap sees an incredibly important game take place, as the Longhorns and Huskies square off. These two teams are in prime position to be able to win out and have a claim to their conference. Winning out, though, means tonight is a must for both teams to stay in contention considering the teams around them.
TEXAS
The Longhorns escaped last week, as quarterback Ray Tatum coughed up the ball twice. That hurts an offense, even if halfback Geaux Bamba put up over 125 rushing yards with a pair of rushing touchdowns to boot. The other offensive growing pain is that, even though Tatum went 23 of 29, the Longhorn receiving corps had a combined 14 catches, with tight end Jackson James hauling in 13 of them. The receivers can make plays, but they were locked down. They need to escape tonight.
Four sacks is a good sign for a defense, especially considering how close last week was. Linebacker Justin Boudreaux picked up eight tackles with two for a loss and a sack. Safety Jimbo Smithers added eight tackles of his own. The late game stands by this defense made long strides to helping Texas avoid the upset, and now, they need to play well enough to orchestrate a big win.
WASHINGTON
Down 28 is difficult to comeback from, but the offensive efficiency of the Huskies proved they could make a run at the win. Quarterback Doug Ohle had 260 passing yards with two touchdowns and an interception. Halfback Ron Dayne Jr. added three rushing touchdowns to the cause, proving to be a pivotal force in the comeback efforts despite not being able to pick up 100 rushing yards. Wide receiver Jacob Iverson had over 100 yards through the air though, and made big plays to keep the Huskies in the game, it just wasn't enough.
Speaking of not being enough, when you spot 28 points life is exceedingly difficult and usually spells disaster. Good news though, both linebacker Dejounte Wilson and safety Mason Ryan recorded 10 tackles and a tackle for a loss each. Playing well down the stretch to keep Ohio State from adding points. Unfortunately, they couldn't hang on to the defensive efficiency, especially late, as the running game took stride to close the door on the comeback record.
WHAT TO WATCH FOR
Which team is showing up? That's the question on both sides of the ball as neither team looked great last week and had some inconsistencies that needed addressing. If Geaux Bamba and Ron Dayne Jr. get rolling though, then this game could be groundbreaking.
PLAYER MATCHUP
HB Geaux Bamba v. HB Ron Dayne Jr.
These two are the features of their respective offenses, where everything comes open off their success. And their success is usually explosive. We've seen the night sky light up before, but by the time these two bruising backs are done, the fireworks may not be felt until tomorrow.
PREDICTION
It's tough to choose depending on which team makes the appearance tonight. Here's the key though, can Bamba take one back on a kickoff? We haven't seen it in a while and the answer to that question could be the push that Texas needs to get past the Huskies. Unfortunately, Doug Ohle can never be counted out, even from 28 down. Even still, I expect Texas to hold on and leave Washington feeling down.
Texas 38, Washington 35