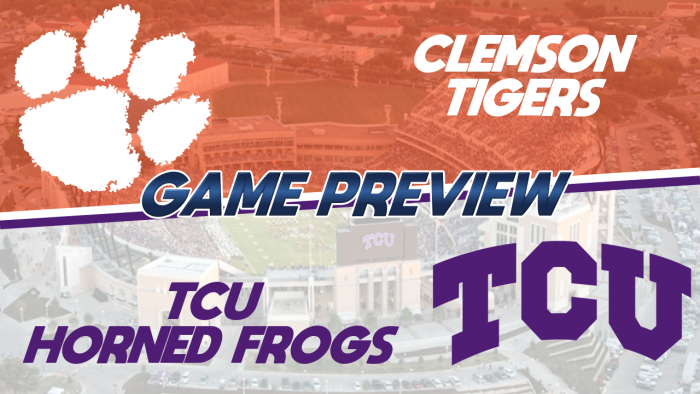 Ever since their early season matchup against Tennessee, Clemson (6-1) has looked near-invincible on the gridiron. Their impressive combination of offense and defense has made them a strong number one team through the first seven weeks of Season Three. It's up to the feisty TCU Horned Frogs (3-4) to play spoiler tonight and bring home the win. Their close losses to Auburn and Oregon are evidence that this isn't a normal 3-4 squad. Can the Horned Frogs prove themselves and take out the number one team in the nation? Or will Clemson continue their dominance on both sides of the ball? Let's delve into this purple on orange with a splash of purple matchup.
Clemson
Offense
DJ Moss has cemented himself as one of the league's premier playmakers at the QB position. It's hard not to be impressed with his play through seven weeks. 1796 passing yards combined with his 1012 yards on the ground make him the number one player in total yards by a significant margin. His 26 total touchdowns also lead the league. The only thing to improve here is avoiding interceptions. Otherwise his season is OPOY worthy.  His favorite target has swapped between Cadillac Chadwick and Anthony Robertson III all year. Both have put up some great numbers together, accounting for over 50% of the receiving game. Former JUCO HB Cheetah Brown has ran hard since taking over the starting spot. His presence is overshadowed by Moss, but his impact is felt in both the passing and receiving game. This unique combination of passing attack and running force is hard to stop.
Defense
Clemson's calling card all year has been consistent defense. Their 26.4 PA/G mark is incredible compared to the league average. Even more impressive is their yards given up. 367YA/G is a whole 34 yards lower than the next best team. It's a crazy figure that is held in place by their incredible run defense. Mike Miller is having a DPOY worthy season with 13TFLs and nine sacks already. Miller's ability to snuff runs out before they hit the line is up there with the best. The secondary is anchored by Barry Allen and his quick hands, leading to two interceptions on the year already. While his tackle numbers are modest, Allen is all over the field and has an impact on every play. If Kobe King is also firing on all cylinders, this defense is going to be one mean machine come game time.
TCU
Offense
The offense for TCU has been all about the pass this year. Dalton Andrews has come into the league much more polished than expected. A 19-3 TD to INT ratio is unmatched in recent history. Think about how many times he has dropped back in the pocket without throwing an interception. However, Clemson lives off forcing turnovers with 10 on the year. Look for Andrews to expand on his passing yardage totals against a Clemson defense that has struggled against the deep ball at times. For as impressive as the passing game is for TCU, the running game is still in preseason form. Koda Adok had a great game one but has yet to follow up the performance. His 4.2 YPC average is one of the lowest in the league despite opposing defenses shading the pass. If Adok can find some holes early, it shakes up the entire gameplan.
Defense
Jabril Jackson and Aaron Davis headline a unit that is playing well for their last two games. While those games have resulted in close losses, keeping teams under 31 points is hard to do with all the firepower this league has. The team has been on par for the year in everything but their passing defense. This unit has dominated the pass to the tune pf just 230 YA/G. This team swats more throws down than anyone in the league. Still, you would like to see more from the supporting cast. Let's see if Kobe Jordan can come up big tonight with a timely interception on an errant Moss throw. Guarding the option will also be crucial since the Clemson offense runs it so efficiently. It's a tough challenge, but TCU matches up well with the Clemson offense.
What to Watch For
Clemson Passing vs TCU Secondary
As previously mentioned, Clemson loves to pass, and TCU loves to cover. It will be interesting to see if the game plan calls for a more balanced defense from TCU due to Moss's ability on the ground. If TCU choses to pass cover at all costs, they might be able to make up for the volume of rushing yards they give up via turnovers through the air. If they go the way of run defense, they can force three and outs via minimal gains. The problem for TCU is that the Clemson offense can do both without issue. It's a chess match for both sides.
Key Matchup
Clemson QB DJ Moss vs TCU MLB Aaron Davis
DJ Moss is not going to slow down anytime soon without intervention, but it's up to Aaron Davis to make it happen. These two should collide at least eight times tonight at minimum. Whether it be on a scramble or in the backfield, Davis must make an impact. DJ knows Davis will be gunning for him. He also knows that he has the skill to beat anyone in the game. Keep your eyes peeled for how Davis gets off the block in the middle. If you hear Moss's name over and over in the broadcast, it'd be safe to assume Clemson is winning the game.
Prediction
Clemson should come into this game a fairly heavy favorite. However, I am putting this one on upset alert. I still believe Clemson will win, but TCU has a formula that they can follow to pull this one out. By attacking the run game on defense and forcing Clemson to pass into a solid secondary, things could get problematic for the Tigers offense. The weapons are there to overcome this, but it's a solid course of action for TCU. On Offense, TCU can air it out against a D that gives up the third most yards in the air. Who knows if it will actually happen, but the possibility is real. I still give the win to Clemson in a close one.
Clemson 35, TCU 31