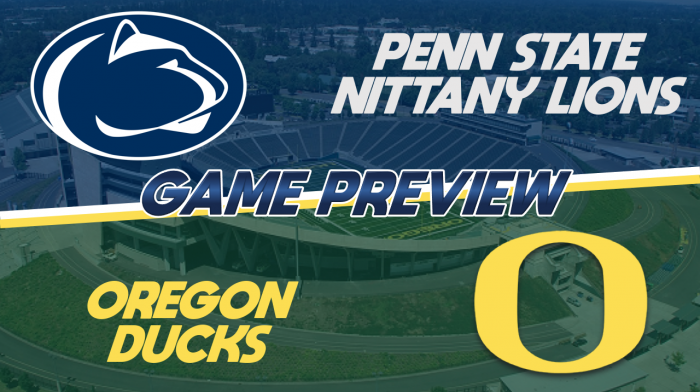 The Big Ten has produced an absolute slew of competitive games in Season Three. Just looking at last week, UW vs OSU was a thriller of a three-point game due to the late Washington comeback. Iowa scraped by Iowa in another three-point game. At this point, the Big Ten standings are a jumbled spaghetti pot full of delicious competition. Tonight's game serves as the colander that separates the good from the bad in the conference. Pennsylvania State (2-5) has struggled immensely since their narrow win against Texas A&M. Any chance of them winning the Big Ten is out the window, but a bowl berth is still a possibility. Oregon (5-2) is on the complete other end of the table. Leading the Big Ten for most of the season, the ducks stumbled against Iowa and let their lead dwindle to just a game. Winning is key to keeping them on top.
Penn State
Offense
If there is one thing that this Penn State team wants to forget from last week, it's their offensive play calling. This were very conservative compared to the average team. Aidric Berry was 21 for 35 but managed just 145 yards through the air. Maybe it was the ND defense putting him in the dirt seven times, but things were not clicking for the veteran QB. His partner in crime Jasper Johnson didn't bail him out either. It's hard to get a rhythm with just 14 carries, but its hard to give someone carries when they aren't averaging 5 yards a play. It's going to take a lot more enthusiastic effort to beat Oregon. If the offense lets Tre Woods run some more go routes, maybe things open for this offense. It's on the passing game to break through one of the best secondaries in the game.
Defense
While the Offense struggled against Notre Dame, the Defense had its bright spots. Did they give up nearly 500 yards? Yes. Yes, they did. But they also forced two interceptions from an accurate QB. Devonta Cribbs is a different style of player than Ty White, but both make plays out of the pocket. That could be an edge for this Penn State defense. Being able to force the QB into mistakes when he must think on the fly is vital in getting the win. The real question is their run defense. Oregon can use both Cribbs and Love on the outside, but Cribbs has the better average. I'd like to see Joey Myers spy on the end from time to time on the edge instead of barreling in. If the LB group can blitz with effectiveness, they just might force Oregon to pass more than usual.
Oregon
Offense
Outside of the big numbers against OSU and ND, things have been modest for the Oregon offense. They have the lowest yards per game of any team and are right in the middle of the pack for points scored. Despite these on paper stats, you would be a fool to think this is a weak offense. The combination of Cribbs and Love is one of power and finesse. Cribbs can hit any hole when the coverage breaks down for easy highlight plays. Love can take any pitch to the house after he breaks a few ankles. The run is dangerous, but it's a balanced split between rushing and passing yards. Jay Smith and King Twixx (Sponsorship when?) both have great averages this year and must be respected by opposing secondaries. All in all, this unit can find a way to beat you no matter how you line up.
Defense
This is what it's all about for the Ducks. Gritty, turnover forcing hits from all over and great cover skills in the secondary. Straddling the line between conservative and careful is something that this defense forces you to do. The stars are all over on this squad. Jack Frost is following up his impressive Sophomore year with an even better season this year. 76 tackles in 7 games is no joke. Throw in the Thor Odinson Israel Cassius duo and you're going to have to think twice on your throws. One big difference this year has been the role of Ben Marquez. His numbers are down quite a bit from last years impressive season. It seems like this may be a scheme change more than anything, but it's something to keep an eye on if PSU goes up the gut in the run game.
What to Watch For
Penn State Passing Game vs Oregon Secondary
Penn State must pass the ball with more aggression than they did last week. Unfortunately for them, Oregon has a top tier secondary and is a tough unit to move the ball on. Berry needs to be on point with his passes in order to keep things moving. Turnovers are going to be more devastating than usual since PSU has struggled offensively for a few games. If he can average around 9 yards a pass with 65%-70% completion rate, things should go well for this offense. If Odinson and Cassius start snagging balls left and right, watch out for the blowout.
Key Matchup
Penn State MLB TJ White vs Oregon QB Devonta Cribbs and HB Speedy Love
I guess I'm cheating by putting the entire Oregon backfield as the key matchup. However, if PSU can't stop these two on the ground, the game will be over in a heartbeat. TJ White needs to bring his A-game tonight. If he can just get two TFLs in a row early, Oregon will need to consider changing up their offense. In a world where TJ doesn't show up, Cribbs and Love will run all over this defense. It's a tough assignment, but TJ White has the talent to shut this group down.
Prediction
This game is going to be a little closer than you'd expect. Penn State isn't great, but Oregon has dropped two games in the last three weeks. It's going to be a low scoring game all around with a good amount of three and out drives. Give Oregon a solid edge in this one. Let's see if they come out with a little more tenacity than they have in their past few games.
Penn State 24, Oregon 34