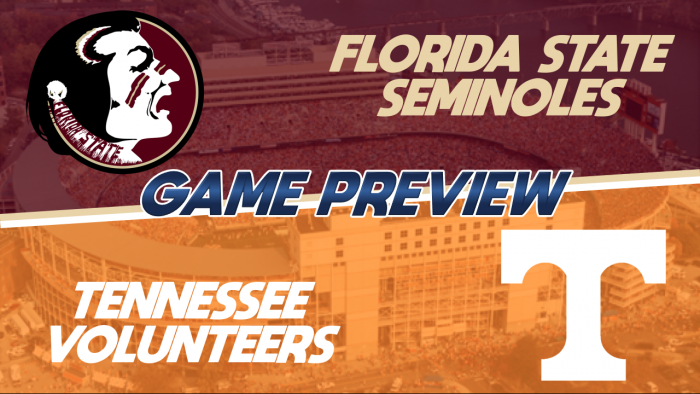 WEEK EIGHT: FLORIDA STATE VS TENNESSEE PREVIEW
By: HornsNation
Florida State (0-7) heads to Knoxville to take on Tennessee (5-2). Both teams are coming off a loss. The Seminoles almost came away with the upset against Texas, while Tennessee fell to Iowa. Both teams look to rebound this week.
FLORIDA STATE
A valiant effort that came up short. The decision to kick the field goal, instead of the touchdown at the end of the game, haunted Florida State all week. James Kovach posted an efficient 30 for 39 for 250 yards and one touchdown. The only knock against the Seminoles? Kovach was sacked four times and ended up with a net loss of 23 yards rushing. Running back Adam Croft was more involved into the game plan with 21 rushes but could only manage 70 yards. Croft did find the endzone twice. Missing from the action were Jared Tetonis and Trevor Golinar as they only accounted for eight catches combined. FSU will need to get Tetonis and Golinar involved early if they want to score the major upset.
Defensively played as well as anyone could ask against the high powered offense of Texas. Florida State held Texas to just 376 yards and forced Texas quarterback Ray Tatum to throw two interceptions. Strong Safety Jim Jim Johnson secured a team high nine tackles. Florida State will need a group effort on defense to take down Tennessee.
TENNESSEE
The Volunteers struggled on offense last week against Michigan, only putting up 273 total yards. Tennessee jumped out to a two score led but could not do much after the first quarter. Dewey Ainge struggled by posting a 23 for 38 completion rate. Ainge tossed two touchdowns to go with two interceptions. Running back Donny Kazee rushed 13 times for 63 yards. If Kazee can post a big day rushing, it would keep the high flying Florida State offense off the field.
Not much went right for Tennessee on defense as they gave up 432 total yard to Michigan last week. Ronald McFish had another solid showing with 13 tackles and three for a loss. Josh Bradley got in on the action as well with 10 tackles of his own. Star defensive end Jame Mitchell secured three tackles but could be up for a big day in the sack department as Florida State has given up the 6th most sacks in the CFSL.
WHAT TO WATCH FOR
Florida State's passing offense.
Last week, the Seminoles came close to the upset without their star receivers performing well. If Tetonis and Golinar can get open quickly, Kovach should have a nice day. If the passing game gets going early, look out, we could have an upset on our hands.
PREDICTION
All eyes will be on this game, as Tennessee will need to win to keep ahead of Clemson and Texas. Florida State comes into this game hungrier than ever after last weeks close loss. Tennessee will need to rush the ball better this week and Florida State will need to learn how to close close games. While I love Florida State in this matchup, I think Tennessee gets it done here. Tennessee wins 38-27.