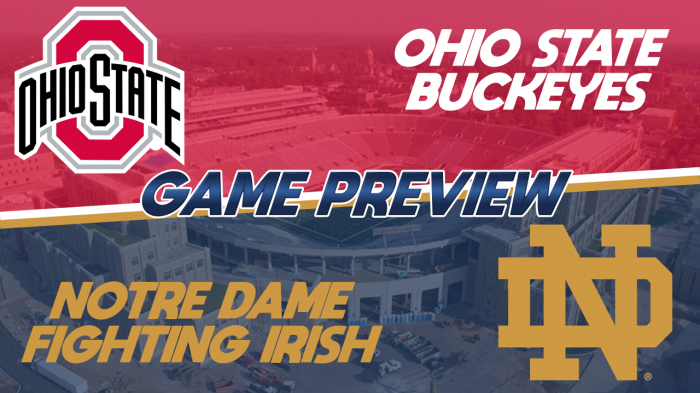 The week eight finale is a big one for the Big Ten. The winner, in theory, puts themselves in the most opportune position for now to get enough help to leap frog Oregon to the top of the conference. Ohio State and Notre Dame both sit at 4-3, with their brethren falling to 4-4 over this past week, these two teams are in a great spot. That also means this spot comes with a lot of chips on the table, and a lot to lose. Especially when you consider the history these two teams share. So, let's take an in-depth look, starting with the road team.
OHIO STATE
They've won three in a row, and put together a really nice offensive performance a week ago. Quarterback DeAndre Evans racked up 485 passing yards and four touchdown passes in the win last week. But maybe the more impressive part was the fact they jumped out to a 28-0 lead. Then, somehow, the offense got quiet and allowed Washington to storm back. The Buckeyes did just enough to stay ahead, including some major help from halfback Frost Carlson. Carlson tallied 121 rushing yards, including some major runs in crunch time to chew clock. Wide receiver Zaire Bradley had a nice game, bested only by fellow receiver Blake James. James had over 200 yards receiving with three touchdowns while Bradley hauled in 143 yards with a touchdown of his own. This offense, despite some miscues, is deadly when hot.
This is where the issue lies. In spite of keeping Ron Dayne Jr quiet, and defensive tackles Cricket Williams and Zach Angle combining for three sacks, the defense gave up a 28 point lead. Now, they did manage to hold on at the end, but you can't give up that kind of lead in this league, even if we've seen a ton of it this season. Linebacker Noah Mason stepped up though, picking up nine tackles and combined with his defensive tackles for six tackles for a loss. It was not the best performance by this Ohio State defense but it got the job done. And quite frankly, that's all the Buckeyes need this unit to do. Make plays, do their job, and come up with a turnover or two.
NOTRE DAME
While the scoreboard tells a dominant story, I'm sure quarterback Ty White wishes for a better game. While he did have 277 passing yards, there were two picks and a touchdown on his part, something I'm sure he would like to be reversed. The bright side was halfback Jacob Philhart. Philhart steamrolled his way to 105 rushing yards and three touchdowns in last week's win. White added his own 100 yard rushing performance with a touchdown scamper of his own. There's just one thing, for whatever reason, there doesn't seem to be a lot of respect for the Fighting Irish receiving corps. Wide receiver Brody Bodine can make big plays, we've seen it, and Upton O'Goode has his moments as well. Don't forget Trent Bodine, the tight end, either. Somehow though, they don't seem respected, we'll see if that changes.
When you only give up 13 points, including a field goal in the entire second half, that's a strong defensive showing. Defensive tackle Tyson Ali racked up a sack and forced a fumble, while defensive end Shane Razorback added two quarterback takedowns of his own. Razorback also had three tackles for a loss, but as far as standout performances go, the stat sheet doesn't really show any. We'll see if linebacker Aaron White can channel his inner Nate Jones and dominate the game from start to finish. If he does, it would be a big help for the remainder of Notre Dame's season, especially today.
WHAT TO WATCH FOR
Notre Dame's front seven could take Frost Carlson out of the game for Ohio State and make DeAndre Evans uncomfortable, which is difficult to do. Ohio State quarterbacks, though, seem to have a problem with comfort against Notre Dame considering the six interception debacle that is well-documented which occurred just a season ago.
PLAYER MATCHUP
CB Max Powers v. WR Brody Bodine
We know Bodine can make big plays and can really bail the offense out of tight spots. That's why this matchup is so key for both teams. This Ohio State secondary is far better than it has ever been in seasons past. Bodine being negated by Powers spells trouble for Notre Dame. Without Brody making plays on the outside they'd have to attack the interior. An interior which is patrolled by safeties Nicholas Reynolds and Moody Mitchell. Not a good formula to win.
PREDICTION
This game has a ton on the line for either team, and what adds to it is how these two teams, seemingly, have a means of taking away a key component for the other team. Here's the key though, Tyson Ali plays a role in both run and pass and I think that's the difference. We've seen DeAndre Evans run around the backfield for Ohio State, almost like he's playing backyard football, but we've seen him hold on to the ball for far too long. He's looking for the home run, the kill-shot, a little too often. Against the Notre Dame pass rush, that spells disaster, and unfortunately for Ohio State, makes the difference. Notre Dame puts themselves in prime position with a squeak of a win.
Ohio State 35, Notre Dame 38