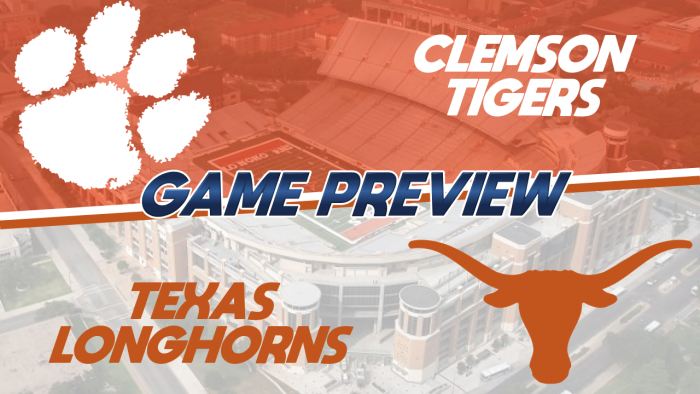 This match up is not for the feint of heart. During the preseason, both Clemson and Texas were talking trash over anything they could. Who had the better recruiting class. Who had the bigger stars. Clemson struck first by signing the #1 ranked recruiting class. Then, both sides showed their star power early with the legend of Bamba's KR prowess growing and Moss putting up video game numbers. While both teams are in their first year, you can't tell them apart from the veterans on the gridiron. They backed up the talk. But now it's time to settle the score for real.
Clemson
Clemson is surging into this game on a five game winning streak. Ever since their narrow loss to Tennessee in week three, the Tigers have been on a whole other level than the rest of the league. Seeing them score under 50 has been an anomaly. Their recent 59 point drubbing of TCU was never even close. How have they been so good so fast? One big factor has been their ability to convert on third down. Their 52% rate is tied for second in the league. The Clemson offense can come out in so many different looks that they become difficult to plan against. Another key factor has been their ability to capitalize on defense. 12 turnovers is third in the league, while they add in 19 sacks on the year. Combine these two key factors and you see why this team is so hot.
Offense
Welcome to the DJ Moss show. The sophomore has been electric since transferring from Ohio State. His OPOY worth run has been highlighted by his unmatched scrambling ability and powerful yet accurate arm. With Moss calling the shots, Clemson maintains a very balanced attack on offense. Mid-season transfer Cheetah Brown has impressed early, averaging 90 yards a game with five yards per carry. Brown also has been effective on screens and lining up in the slot, racking up 200 yards on 27 receptions. The real aerial threat comes from the outside. Anthony Robertson III impresses you with his size and soft hands. Need a deep ball? Lob it up to Cadillac Chadwick and watch him speed up and grab it. This tandem has made short work of opposing corners all year long. 45.1 PPG and 535 YPG. To put it in simple terms, this unit is the best.
Defense
You'll hear the phrase "Bend, don't break" all the time when discussing modern defenses. However, Clemson is a team that doesn't even bend. Offenses are the best they have ever been in the CFSL, yet the Tigers are holding the field to 27.5 points per game. That's about as good as it gets. If you have to key in on just thing, it's their impressive run defense. . In addition, they only let opposing teams convert on third down 40% of the time. You have to give a lot of credit to Mike Miller and his ability to rush off the edge. As for the secondary, Barry Allen is the leader of this unit. His two interceptions and 49 tackles show a nice blend of savvy cover skills and pursuit skills. With a defense this strong, it makes sense that the Tigers are on top.
Texas
If Clemson is white hot right now, Texas is an orange flame right behind them. Their winning streak is up to four and you know they don't want it to stop now. Like Clemson, Tennessee was their most recent close loss. In fact, both of Texas's losses have been by four total points. Since week five, Texas's defense has transformed into their calling card. Their recent game against Washington was a testament to their defensive prowess, holding the Huskies scoreless after the half. While Texas doesn't take the ball away from you as often as Clemson does, they control the ball better than anyone in the league. The Longhorns keep the ball moving forward and get into the redzone time and time again. Consistency makes this team go. Will they be able to keep things together against a team that loves to make big plays?
Offense
While Texas has played in a lot of low scoring games lately, their points per game total is still hovering around 41. Freshman star Geaux Bamba burst onto the scene scorching hot between special teams and his rushing ability. While he has cooled off a bit in recent weeks, he is still not someone you want to let into the second level. Quarterback Ray 'Voodoo' Tatum is the real catalyst of this team. Proving he could throw as well as anyone last year, Tatum has toned his passing game down in exchange for solid scrambling ability. This has worked well for the Sophomore, netting him 11 touchdowns in 70 carries. His favorite target, Jackson James, is one of the most versatile tight ends in the CFSL. Look for Texas to come out of the pistol and work the ground, then hit you with play action when you least expect it.
Defense
As previously mentioned, the Longhorn defense has made a huge leap in the second half of the season. This has to be attributed to the recent play of Jimbo Smithers. Smithers has been on another level in the last few games, zipping all over the field to the ball. Regardless of where he lines up in the 3-3-5, the Freshman can make plays. Fellow safety Michael Wells has played great all year. His 64 tackles and an interception don't even show how much of an impact he has made for this team. Sporting the biggest neck roll on the team, defensive end Michael Sudeikis is getting hot right when they need it. Sack City is up to 9 sacks and an impressive 14 TFLs. Finally, the leader of this defense is Junior transfer and leading tackler Justin Boudreaux. There are stars all over this defense, itching to get the win.
What to Watch For
Clemson Scrambling vs Texas QB Spy
While the CFSL boasts a number of scrambling quarterbacks, it'd be hard to argue that DJ Moss isn't one of the best. He doesn't need much space to get around the corner and make something great out of nothing. The athletic quarterback is over 1000 rushing yards and shows no signs of stopping. Texas knows that regardless of Clemson's game plan, Moss will be on the move. Having a DE spy is going to be incredibly important throughout the game. If Sudeikis is the one spying, then Moss could get thrown down by the athletic freak of a lineman. No one wants to take those hits, especially not your QB. This is something that Texas performed perfectly against Washington, holding Ohle to marginal yardage. Look for more of the same tonight. Otherwise Moss is going to run wild all game.
Key Matchup
Clemson MLB Kobe King vs Texas HB Geaux Bamba
The centerpiece of the Clemson run destroying unit is MLB Kobe King. Leading his team with 54 tackles, the Sophomore is a pro at getting to the runningback. While he may not get a ton of tackles for loss, he still strikes fear into opposing teams. Geaux Bamba has had a little bit of fear in him in the last few games. His explosive start has been quenched by teams focusing on him in the backfield. Since Clemson has the best rushing defense in the nation, it is going to take some serious willpower for Bamba to get going. If he can, Texas can control the ball down the field and take their six. Otherwise, King is going to knock him into the dirt on the way to punt city.
Hot Takes & Quotables
KookyKukaburra – Tennessee Linebacker
"When people say arguably the best game of the year in CFSL, they do not have a valid point. This "IS" the best game of the year in the CFSL. Elimination from the SEC is on the line with Tennessee taking care of business and Auburn lurking into the picture. This is a must win for both the number one ranked Clemson Tigers and, in my mind, the number two ranked Texas Longhorns, both respectfully lining up that way in the offensive and defensive rankings. The problem I see with this game is I do not like Clemon's strength of schedule compared to the Longhorns. Strangely enough, the best win for Clemson was Auburn (first game of the year) who just recently snuck back into the SEC race and Clemson only won that game by seven points. On the other hand, the Longhorns destroyed the Big 10 number one, three and four teams and nearly beat Tennessee if it were not for a late fumble. Even though there was no Cheetah Brown, Tennessee's defense held Clemson to only twelve points so I am not sold Clemson can put this production up against a high quality opponent on the road. If Texas plays up to par I see them putting a large amount of pressure on DJ Moss forcing him to throw the ball outside his comfort zone. With the build up and pressure of this game I see the home team taking it comfortably 45-31."
Neversatisfied – Michigan Athletic Director
"Texas and Clemson is an intriguing match up. Two great quarterbacks in this one, both more than capable of taking a game over with their legs. Schematically both run systems to accentuate their strengths, despite having Clemson's HB being dismissed from the team their back up is extremely capable. Texas's back has been the buzz of the league all year. Defensively neither of these teams really have many holes, but Texas does have more star power on this end. Ultimately I think this game boils down to who will turn the ball over, and who can convert on 3rd down better. The oldest takes ever in football will reign supreme here. Clemson by 7. Having played both and having watched all the games they really seem to be the cream that has risen to the top of the league."
TSmith – Penn State Athletic Director
"What I'm looking forward to in the Clemson vs Texas matchup is the Mike "Money" Miller vs Geaux Bamba matchup. If Mike Miller can get pressure off the edge and put the pressure on Tatum and stop Bamba early then it could cause issues for Texas. One solution they could do is keep Bamba in on passes to protect Tatum. If Bamba can get going then that would be great for Texas. I think that Clemson has the better team overall except at the Halfback position. I think that Clemson will pull out the victory in a close defensive game 27-24."
Nighthawk – Notre Dame Athletic Director
"To me, these 2 teams tonight are spitting images of each other. The top 2 teams statically in both points for and points allowed. We're going to be treated to a great game tonight. Both ADs know by now the identity of their opponent. I think tonight's game is going to come down to which coach takes a risk and creates a game plan that is out of the box and will catch the other off guard. Both teams can hurt you in so many ways but tonight will come down to an unexpected hero. Whether on the offensive side or defensive side, who will step up and make a game changing play for their team. I can't wait to find out tonight"
Prediction
The biggest game of the year is also one of the hardest to predict. Clemson has played nasty all year against the run, something that Texas relies on. On the other hand, Texas has shown that they can stop QB rushes, something Clemson uses frequently. Both have playmakers everywhere on the field. They even both have a deep secondary who can cause issues in the passing game. After sifting through all the stats and rosters, Clemson has a moderate edge in this game. Defense is going to control the storyline for both sides. Expect a low scoring dogfight with a lot of punting. That isn't to say this won't be the most exciting game of the year. Both teams run offenses that have some crazy option plays and unusual looks. Get your snacks before the game, because you won't want to leave your seat.
Clemson 35, Texas 28
Group Prediction
After polling 20 random CFSL members in a pick em' between the two teams, we found that Clemson is believed to have a decent edge over Texas. Twelve users selected Clemson, while only eight went with Texas.