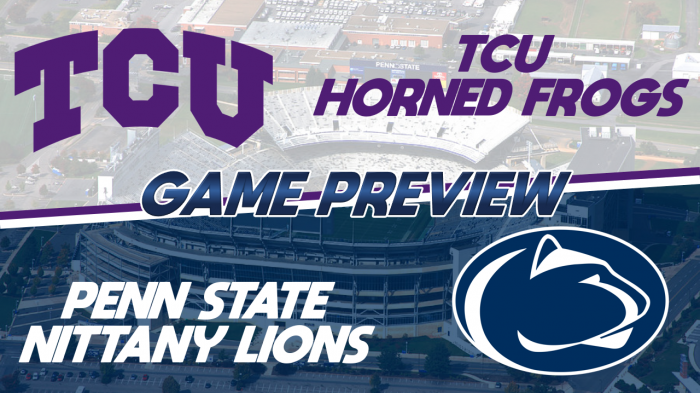 Tuesday night sees both TCU and Penn State battling it out. The season is drawing closer, and while they may be eliminated from the National Title or the Orange Bowl, both teams can elevate themselves to a better bowl game. To do so, each game in these remaining weeks becomes crucial, and tonight is no different. Let's take a look.
TCU
A little outside the norm for the Horned Frogs, as halfback Koda Adok's 10 carries led to just 14 yards a week ago. The good news, though, is that quarterback Dalton Andrews nearly had 500 passing yards with five touchdowns. He did put up a pair of interceptions, but still had a nice showing in spite of the loss. Tight end Adam Archer and wide receiver Andre Gyan each finished the day with 100+ receiving yards. Gyan hauled in two of Andrews' five touchdown passes to help TCU get to a 35 point total a week ago.
The defense was the issue a week ago. No sacks, no turnovers, and nobody with a ten tackle performance. Nobody stepped up to dominate or took the game over from the defensive side of the ball, and it shows in the 59 points they gave up. Linebacker Aaron Davis did his best, tallying seven tackles with three for a loss. Safety Kobe Jordan added eight tackles of his own and also had a tackle for a loss. Unfortunately, defensive end Jabril Jackson was not able to make a lot of big plays, only nailing down five tackles, one of which went for a loss. At the end of the day, this defense has got to play better and not give up four touchdown passes without forcing a turnover or two.
PENN STATE
This offense is, unfortunately, not clicking. Quarterback Aidric Berry has been struggling throughout the course of the season. Last week saw this continue on, he went of 12 of 17 for barely more than 64 yards. As a result, there was only one receiver who finished the day with more than 10 receiving yards, and that was tight end Zachary Steele who finished the day with 31 yards receiving. The bright spot of this offense is halfback Jasper Johnson, and last week he had a rough go. Johnson's 22 carries resulted in 89 rushing yards and two touchdowns. That's the sign of a struggling offense truthfully. They've got a lot of work to do, in order to turn it all around and make a late push for a better bowl.
The Nittany Lion defense managed to frustrate the opposition's quarterback, but not the running back. They gave up 159 rushing yards, which ultimately played a role in their failure to pull off the upset. Credit corner Darius Bowman, though, who had a 59-yard pick six that helped out the Nittany Lions immensely. Linebacker TJ White finished the day with nine tackles and four for a loss, which was a pretty nice showing. Unfortunately, safeties Tyler Smith and Baker Brooks Jr. combined for 22 tackles. That means a lot of runs made it to the third level, and that is something the defense cannot allow to continue.
WHAT TO WATCH FOR
Penn State's best chances of a win are by running the ball with Jasper Johnson. If he doesn't get going, the Nittany Lions will sport another loss, and to avoid that, they've got to pick things up on the ground. Unfortunately, TCU is likely expecting that, and I don't think Aidric Berry can win this game for the Nittany Lions.
PLAYER MATCHUP
HB Koda Adok v. HB Jasper Johnson
These two halfbacks are going to be battling it out. Penn State's success derives from Jasper Johnson, and while TCU doesn't need Adok to put up big numbers, if Adok gets going then the play action pass will see quite a bit of success. These two backs, I expect, will be going back and forth pretty often tonight, so that should be a fun watch.
PREDICTION
Let me be blunt here. With all due respect to Penn State and their surprising play last week, I don't see a way in which they can beat TCU tonight. TCU has the talents, including an incredible quarterback, to pick up a major win and get back on track. I imagine Koda Adok will have a nice game, as will Dalton Andrews. Give me the Horned Frogs going away.
TCU 38, Penn State 21