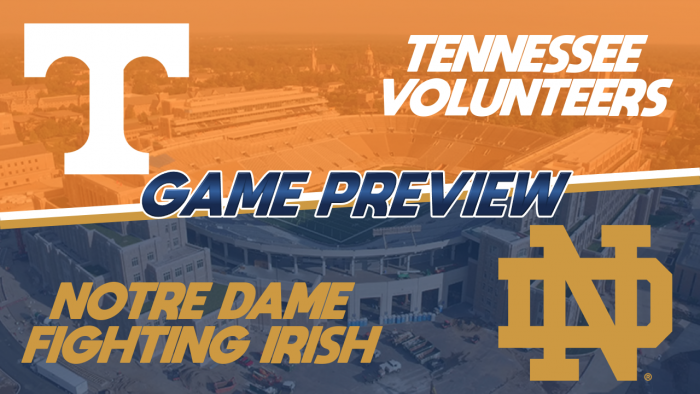 This is quietly a very important game for both teams. While this won't have an impact on who goes to the Orange Bowl or where each team stands in their own conference, it is crucial for National Title odds. Each team has a really big shot, with Tennessee having the easiest path. Notre Dame's path is a little murkier, but not impossible, just requiring some help down the stretch. But still, a win tonight would be big, so let's break this down.
TENNESSEE
Talk about escaping by the skin of your teeth. Tennessee was pushed around for the better part of three quarters, with quarterback Dewey Ainge coughing up three interceptions to dig the Volunteers into a pretty sizable hole. Ainge did throw two interceptions in an effort to offset those turnovers, and totaled 329 yards to help guide the offense to the win, including a beautiful game winning drive. But, the hero that kept Tennessee from giving the Seminoles their first win, was halfback Donny Kazee. Kazee's 34 carries led to 212 yards with two touchdowns, and this kid turned it on late. While impressively done, this isn't a scenario the Volunteers want to be in again.
What a way to step up. After struggling, and giving up four touchdown passes, the defense stepped up late. Defensive tackle Dylan James came away with two sacks, forcing some long downs. Defensive end James Mitchell and linebacker Ronald McFish each had a tackle for a loss which helped to stall out a few drives and forced a field goal. Nobody really stood out, it was a solid overall performance, but one that needs to start out a little faster.
NOTRE DAME
An ugly start, but a nice finish. Quarterback Ty White had three touchdown passes to offset his one interception, all to the tune of 218 passing yards. His performance was complemented by halfback Jacob Philhart's 132 rushing yards, which were big late. However, there is a legitimate concern. Philhart led in receiving too. The rest of the receivers were fairly quiet including a few drops. Whether that's by result of short passes or not, hard to say, but still, gotta get these guys open.
A nice showing for the defense, keeping their opponent to just 10 points, with the exception of a touchdown bomb late to make the score look closer than it should have been. While defensive tackle Tyson Ali couldn't get to the quarterback, defensive end Shane Razorback nailed down a pair of sacks with nine tackles. Linebacker Aaron White added 11 tackles and two for a loss which proved to be big part in stalling out some of the drives. Even safety Michael Jerome Pluth got in on the action, pulling off nine tackles and two for a loss of his own. They'll need to continue the overall performance again.
WHAT TO WATCH FOR
Which Dewey Ainge is coming to play tonight? That's the big question. We've seen games where he's been pretty good, others not so much. Last week he didn't look good at all, but will that happen tonight? I doubt the Volunteers want to see three interceptions again, otherwise they could be in trouble.
PLAYER MATCHUP
LB Ronald McFish v. HB Jacob Philhart
Philhart looked very good last week, making several plays for the Fighting Irish. But, this is the kind of game where Ronald McFish should step up for Tennessee. Faced with a really good halfback, in a game that could have major National Title implications, McFish has to play like it tonight and will be called on to stop Philhart.
PREDICTION
Notre Dame looked good, Tennessee did not. But that was a week ago, and things can change in this week. I expect a really good, close game between these two teams. But the outcome hinges on Dewey Ainge for Tennessee. If Ainge can come out and avoid turnovers, the Volunteers will be in good shape. If not, I doubt even Kazee can bail them out, especially against Tyson Ali and Shane Razorback. Still, Ainge is better than last week and I think it shows today. Volunteers, but only just.
Tennessee 31, Notre Dame 30