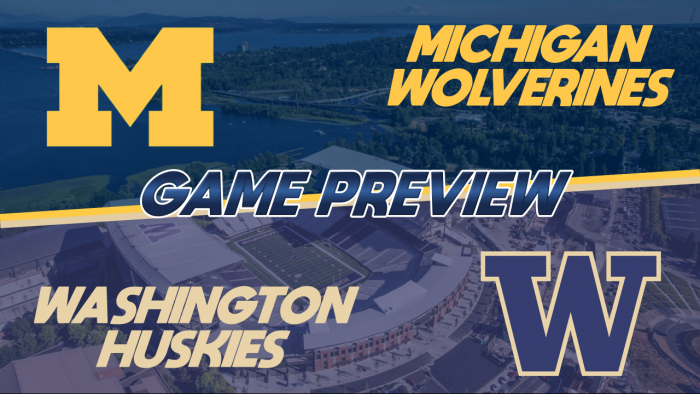 Our nightcap pits two more Big Ten foes against each other in a thriller of a matchup. Michigan (4-4) started out slow and lost a bunch of close games in the fist half of the season. However, after just narrowly losing to Clemson, this team has transformed into a motivated unit with three straight wins. Their test against Tennessee was successful, but now Washington is poised to put a damper on their rose bowl hopes. While Washington (4-4) probably hoped for a better season after winning it all, they control their own destiny and can get into the championship by winning out. That winning streak has to start tonight if they want any chance. Can they get the win after a tough loss against Texas? Or will Michigan stay hot on their way to four straight?
Michigan
Offense
The Mack Attack has put up some impressive numbers all season, leading the maize and blue to the 4th best scoring rate in the league. The two compliment each other perfectly and lead a very balanced offense down the field. Javon Mack is doing Javon Mack things so far this season, although not on the same pace as last year's OPOY season. His passing accuracy has improved tremendously so far, with a 3% uptick to 75%. His interception numbers are a bit higher than you would like, but this could be attributed to the changes at WR compared to last year. Ezell Mack is over the 1000 yard mark with 6.1 yards per carry average. His 14 touchdowns are also near the top of the league. Bobby Jackson is coming down with everything on his way to 720 yards. This unit is hot and shows no intention of stopping.
Defense
This defense starts and ends with worldbeater Nate Jones. It's no surprise that he is the favorite to win DPOY this year considering how much of an impact he is making on the entire team. 98 tackles is one thing, but 20 tackles for loss? It's hard to comprehend how that is even possible from the MLB. Toss in an interception and three forced fumbles and you have a crazy talented man in the middle. Unfortunately for Washington, Brum James bring even more start power to this defense. While he has yet to get a pick on the year, it looks like QBs are going towards him less than the other guys on defense. Jesse Horrigan is bringing some more tackles in with his 40 on the year. With a unit like this, offensive coordinators are going to have their work cut out for them.
Washington
Offense
Before the Texas game, Doug Ohle was actually on pace for numbers very similar to his All-American performance last year. Taking 7 sacks really puts a damper on the year, but this man can still play with the best of em. Combine a near 74% completion precentage with a 12-5 TD-INT ratio AND 646 yards on the ground – That's a QB anyone would love to have calling the shots. Their real centerpiece this year has been Ron Dayne Jr. The Great Dayne is bowling through everyone on his way to the endzone, racking up 36 broken tackles and 18 touchdowns. He also has 400 yards receiving on the year and a 27.6 yards per kick return mark. All in all, Dayne is looking to lead his team to a Big Ten Title.
Defense
Washington's defense is one of the top units this year when it comes to limiting points and stopping first downs. Their main strength has been their run defense, clocking in at just over 100 yards allowed per game. However, their pass defense is by far the worst in the league at 346.5 yards per game. It's an odd statistic considering that the trio of Kalu James, Tarin Holyoke, and Mason Ryan all patrol the skies with above average effectiveness. While it isn't the 114 that he put up last year, DeJounte Wilson has 61 tackles on the year with seven tackles for loss. His reputation as an enforcer is still prevalent and he is not a man you want to run into. This is a sharp defense despite the statistics on the season. Look for them to hold their own against a powerful Michigan offense.
What to Watch For
Michigan Read Option Game vs Washington LB and QB Spy
You could say this for both teams, but the read option is the bread and butter of the Michigan offense. When you have two talented runners, it makes sense to go to it on a consistent basis. Mack (both of them) can beat you to the outside in a hurry and make moves in the second level. It is up to DeJounte Wilson to lead this group in stopping the option attack and forcing punts. Look for their safeties to come up and assist as well.
Key Matchup
Michigan MLB Nate Jones vs Washington HB Ron Dayne Jr.
It's not often to see a possible DPOY vs OPOY matchup during the regular season. Luckily for us, these two face off in a battle of precision and power. Nate Jones wraps opposing halfbacks with ease, but Dayne can break tackles that other guys couldn't dream of powering through. Since Dayne is poised to have 30 carries, we should be hearing both names all night long. Enjoy the show!
Prediction
These teams couldn't be more evenly matched up if they tried. Each side has a foil to the plan of their opponent. Based purely on recent success, Michigan has the smallest of edges in this game. However, in front of the home crowd, I see a possibility that Washington bounces back and gets a win to keep their Big Ten hopes alive. Dayne will have to be a major player, but Ohle has to bounce back to ensure the victory. I believe that he can do it tonight.
Michigan 35, Washington 38