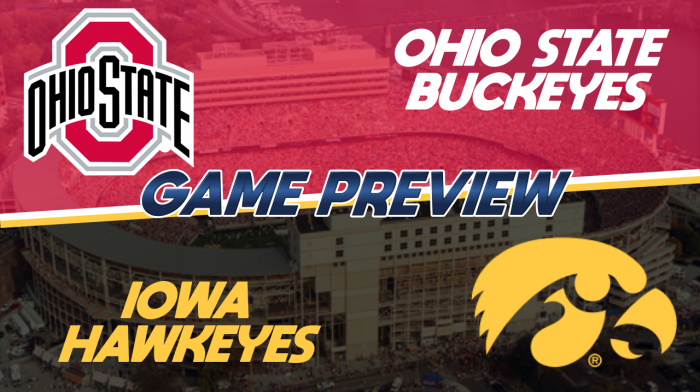 As the weeks go by, the Big Ten race gets thicker and thicker. While Notre Dame and Oregon are the two main contenders for the conference lead, these 4-4 teams still have a shot at making a rose bowl berth. Ohio State (4-4) is coming off of their first lost since having a new AD take over the system. Their progress has been admirable, and the loss to Notre Dame should not discredit this one bit. Their ability to come and win in close games could serve them again tonight. Iowa (4-4) put up a huge three point victory against Oregon a couple weeks ago, but couldn't follow up against a surging Auburn team. You have to go all the way back to Season One to see an Iowa victory over Ohio State. The names and faces are different, but these two teams are ready for the fight.
Ohio State
Offense
The Buckeyes offense is right in the middle of the pack in terms of yardage and points scored. As a unit, the offense is predicated on their passing ability. Freshman quarterback Deandre Evans has been electric since he stepped on campus. His highlight ability is a close second to his consistency in the pocket. Throwing 70% of your passes for completions is one thing. But averaging 8.7 yards per attempt? That puts you up there with the elite. Fellow Freshman Zaire Bradley has to get some credit too. The speedster has 387 receptions for 887 yards, putting him second in yards per game and third in yardage. Blake James is also putting in some serious work in his final year at OSU. The 561 yard contribution this year has been key to keeping opponents guessing. This squad can pass all over you on the way to a victory.
Defense
This team has given up a lot of points defensively, though this was skewed heavily by their week one blowout loss. Looking past that, their defense has been pretty solid since the Clemson loss. Their key on defense is turning mistakes into turnovers. 13 takeaways in 8 weeks is nearly a league leading mark. You can attribute a lot of this to Moody Mitchell's three interceptions on the year. While he plays a lot more coverage than other strong safeties, his ball hawking ability is second to none. Fellow safety Nicholas Reynolds has two interceptions of his own, but gets in on the run stopping a bit more. For a unit with stars like this, it does seem a bit odd that they give up the third most passing yards per game. Regardless, this unit is going to be ready to play tough tonight.
Iowa
Offense
Traditionally, Iowa has leaned toward the running game for a while now. When you have a talent like Avery Jordan carrying the ball, you'd be stupid not to. Jordan is making his case for the best back in the league with an insane 7.0 yards per carry. Needing just 172 carries to get to 1200 yards, Jordan is making moves into the secondary better than anyone else in the league. If he gets the ball 25 times tonight, we could see some special stats at the end of the night. While Avery has gotten off to a hot start, quarterback Marcos Hernandez has floundered to say the least. His marks are dead last in every single tracked category compared to his fellow Qbs. Fortunately his legs have been great on the way to 650 yards on the ground. Iowa is a team that will run you down all night.
Defense
For a team that has gone four and four through their first eight, Iowa has a defense that shows out more often than not. Second only to Clemson in points allowed, the Hawkeyes are ruthless on the defensive side of the field. Getting to a third and long situation is a death sentence against this unit as they only allow 40% of those to go through. They also are a unit that loves to get in and hit the quarterback, notching 18 sacks on the season. Look no further than reigning DPOW Alvin Mack and his five sack performance last week for evidence. When it comes to run stopping situations, Jerry James is your guy. 10 of his 54 tackles have come behind the line, including one sack on the year. With the amount of pressure this unit generates, offensive coordinators have to be a little more conservative than usual.
What to Watch For
Ohio State Running Game vs Iowa Running Game
I glanced over Frost Carlson in the OSU offensive preview, but his stats are solid as well. Since the team passes so often, it might be a great time to flip the script and run through the tackles a bit more. Carlson is an easy 100 yards a game rusher with size and ability to compete with Iowa's defense blow for blow. Iowa's HB, Avery Jordan, is crushing everyone he faces with ease. His ability is known around the league, but can he do it against a team that has multiple interior lineman. Whichever side can control the ground will have a significant advantage tonight.
Key Matchup
Ohio State OLB Noah Mason vs Iowa QB Marcos Hernandez
This matchup is unusual but interesting for our viewers. Marcos Hernandez loves to take off and run to the outside when possible. He also tends to throw quick screens to Avery Jordan in second or third down situations. Who will be lurking over there in both scenarios? Noah Mason. Mason has 50 tackles so far and should some solid numbers to that tonight. We all know those screen passes just love to get caught by the other team and taken to the house. Noah has got his hands on one ball this year, lets see if he can snatch another.
Prediction
Regardless of who wins, I don't see this being a blowout. This should turn out to be a gritty, hard fought game. Iowa has a natural advantage on the ground, but their passing game is a huge negative against this OSU defense. On the flip side, OSU is solid all around and possesses the ability to beat you in multiple ways. That versatility should lead them to a narrow victory on the road tonight.
Ohio State 34, Iowa 27