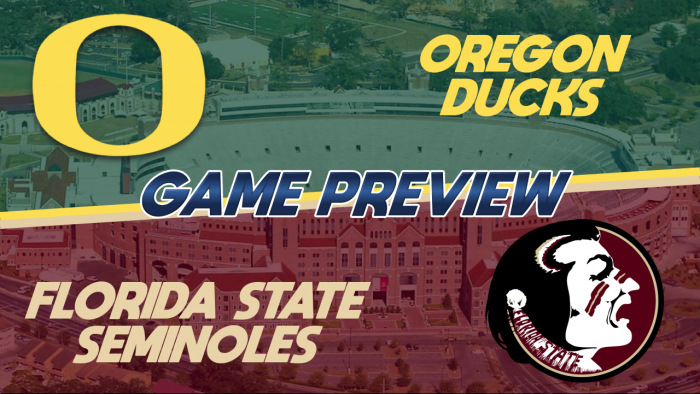 Oregon and Florida State are two completely different teams heading into week nine. Oregon is one of the top-ranked teams in the nation and looks to push towards being the Big Ten champion and representative in the Orange Bowl. They struggled with Penn State  last week and almost lost until a late interception by the Oregon defense iced the game. The Ducks don't necessarily need to win this, but their national title hopes say otherwise. The winless Florida State Seminoles, on the other hand, have been letting games slip away time and time again. Just last week they let an 18 point fourth quarter lead fall through their hands to number three Tennessee. Florida State is looking to avoid their first winless season in CFSL history.
OREGON
OFFENSE
Oregon offensively is one of the worst units in the league. They average 387 yards a game, which is third worst in the nation, and 204 passing yards a game, second worst in the league. Quarterback and former number three recruit in the nation Devonta Cribbs has been doing it mostly on the ground, rushing for 5.9 yards a pop on 92 carries. Halfback Speedy Love has had trouble establishing the run game all season. He needs to start picking up his game as Oregon pushes for a championship. This team has had struggle scoring and will need to start putting points on the board if they want to compete with the powerhouses of the SEC.
DEFENSE
On the flip side, Oregon's got a strong secondary. With 3 5-stars and a 3-star, there are no holes in this defensive backfield. Season two All-American Safety Jack Frost is almost always in the play, being third in tackles with 82. Another season two All-American Israel Cassius is one of the top defensive playmakers. He is tied for the league lead with three interceptions and has the second most kick returns in CFSL history with three. Linebacker Noah Lopez is another key player, controlling the middle of the field. This unit has been carrying the team all year, but they need to step it up in order to have a chance at the natty.
FLORIDA STATE
OFFENSE
This electrifying offense may be the best passing offense ever seen. Two of the most talented wide receivers, Trevor Golinar and former LSU Tiger Jared Tetonis, are lighting up secondaries all across the league. Quarterback James Kovach has been lighting up defenses with his arm, breaking multiple records on the year. This offense's ability shines through in the first half but seems to falter once they move into the final thirty minutes. They are one of the only team consistently putting up 50 on their opponents. With that being said, this group will need to keep up the pace if they want to avoid the dreaded winless season.
DEFENSE
Unfortunately, the Seminole defense is not the strong suit of this team. They have a few playmakers, most notably Nathan Tetonis and five star outside linebacker Darnell Jefferson.  They have struggled to stop the majority of the team they have played, although they played great against a legitimate Texas offense. Allowing 44 points per game is worst in the league, and it illustrates their struggles. They are also the only team to allow over 500 yards a game, a mark that no other team has come close to. Their defense has had struggles in the second half, often letting time slip away in the final minutes. This unit gets a break in this matchup by going against this offense, who only put 23 on Penn State which has a similar defense to the Seminoles.
KEY MATCHUP
Florida State Passing Offense v. Oregon Secondary
The most fearsome passing offense faces one of the most talented secondaries to date. The three five-stars, led by Oregon's tackle leader Jack Frost, look to slow down both Trevor Golinar and Jared Tetonis, the CFSL's leader in career receiving. A wise man would say that the winner of this matchup will end up victories after the dust settles.
PREDICTION
In my view, I think that the offense of Florida State ends up being able to beat the Oregon secondary. Jared Tetonis should be able to have a huge game. This may come as a shocker to some of you but I believe that Florida State will win in a close game.
Oregon 35, Florida State 38