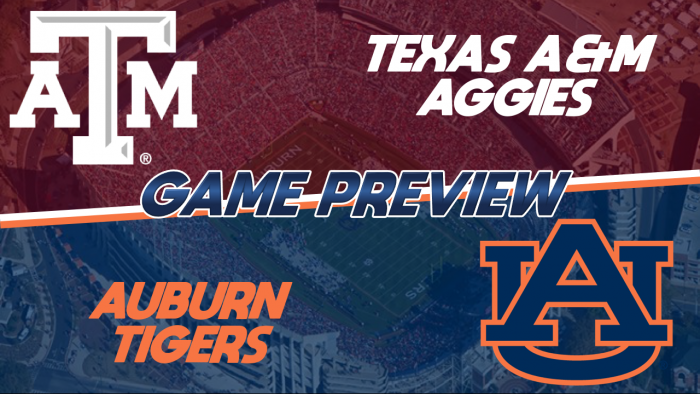 This game may not seem like much on the surface, but both teams are playing for something in this matchup. Texas A&M still has yet to win a game despite being within one score a handful of times. Being a team in dire straights, a win could help them salvage a sliver of their season going into their matchup against fellow winless team FSU. On the other hand, Auburn has to win to stay alive in the SEC. They control their own destiny and can't afford to overlook an opponent that they should beat nine times out of ten. Can A&M come into the temple of greatness and pull a huge upset? Or is Auburn and their firecracker offense going to put down the Aggies with ease? Its time to dig in and see what this showdown has to offer.
TEXAS A&M
Offense
The Aggies offense has a few pieces that have yet to properly work together this year. Coming out next to last in nearly every offensive category has to be frustrating for the veterans of this offense. Tim Riggins has been a stable commodity since day one, but his production has yet to translate into team success. While the back has racked up over 1000 yards rushing this year, his average has dipped to 5.5 yards per carry. These aren't bad numbers, but they lag behind some of the other feature backs in the CFSL. Daniel Murphy has looked decent throwing the ball, but nothing spectacular. His 149.6 quarterback rating does put him in the upper half of the league. Outside of that, there isn't too much to report on his end of things. Maybe if he can target Christian Barnes a little more, the offense can open up for Riggins.
Defense
Giving up 40 points a game is not a great stat for any level of football. Somehow the combination of defensive players has not turned out like some experts hoped. The lack of star power is one thing, but their overall play has been lackluster in every category. Hopefully Fletcher Reyne and Derrick Doyle can turn things around after they both posted solid individual performances last week against Michigan. However, the real key piece lately has been Senior Derrick Doyle. Derrick has put up some great stats over the last six games, totaling 48 tackles. If he can get his hands on a couple more errant passes, things could turn around for this defense real quick.
Auburn
Offense
Where to begin with this unit… How about their two insanely talented wide receivers? Alex A Cook is facing his former team in what could be considered a renaissance season. With 30 receptions for 405 yards last year, Cook has blitzed through his prior numbers and is closing in on the 600 yard mark. His running mate, Wayne Carter, is putting up even better numbers in his freshman year. Carter already has 9 touchdowns on the season to go with his 739 yards. These two combined are near unstoppable for opposing defenses. When you throw in Billy Carter, defensive coordinators are hopeless. Carter has been overshadowed all year, but his average of six YPC is up there with the best halfbacks the game has to offer. This offense can do anything and will flex their muscles in this matchup. Oh, right, Blake Moon plays here too.
Defense
Where the Texas A&M team struggles on defense, the Tigers excel. They are a cohesive unit that kills drives on a consistent basis. Getting first downs is extremely difficult when you factor in that they barely allow 40% of their opponents third down attempts to get through. Even worse is their league leading 1st down mark of just 17.3 a game. Eric LeClear has stepped up in his Junior season and is on track for a possible All-American bid. 73 tackles over eight games is a great mark, shored up by six tackles for loss. Tony Bryant also can bring the hit stick in the middle, tallying 58 tackles on the year. With contributors all over the field, this unit is a tough one to crack.
WHAT TO WATCH FOR
Texas A&M Run Stopping vs Auburn Run Game
Texas A&M will have to take away the run game to have any hope at winning this game. At first glance, you might want to play the pass due to their great receivers. However, stopping the run that is getting this team over six yards a carry is a must. Both Moon and Carter can get down the field in a hurry. Playing correct coverage on the read option will be crucial.
KEY MATCHUP
Texas A&M MLB Derrick Doyle vs Auburn QB Blake Moon
It's going to take a team effort in order to be able to slow Moon down. While his rushing numbers are lower than usual, his passing game has been insane all year long. Everyone is going to have to play their best to have any hope at the win. Look for Derrick Doyle to have a key role in this as the centerpiece of the defense. He will have to make all the right reads to put them on top.
PREDICTION
I don't see this one being very close. Auburn has to win and knows it. They are already rolling in their last few games. I'm not sure that Texas A&M can bring enough firepower to this one to come out on top. I'll keep it simple today – Auburn wins big.
Texas A&M 23, Auburn 45