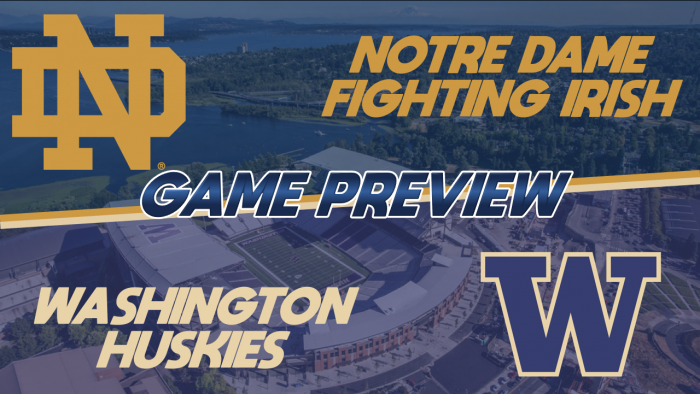 WEEK 10 PREVIEW: Notre Dame at Washington
By: HornsNation05
Two teams heading in opposite directions meet tonight on Monday Night Showdown. The Irish (6-3) head to Seattle to take on the struggling Huskies (4-5). Notre Dame comes into this game riding a three game winning streak while Washington is losers of three straight. The series between these two teams are tied up at two a piece. The Huskies (formally Hawaii) won their last matchup, 38-21. In that game, Ron Dayne Jr. rushed for 213 yards and three touchdowns.
NOTRE DAME
If there was a time in the season to catch fire, this would be the time. Notre Dame has won three games in a row, headlined by the OT thriller over Tennessee. In that game Quarterback Ty White accounted for over 450 yards of total offense and five total touchdowns. Running back Jacob Philhart rushed for two touchdowns of his own with 99 yards rushing. On defense, Tyson Ali secured nine tackles with two for a loss and one sack. Ali, a defensive tackle, brings his tackle total to 43 with an impressive 18 tackles for loss and nine sacks.
Notre Dame has been impressive lately with wins over Tennessee, Ohio State and Penn State. The Irish need this win more than ever as they find themselves tied for 1st in the Big 10, at 4-1. Oregon holds all the cards right now after beating the Irish a couple weeks ago but a win here and a loss by Oregon next week, the Irish could make the Orange Bowl. Notre Dame will need their playmaker, Ty White, to have a complete turnover-free game in order to win this. If White can get going early and the defense limits Dayne, this could be an easy win for Notre Dame.
WASHINGTON
A championship hangover has hit the Huskies hard the past couple weeks. After sprinting out the door to season three with a 4-2 record, the Huskies have fallen hard. Consecutive losses to Ohio State, Texas and Michigan has dashed any hopes of a repeat. Last week the Huskies were thrown out the door by the Wolverines, falling behind early en route to a 59-38 drumming. Doug Ohle passed for 63 attempts, completing 48, for 472 yards and three touchdowns.
While Ohle is a great playmaker, those watching Washington must have wondered why Ron Dayne Jr. was left off the game plan. Dayne Jr. had his lowest rushing total this season with six carries for only 28 yards. Derrick Gray set the CFSL catching record with 22 catches for 236 yards. Defensively, the Huskies struggled, giving up 528 total yards. Third down stops appeared bite the Huskies, giving up a whopping 81% conversion rate.
Washington needs to go back to their bread and butter in order to gain entry into a good bowl game. Sitting at 4-5, the Huskies will need to involve Ron Dayne Jr., as he has shown success against the Irish. Washington currently sits at number three in rushing offense, averaging 220 per game. Defensively, the Huskies will need to stop the pass. Washington ranks last in passing yards allowed at 346 and their secondary could be in for a long night if White gets going. The old mantra of "run the ball and play defense" is what Washington needs tonight. Do those things and they might pull of a victory.
MATCHUP TO WATCH
Notre Dame QB Ty White vs Washington Secondary
As mentioned above, the Washington secondary has been feasted upon the past couple weeks. Quarterbacks DeAndre Evans, Ray Tatum and Dewey Ainge have lit up this secondary. Kalu James and company have their work cut out against this 5th ranked passing offense of Notre Dame. Trent Bodine, Brody Bodine and Upton O'Goode should find some zone holes in the 3-3-5 of Washington. This will be the matchup to watch tonight.
PREDICTION
This game could be a blowout, or a really close game. If the Washington team of old shows up, look out, they can keep up with the Irish. If the Irish get rolling early, they could easily blow this Huskie team out. But I don't see that tonight. I think the Doug Ohle and Ron Dayne Jr. show up big in this game and make us remember that Washington is the reigning champs. Huskies pull ahead early and hold off Notre Dame at the end, 41-38.