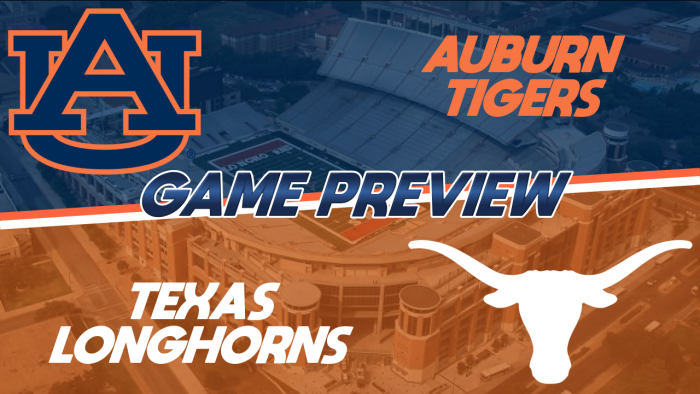 Auburn comes into this game in control of their own destiny and riding a three-game win streak. Due to Texas's blowout loss against Clemson last week, Auburn can't sneak into the championship game. However, a win against Texas this week would put them firmly in a top bowl billing. Expect the Tigers to take out a bit of frustration on Texas for ruining their title hopes. On the other hand, the Longhorns are reeling right now after getting beat down for the worst loss in team history. Sitting at 2-2 in the conference, Texas needs this win to maintain Gator bowl hopes for a Tennessee or Clemson rematch. Under no circumstances does this team want to lay down and die to end the season. Get ready for an absolute dogfight.
AUBURN
Offense
The Tigers pack quite a punch on offense from on angles. When it comes to keeping the chains moving, no one can compete. 24.4 first downs a game puts them right at the top. Toss in the best third down percentage and you have a lot of long drives down field. There are many reasons that this offense continues to be one of the best. Blake Moon is passing more than ever before but still manages to keep defenses guessing. Just the ability to scramble is altering plays. His running back Billy Carter has some strong legs of his own. The first year back has totaled 1129 yards on a 6 yards per carry clip this year. The receiver duo of Alex A. Cook and Wayne Carter has yet to get shut down this year. The Texas defense is going to have to pick their battles as they can't stop the whole package.
Defense
For every strength the Texas offense brings to the table, this defense can counter. Eric LeClear is up to 85 tackles on the year along with 7 tackles for loss. The SS can come up and lay a solid hit on even the biggest of backs. The man in the middle, Tony Bryant, also can pack a punch in the run stopping game. His tackle total is up to 73 and includes 5 tackles for loss. Even more impressive are the three interceptions, a mark that is near the top for linebackers. The big question for Auburn is their inability to force turnovers. While they get pressure on the quarterback and put teams in tough third down spots, the Tigers defense doesn't come up with takeaways that often. With Voodoo coming off of a three-interception game, getting an interception early would set the tone for the entire game.
TEXAS
Offense
A lot of the blame for the loss against Clemson comes down to the struggles of this offense. Ray Tatum was not his usual self, throwing three interceptions and only getting 236 passing yards. His performance will have to be much sharper against yet another great pass defense. The one huge bright spot from last week was new wide receiver Rickey Stedman. Stedman got 10 catches and 109 yards in his debut game. Another performance like that and Texas could put more trust in their passing game. Running back Geaux Bamba has been quiet lately, but still managed to get 124 yards on 18 carries last week. He also added in an unusual 10 receptions for 50 yards. Look for him to try and break a kick return tonight as you know he wants to bring back his week 1-4 performance. This unit is powerful but needs to keep things together tonight.
Defense
Giving up 51 points last week was a new high for this Longhorn defense. Their previous three games showed positive improvement from the secondary, which DJ Moss promptly ended. Jimbo Smithers still dominated on the way to a 12-tackle game with massive hits. Look for more of the same from him as he continues to lay the lumber on opposing players. Junior linebacker Justin Boudreaux can stop the run with the best of them. He should be playing up with the line to put a damper on Auburn's two man rushing attack. Stopping the run will be key to a Texas victory tonight. Holding those first down rushing attempts to under three yards will be the main goal for the Texas defense. If Michael Sudeikis can pitch in with a couple sacks against Moon like he did in his first year, then watch out for this team to take control.
WHAT TO WATCH FOR
Auburn Secondary vs Texas Passing Game
Auburn's secondary has been stellar while the Texas passing game has been mistake prone and janky. This provides a great opportunity for the Tigers defense to step up and improve their turnover margin. Eric LeClear should be able to stay back in a zone and take away the big passing plays Texas like to try. On the other hand, Texas needs to find consistency in the air without going to the same receiver over and over. This has happened both with Jackson James and Rickey Stedman. While both had great individual performances, spreading the ball out more will increase their chances of victory. Look for Voodoo to be a bit more careful with his passes tonight.
KEY MATCHUP
Auburn QB Blake Moon vs Texas DE Michael Sudeikis
Remember what happened the last time these two met? Sack City went off for 5 sacks against the star QB. This time, the teams are different, and Texas has a better defense than the defunct LSU team. Moon is still a star who can make plays all over the field. Regardless of how good of a QB you are, being in the dirt all game gets to you. If Sudeikis and his neck roll can make plays, Texas can power into a win. If Moon dominates early and slips around the D-line, he can have his way with the entire defense.
PREDICTION
After scrolling through their recent performances, it looks like Auburn is going to have a slight edge coming into this one. The Tigers are rolling whereas the Longhorns are reeling. Due to their offensive versatility, I have to say that Auburn will win this one in a back and forth game. Either team can take this one with just one major play. Whether it be a long bomb or a kick return, something is going to happen that changes the course of the game.
Auburn 35, Texas 31