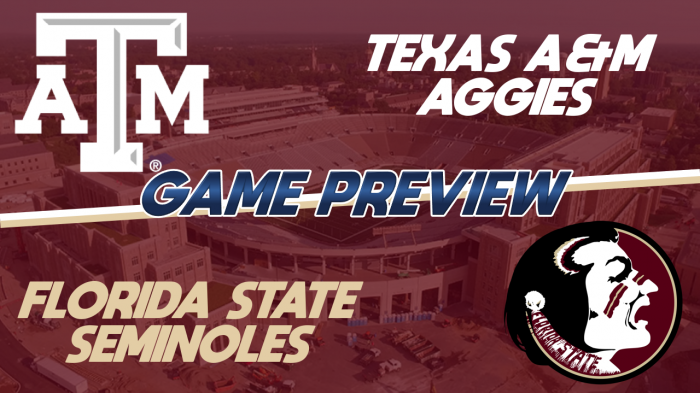 We are in for an absolute treat in this Goliath vs Goliath matchup. Both teams are undefeated and cruising through teams left and right. Nine straight wins is a record setting mark, but by two teams in the same season? Unprecedented. With their eyes to the postseason, both teams have one final test before they get their chance at the title. Texas A&M has bullied their way through the SEC with a versatile rushing attack and competent QB play. Florida State has aired it out to great success so far. Let me put on my glasses and take a closer look at these stats. Oh, that says 0 – 9? What if I told you that despite neither team winning a single game this season, this game has all the pieces for a fantastic game?  Let's dive in and see which team can avoid missing a bowl game with a win.
TEXAS A&M
Offense
Despite their fair share of turmoil throughout the year, Tim Riggins has been the one constant that this team can rely on. Like their offense last year, Riggins has pounded the ball through the tackles more times than I can count. His 5.3-yard average isn't the highest in the league, but he is being targeted by defenses every game. The Big Rig also boasts soft hands out of the backfield with 49 receptions. His Quarterback, Daniel Murphy, has been up and down throughout the year. Due to FSU's recent struggles against the pass, it may be his time to shine. Albeit with a small sample size, Murphy's stats have been up to par this year. His 70% completion percentage and 7.3 yards per attempt are right around what you would expect from a QB of his caliber. If they can get Christian Barnes involved, A&M could gain momentum early.
Defense
Texas A&M is not known to have a particularly strong defense by any stretch of the imagination. The Aggies give up over 40 points per game and have an abysmal first downs allowed mark of 22.6. Their biggest weakness is their third down defense. Any AD will tell you that getting stops on third down is crucial to winning games. The 59% mark that this team gives up is not going to cut it tonight. The spotlight is on Fletcher Reyne tonight to shut down the middle of the field. Coming off of a 6-tackle game with a pass deflection, Reyne needs to play great zone coverage to take away the quick slant plays that server as a run game for FSU. Even more important is the coverage by Jake Sun. He won't be able to shutdown FSU's dynamic DUO, but every deflection can have a huge impact.
FLORIDA STATE
Offense
While technically not an air raid offense, no other team can pass like the Seminoles. Led by star widereciever Jared Tetonis, no ball is considered uncatchable. Luckily James Kovach hits his spots like a pro-QB. Ignore the 66% completion rate as Kovach tosses some crazy deep passes. Look no further than his two top targets for proof. Trevor Golinar is boasting an 18.2 yards per reception mark, while Tetonis has 28.8! It's no surprise that Kovach is up to 3205 yards through the air. The key for this team is to stay aggressive all game long. Using Adam Croft as a change of pace is still a good idea, but the deep ball needs to be the focus. A&M only has a couple of guys in the secondary. Keep it simple and toss the ball on your way to a victory.
Defense
Just like a Tetonis is leading the offense every down, Nathan Tetonis is lighting it up on defense. Nathan is already over the 100-tackle mark with two games remaining. While he only has one interception on the year, his pass cover ability is top notch. The problem FSU has is that the rest of their defense has been lackluster. Giving up a lead leading 45 points a game is not a good way to get a win. Darnell Jefferson is doing all he can, contributing 12 tackles for loss on the year, but they need other guys to step up. Jim Jim Jameson and Vinny Maddox played well last week with nine tackles and 6 tackles respectively. If they can replicate the performance this week, their first win could be on the way.
WHAT TO WATCH FOR
Texas A&M Defense vs Florida State Defense
There aren't too many questions about the offense of either team, but defense has been a consistent struggle for both sides. A&M is unable to stop a peewee team on third down this year. They will have to step up and play swarming defense to force punts in this one. The Aggies are also lacking in the takeaway department with just three on the year. Both flaws need to be corrected if A&M wants to have the ball at any point in this game. FSU forces turnovers with above average frequency but lacks when it comes to run defense. They are giving up the most yards by a mile, which is a bit of a problem vs the Big Rig. The adage of defense wins championships could not be truer than it is in this game.
KEY MATCHUP
Texas A&M CB Jake Sun vs Florida State WR Jared Tetonis
Any time you must cover someone like Jared Tetonis, you'll have your work cut out for you. Sun may be a newcomer to this A&M squad, but he can at least slow things down a little bit with good coverage. His key will be playing off and stopping the deep ball. Letting a few short passes is ok, but you must cut down the insane 20+ yard catches that seem to happen all the time. Tetonis is going to have to be savvy and know when to alter his routes. Whenever Sun is playing up, Kovach and Tetonis need to know to go deep. If Tetonis gets going on their first drive, you might as well call the game there.
PREDICTION
I expect this to be one of the more exciting games we have remaining on the season. No one wants to go without a bowl game no matter who they are. Texas A&M would love to get a win before facing off against Texas in a rivalry game to end the season. They have a clear advantage on the ground going against the worst run stopping unit in the league. However, it's likely that FSU understands this and will compensate with more 7 in the box looks. Even if their defense collapses, FSU can still outpace the A&M offense with their versatile passing attack. This allows A&M to sit back in conservative pass coverage the whole game. It's a tough one to pick since each side can counter their opponent. In the end, it's going to be FSU coming out on top in a high scoring affair.
Texas A&M 41, Florida State 45