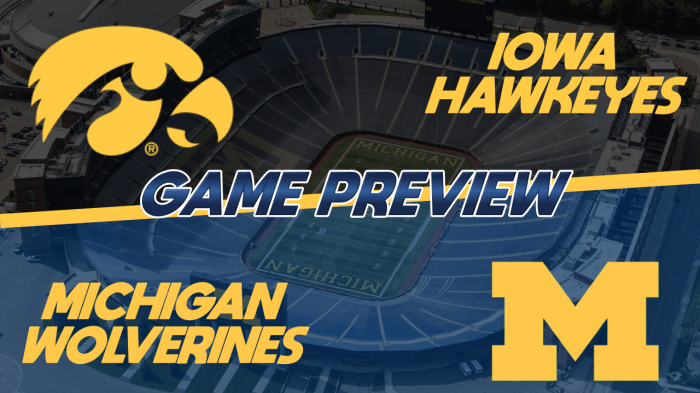 Two teams who are jockeying for position in the Big Ten and a Rose Bowl berth are squaring off. As if that wasn't enough, these two teams have a shared history dating back to a late season matchup last year. A game that ultimately played a role in Michigan being knocked out of the Orange Bowl and a National Title. Let's dive in.
IOWA
Alright, quarterback Marcos Hernandez put together one of his best passing performances this season. I doubt anybody expected the former wide receiver to go 26 of 36 for 295 yards. While Hernandez didn't complete one in the endzone for six points, it's still a good showing by the quarterback. Part of the reason why it was such a good showing was because of wide receiver Josh Christensen. Christensen's nine catches went for 148 yards. That performance helped Hernandez immensely. What made the deal even sweeter for the Hawkeye faithfuls was halfback Avery Jordan. The affectionately known "A-Train" gashed their opposition on 28 carries for 198 yards and four touchdowns. Jordan's performance was complemented by Hernandez's ground work which consisted of nine carries, 42 yards, and a rushing touchdown.
The defense also stepped up to the occasion, holding a potent Ohio State offense to just 24 points. Defensive end Alvin Mack added to his impressive sack total with two more, tying him for the league lead on the season. Safety Othello Jones led the defense in tackles with eight and one for a loss. Fellow safety Joey Hanson added a sack of his own to go with his three tackles and a tackle for a loss. Overall, it was a really nice performance defensively, just not a lot to write home about in terms of individual performances, and I like to think that the Hawkeyes are okay with that.
MICHIGAN
Last week felt a little too easy for the Wolverines. Quarterback Javon Mack put up 342 passing yards with three touchdowns to offset a single interception. To complement the performance was halfback Ezell Mack's 104 rushing yard, four touchdown performance that absolutely spelled terror a week ago. It looked great, and wide receiver Markell Chapman ripped the secondary apart, with five catches going for 151 yards and a pair of touchdowns. The offense looked absolutely dominant last week, and have been on a roll for the last few.
This is where the defense looked absolutely stellar. Namely, corner Buchanan Simons who had a CFSL first that will never really show up in a record book. Simons snagged a pitch out of the air and ran it back 84 yards that set up Ezell Mack's first rushing touchdown, from five yards out. Simons hauled in two interceptions, totaling three turnovers on the night to go with his seven tackles and tackle for a loss. Oh, and don't forget that linebacker Nate Jones had 14 tackles and a tackle for a loss. It's a shame that Nate Jones is making that stat line look normal in today's CFSL.
WHAT TO WATCH FOR
Iowa's been running the ball effectively with Avery Jordan, the question is, can they get around the immovable wall of Nate Jones? To do so, they need Hernandez to once again do well in the passing game, which means another receiver has to step up. Whether or not that's Josh Christensen or another member of this receiver corps remains to be seen, but the point remains, Iowa can't solely rely on Jordan for this one.
PLAYER MATCHUP
HB Avery Jordan v. MLB Nate Jones
I doubt this would be a surprise to anyone. Jordan is one of league's top rushers and Jones is the league's top linebacker. This is the major matchup to be watching. If Jordan gets going, then Hernandez would have time to throw, the play action game could be utilized, read option, all these different things. But that's only if Nate Jones can't put the breaks on Iowa's A-Train. An unstoppable force is about to meet an immovable wall.
PREDICTION
This game is big, after all the Rose Bowl is up for grabs and there is some pride at stake too. If Michigan can keep their offense rolling at the pace they've been going then all is well for the Wolverines as an offense. And, should Nate Jones be able to put Avery Jordan down, then Michigan has a great chance. However, all that is easier said than done. Iowa showed last week that they're not solely a running team and do have some offensive power outside of that. Not to mention, Alvin Mack has been on a tear as of late throughout the backfields of the CFSL, something Michigan would do well to be aware of. Still, it's hard to envision Michigan not improving to 6-4, giving them a five game winning streak. It's just going to be closer than last week.
Iowa 34, Michigan 41