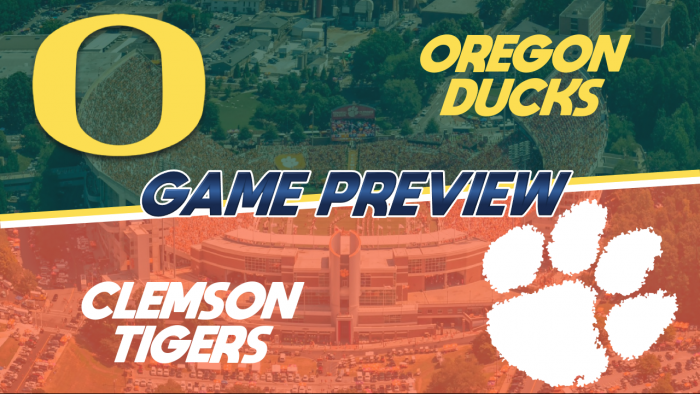 This is game is big, so it's only fitting to be the last game on the slate tonight. I mean, this game is insanely big. Oregon and Clemson are National Title contenders, meaning that this game has a ton of weight to it. This game almost feels like a National Title game, and only one of these teams is technically the conference leader, and neither team has won their conference even if there are claims. That means there are a few scenarios where this game doesn't see an Orange Bowl rematch. This is how intense of a game you can expect, so let's take it from the top.
OREGON
Here come the Ducks, they've won two in a row, but have been wildly inconsistent. Lost to Iowa, scraped by Penn State, blew out Florida State, in that order. What hasn't been inconsistent has been the play of the quarterback, Devonta Cribbs. Sure he had a pick against Penn State, and didn't look great against Iowa. But his completion percentage has been top notch for a better part of the season. Oh, and last week he dropped three touchdown passes on Florida State to the tune of 293 passing yards, all of which offset his lone interception. Couple all of that with his pair of rushing touchdowns and things looked good for the Ducks. Especially since halfback Speedy Love ripped off 149 rushing yards for three scores on the ground. A big performance to try to repeat tonight.
When linebacker Jordan Connor and defensive tackle Ben Marquez combine for a pair of sacks, it's a fun overall day for the Oregon defense. Corner Israel Cassius hauled in an interception for the Ducks while his counterpart Thor Odinson racked up eight tackles. More than a few of those hits carried Oregon's explosive power behind it too. This defense has been balling out, but safety Jack Frost, while being a career tackles leader, hasn't been as dominant over the last couple games. He was against Iowa, though, and we'll see if he can look as dominant tonight. Oregon needs him to.
CLEMSON
Well, last week was surprising. Few were surprised that the Tigers claimed victory, it had more to do with how victory was claimed. Quarterback DJ Moss' passing numbers looked familiar to some fans, as Moss put up 314 passing yards with three touchdowns and two interceptions. His 21 carries for 149 yards and touchdown also look familiar, considering his legs have gotten the work this season. Halfback Cheetah Brown looked good complimenting the performance of his quarterback. Brown danced his way to 75 yards and a pair of touchdowns on 12 carries. Clemson fans had to be pleased that wide receiver Anthony Robertson III had the game he did, with six catches going towards 148 receiving yards and a touchdown. Tough to stop this offense when they can beat you in a variety of ways.
Speaking of variety, this Clemson defense enjoyed some variety of their own considering that three different players hauled in an interception. Linebacker Benjamin Boulder, corners Andrew Fuller and Jackson Slade,  they each snagged an interception a week ago. Defensive end Mike Miller did not record a sack, but he compensated for it with four tackles and two for a loss. Maybe more impressive, though, was the third down defense, which was stifling. The Clemson defense forced Texas into a third down situation on eight different occasions, and allowed only one conversion. That is insane.
WHAT TO WATCH FOR
On the note of insanity, Clemson's offense is absolutely insane. With the rushing numbers they're putting up, it'll be tough to stop them. Something that Oregon is not built for. The secondary is hard hitting, no doubt, the Ducks aren't built to stop the run, unless they bring their secondary down into the box. There's only one problem with that answer. DJ Moss can still sling it with the best of them.
PLAYER MATCHUP
QB DJ Moss v. FS Jack Frost
Forget the front seven for a minute. Moss was averaging about seven yards a carry last week, which tells me he was reaching the third level, a lot. That's something Moss is incredibly good at, his ability to reach the third level when he runs is crazy. That's where Jack Frost comes in. Frost has to have a huge game, and make those plays, meaning Frost will definitely have to play in the box to try and contain Moss. And we all know the kind of hits Frost loves to deliver, so keep an eye on this one.
PREDICTION
Face it, this game is going to be tense, there's a lot on the line here. National Title odds, pride, you name it. Clemson's offense is high-powered and versatile, Oregon's strength is their secondary and their offense showed what they're capable of last week. There's just one small problem. DJ Moss has bested Oregon once before, and has an opportunity to do it again, especially since Oregon really isn't built to stop him. Sorry Ducks fans, you're not unseating the current CFSL king. Tigers win it.
Oregon 31, Clemson 41