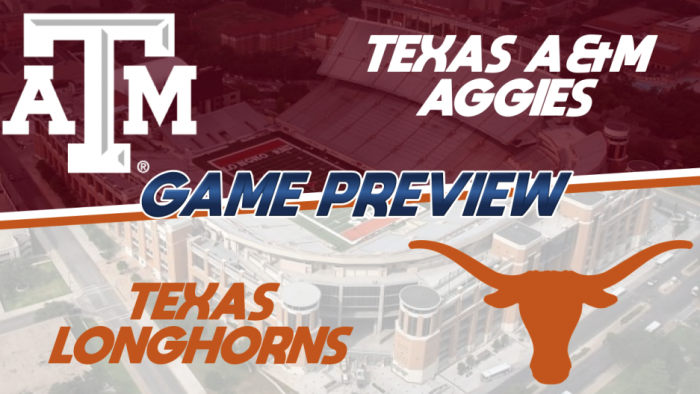 Week 11: Texas vs Texas A&M Preview
By: HornsNation
The Hex Rally. The Aggie Bonfire. Sawing the Horns off. Goodbye to Texas A&M. Lone Star Showdown.
The history between these two teams dates back to 1894 and is one of the longest and bitter rivalries in college sports history. The two teams stopped playing on the field in 2011 but tonight they duke it out against one another to open up the final week in CFSL Season Three.
TEXAS
What a difference two weeks makes. Texas (7-3) looked dazed and confused after they were ran out of their own building in the loss to Clemson, 51-19 two weeks ago. Last week, the Longhorns were the ones to run Auburn out, beating the Tigers 44-12. Offensively, the Longhorns went back to their bread and butter, pounding the rock with Bamba. Geaux Bamba rushed for 190 yards and two touchdowns on 32 carries. Quarterback Ray Tatum was efficient and turnover free with 223 yards passing and two total touchdowns. Tight End Jackson James provided the security blanket for this offense with six catches for 91 yards.
On defense, it was a group effort to hold Moon and company to just 312 total yards. Picking off Blake Moon three times helped as Jalen Davis became Moon's favorite target with two interceptions, one for a TD. Safety Jimbo Smithers accounted for another double digit tackle game, securing 11 tackles with one for a loss. Overall the Longhorn defense only allowed 60 rushing yards and held the Tigers to just one third down conversion all game.
TEXAS A&M
The Aggies (1-9) finally got into the win column in season three, beating Florida State 52-49. Tim Riggins rushed 27 times for 228 yards and four touchdowns. Daniel Murphy contributed almost 300 total yards with two touchdowns. As a team, the Aggies were able to rush for 449 yards with 137 passing yards.
Defensively, the Aggies did just enough to hold Florida State. The Aggies gave up 520 passing yards and allowed nine third down conversions on 12 attempts. The good news for the Aggies is that they forced the Seminoles into three turnovers, two by way of interception. This should bode well for Texas A&M as Texas quarterback, Ray Tatum, has struggled recently with forcing his passes.
WHAT TO WATCH FOR
This game is going to be emotional on many levels. Not only are these two teams finally playing one another but it will be Tim Riggins last game as an Aggie. Riggins has rushed for 3758 yards and 50 touchdowns in his career. The best way to go out would be a huge game and a win over Texas on Senior night.
KEY MATCHUP
Texas HB Geaux Bamba vs TAMU LB Fletcher Reyne
Reyne has been a monster in the six games that he has started for the Aggies. The five star linebacker holds 53 tackles, five for a loss and one sack. His job tonight? Stop the bull that is Geaux Bamba. Last week, Bamba made woodwork of the Auburn linebacking core. Can Reyne finally stop the Texas star, or will Bamba leave Reyne in the dust?
PREDICTION
Throw out the statistics and win/loss records. This is a rivalry game and these two teams have a hatred for one another. Both teams have each other in their fight songs. The history between these two teams goes way back. The stories tonight will be centered around Texas's ability to limit turnovers. Don't turn the ball over and this game could get ugly. For Texas A&M, you won last week, now build upon it for recruiting and next year. Texas, on paper, has the firepower to blowout the Aggies but they cannot beat themselves. The Aggies are the perfect underdogs, everyone has counted them out and a win here would spoil their rival Longhorns season. This game will be closer than many expected with the Horns pulling out late, 44-35.