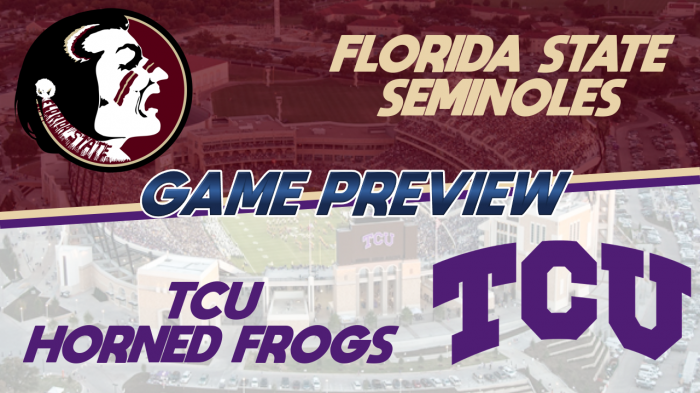 If you like deep bombs and acrobatic catches, then this is the game for you. Both Florida State and Texas Christian come into their final game of the regular season right at the top of the passing rankings. Florida State has shown that they have a prolific aerial attack yet are in danger of going winless despite their ability. It could be luck or lack of clutch play that has quelled their success all year. When you're on the losing end of seven one possession games, something must give. Texas Christian wants to deny FSU any hope of a win tonight. The Horned Frogs lost a close one to Tennessee last week and wants to bounce back before bowl week. As the CFSL season ends, one final matchup between these two teams should provide us with some amazing entertainment.
Florida State
Offense
When you think of the absolute best passing teams, this Florida State squad immediately comes to mind. Star wide receiver Jared Tetonis has put on a Sophomore campaign that matches his impressive Freshman year. With 1173 receiving yards on the season, Tetonis is just a few catches shy of being at the top of the league. A big reason why Jared can get so many yards is his mastery of the long ball. James Kovach, the gunslinger of the group, has just the right touch to get it there. While his completion percentage is below average, his yards per attempt is at a high 8.3 mark. Fellow wide receiver Trevor Golinar has already surpassed last years numbers by a sizable margin. If HB Adam Croft can get more involved all over the field, Florida State becomes extremely difficult to stop.
Defense
While the offense is a force to be reckoned with, FSU's defense is lacking in multiple areas. Their biggest strength is the safety combo of Jim Jim Jameson and Nathan Tetonis. Jim Jim, a mid season JUCO transfer, has played like a veteran since day one. Totaling 44 tackles and a sack, the safety has been stopping plays left and right. If something gets past Jim Jim, DPOY candidate Nathan Tetonis is the first man to put an end to the offense's hopes and dreams. It's going to be tough to hand DPOY to a player who is on a winless team, but it just might happen due to Tetonis's valiant effort to lead his defense to battle. Any player that gets triple digit tackles is special, but Tetonis is on another level. If the Seminoles stop the frogs early, they can ride their offense to a win.
Texas Christian
Offense
The Horned Frog's recent battle against Tennessee was one to remember, resulting in a close 6-point loss. Dalton Andrews will need to have a short memory and show a little poise to get his offense performing like the fans expect. With the FSU defense looking weak compared to the Tennessee team from the weak prior, it would be shocking to see Andrews turn the ball over three times. Koda Adok never got started last week but could be a key piece in this matchup. With FSU having their best defenders in the secondary, starting the ground game early could pay dividends quick. Look for a standout game from Horace Lynch. Lynch was able to get 83 yards and a touchdown with just 5 receptions. Spreading the ball around and not creeping not a pass-only offense should lead this team to an easy win.
Defense
Despite their 4-6 record on the year, TCU has been right in the middle of the pack defensively. Their key strength is playing the pass — convenient against the #1 passing offense. Credit a lot of their success against the pass to Kobe Jordan. The Freshman FS has come in with a bang, totaling 72 tackles and seven tackles for loss. His three interceptions and four pass deflections are a testament to Jordan's pass coverage ability. Speaking of getting to the quarterback, Jabril Jackson has put up some gaudy numbers in his Freshman campaign. With nine sacks and 16 tackles for loss, teams must think twice about scrambling or running the ball his way. The mop up man is Aaron Davis, a big hitting MLB who hit the century mark in tackles already on the year. There is enough talent on this defense to bring home the game singlehandedly.
What to Watch For
Florida State Passing Offense vs Texas Christian Passing Defense
It's always a treat when top units get to face off like this. Florida state has one of the best passing offenses we have seen in the CFSL. Their ability to complete deep passes keeps the defense spread and opens holes all over. TCU has made a name for themselves by dominating the passing game, giving up the second least passing yards per game this year. With key players making forcing turnovers and swatting balls, opposing offenses have their work cut out for them. Both teams match up perfectly. Whoever wins the aerial battle should come out on top.
Key Matchup
Florida State HB Adam Croft vs TCU MLB Aaron Davis
While FSU is clearly a passing team, Adam Croft plays a big role in keeping defenses guessing. In their last game against Texas A&M, Croft had three touchdowns on the ground and a whopping 10 receptions for 86 yards. The screen is a go-to play for FSU and it seems to work often. But where there are screens, there are interceptions. Aaron Davis is going to get opportunities over and over tonight. He has yet to get an interception on the year, but now is his chance. In addition, his wrap-up tackle ability is second to none. Getting a jump on Croft should help Davis add a few TFLs to his season total.
Prediction
As much as I would like to see FSU come through with a big win, I don't see it happening. TCU matches up perfectly against FSU. Their pass rush should be able to get right into Kovach's face, forcing errant passes to their plethora of stud DBs. The 40+ point games that seemingly come easy to FSU will not show their face tonight. Expect TCU to roll their way to 5-6.
Florida State 28, TCU 35