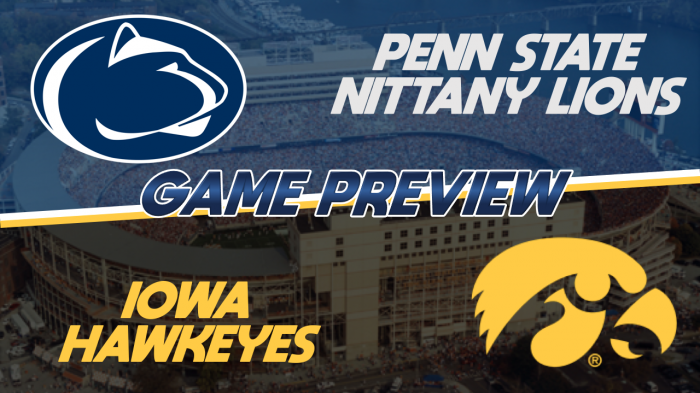 The Big Ten is one jumbled mess of a conference so far. However, both Penn State and Iowa are on the outside looking in toward the back of the conference. Penn State has had a rough inaugural season, going 2-8 coming into the last week of play. You can point to an inconsistent offense for a lot of their struggles, keeping a tired defense on the field more than you would like to see. Still, the Nittany Lions have playmakers and big names who can step up when they need it most. Iowa would be foolish to overlook them tonight. The Hawkeyes have been a top tier rushing team on the year but have failed to force turnovers on defense. The talent and experience are there for Iowa to pull out an easy win, but anything is possible.
Pennsylvania State
Offense
Sporting a less than stellar 27.7 points per game, PSU isn't considered an offensive force by any stretch of the imagination. Their 382 yards per game is a league worst mark. Still, there are some great players on this offense. Sophomore HB Jasper Johnson just hit over 1000 rushing yard mark on the year and has pitched in in the passing game too. His ability to fill multiple roles has proved invaluable this season when the offense starts to sputter. Averaging 5.4 yards per rush puts him near the top of the HB charts as well. DeMarcus Rodgers has also been one of the driving forces for this team all year long. Coming off a 5 catch, 99-yard performance should give him solid momentum going into tonight's game. If the whole team shows up, things can get exciting fast.
Defense
Tyler Smith has led this led this unit well, but things are not clicking for this defense. One major weakness is their third down play. Opposing teams manage to complete over 60% of their attempts on third down, leading to extended drives and points on the board. This is a huge problem as Iowa struggles on third down. Gifting them drives will ruin their chances of a win. An interception from Smith would do wonders for this team, as he accounts for 40% of their turnovers forced. MLB TJ White also has made his presence felt during his 80+ tackle campaign. It's a tough fight, but the defense needs to turn a complete 180 to win this game.
Iowa
Offense
Judging by the season stats, it would be fair to say Iowa has a one-dimensional offense. However, the offense Iowa came out last week threw 40 times in a close loss to a red-hot Michigan team. The offense is a curious case. Lead back Avery Jordan has been dynamite since day one. His rushing yards total is the highest of any HB this year. He looks to continue his dominance against a weak D-line by breaking off runs through the tackles. In addition, his hands are also top notch. 63 receptions to just two drops on the year. He is the catalyst for everything this offense does. Passing situations can be a whole different story. Quarterback Marcos Hernandez has been inconsistent at best this year. This is best shown by Iowa's 41% third down conversion rate. This team needs the whole package to make sure they come out on top.
Defense
Unlike their offense, the Iowa defense is not one dimensional. They can beat you down and halt drives when you try and pound the ball or air it out. Their run defense is only allowing 145 yards per game, a mark that puts them at 4th in the league. Give Alvin Mack a lot of credit for this. Getting 11 sacks and 20 tackles for loss in a year will certainly take an opponent's rushing yards down a notch. In addition, the DE has two interceptions and some great return numbers. You read that right. A DE has two interceptions for 60 return yards. Jerry James has also been a force in his third season, hitting 65 tackles and 13 tackles for loss last week. His play will elevate the whole team this week if he puts up another great performance. This defense plays hard and makes you earn yards.
What to Watch For
Penn State Run Defense vs Iowa Running Game
Penn State is giving up nearly 200 yards of rushing per game. This will get them in trouble against a backfield duo like Jordan and Hernandez. Avery is one of the best runners we have ever seen in the CFSL as a freshman. You can bet on him trying to extend his rushing lead heading into bowl week. Hernandez can also make guys miss on his way to the end zone with shifty play from the quarterback. TJ White will have to come up big to keep these two under control. I would also keep an eye on Joey Myers spying the edge to halt some scrambling from Hernandez. A couple big hits could change the momentum of the game in Penn State's favor.
Key Matchup
Penn State FS Tyler Smith vs Iowa HB Avery Jordan
When Iowa plays, it's hard not to make Avery Jordan the focal point of the game. His ability opens so many doors for this team. That's why it is so important for Tyler Smith to step up and lay the hit stick into him early and often. Big hits and tackles for loss are going to be huge confidence gains for the PSU defense. Tyler is the kind of DB who can come up and make these tackles like a linebacker. Throw in his ability to get to the ball in the air and we have an impact matchup between two of our brightest stars.
Prediction
Penn State matches up poorly against this Iowa team. It's going to be an uphill battle, but I see a realm of possibility where they claw their way to a win. However, I'm sticking with Iowa to grind out a win in a low scoring affair. The combination of their prolific running game and PSU's porous run defense is a huge factor in this one. Even if PSU focuses the run, I'm not sure that they can keep Jordan contained all day.
Penn State 24, Iowa 35