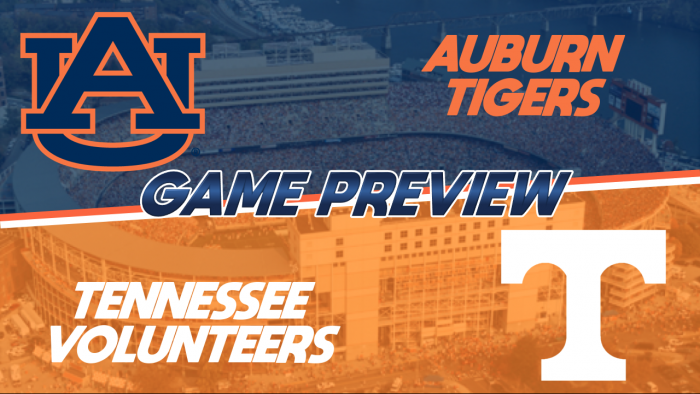 WEEK 11: Auburn vs Tennessee Preview
By: Hornsnation
If you love SEC football, this game is the epitome of this division. Auburn and Tennessee have a long and storied history in this league. Tennessee currently holds a 2-1 advantage over Auburn and this game has never been bigger for Tennessee. The Volunteers are currently in the National Title hunt and a big win tonight would keep make that path even clearer. For Auburn, their Title hopes ended last week but why not play spoiler this week and make it tougher for the Volunteers to win.
AUBURN
Any chance of the Tigers in the Title picture ended last week against Texas. The Auburn offense struggled move the ball and went one for ten on third down conversions. The offense could only muster 312 total yards and Blake Moon turned the ball over three times. The good news from this game is that Eric LeClear had a great day at the office with 13 tackles and one for a loss. Auburn will need him this week against    Tennessee.
The Tiger offense comes into this game scoring 34 points per game with 454 total offensive yards. When Blake Moon gets going early, he is unstoppable. The receiving core is loaded with Alex A. Cook and superstar Wayne Carter. This offense can be dangerous if Moon is able to hit his receivers for big plays. The bad thing? It's when Moon finds receivers other than the ones on offense. Moon has thrown 12 interceptions this year, the most in his career. If he can hold onto the ball, look out, this offense can score.
On defense, Auburn finds themselves in the middle of the pack in the league. Auburn currently holds opposing offenses to just 34 points per game on defense. Tony Bryant leads the Tiger defense with 81 tackles on the year and eight tackles for a loss. The key number for this game? Auburn is second in the league in first downs given up and third in total offense allowed. That number becomes key because Tennessee can score the ball either passing or rushing. This defense will be the key to this game.
TENNESSEE
The Volunteers took care of business against an pesky TCU squad, winning 23-17. Donny Kazee rushed for 183 yards on the ground and Dewey Ainge tossed two touchdowns with his 227 yards passing. Receivers Scotty Stallworth and Nash Nixon both had touchdown catches of their own as this offense churned out  376 total yards.
Tennessee boasts one of the best quarterbacks in the CFSL. Dewey Ainge has had a solid first year in the league with 3221 yards passing and 23 touchdowns. The best number for Ainge? A 160.7 quarterback rating, second best in the league. While the Volunteers have one of the best quarterbacks, they also have a very good running back in Donny Kazee. Kazee has rushed for 1295 yards and 16 touchdowns. This offense has shown that when it is rolling, they are hard to stop. But they have to get rolling early in order to have success.
Defense for Tennessee is one of their stronger suits. Ranked 5th in the league in defense, these Volunteers are tied for 4th in the league in sacks. This bodes well as its well documented about Auburn's struggles to protect its quarterback. James Mitchell and Dylan James have combined for 13 sacks between them. Another big name to know? Ronald McFish. McFish had a quiet night against TCU last week but holds 92 tackles on the year with 15 for a loss. This defense can also turn the ball over, ranked second in the league with 14 takeaways.
WHAT TO WATCH FOR
Ball protection and quarterback protection will be key in this game. As mentioned before, Tennessee ranks second in takeaways as a defense and they rank fourth in sacks. Auburn ranks second to last in turnovers and sacks. If Tennesee can get to Moon, they can control this game.
KEY MATCHUP
AUBURN QB Blake Moon vs TENNESSEE LE James Mitchell
Blake Moon has been the most sacked quarterback in the league and it's not even close. On the other side, James Mitchell will look to add to his sack totals as he has eight on the year. Pressuring Blake Moon is the key to this game and Mitchell has the ability to walk away with a couple sacks. Even if Mitchell does not get to Moon, the pressure could force some mistakes by Moon.
STAR INTERVIEW
Tennessee MLB Ronald McFish
1. How can you describe your first season in the CFSL?
The first season in the CFSL was amazing. We had some great battles all year and winning the SEC in my first year was nuts! Looking forward to many years of laying out offensive players.
2. What should we expect in your sophomore season?
Honestly I would like to get some sacks. I played in a more reactive/conservative role due to the type of teams we matched up against I'm hoping to attack more and be more proactive on defense.
3. Who is your favorite player in the CFSL? (besides yourself).
Don't tell him I said this but I'm a big fan of Jimbo Smithers. I like the way he plays and attacks the ball at all times. He isn't afraid like me to lay someone out.
4. What are your plans after the CFSL?
After the CFSL I want to captain a fishing boat or be a pirate. I'd do it right not that Somalian pirate nonsense.
5. Any tips for any new recruits coming into the league?
Yes don't let the ADs pick your position for you. Find a position that you want to play and stick with that into recruiting. Have at least two backup positions and let your AD know what position you want first and that you want to be in line for when the starter graduates or leaves early. Be active in your locker room and build a rapport with the commissioners and your CFSL life will be great!
PREDICTION
This game has huge implications for Tennessee. Lose and the road to the National Championship becomes tougher. Win and you have a great shot at a championship. While Auburn is all but out on the title race, this game is against their rival. Auburn has a very good chance in this game as long as it protects its quarterback. Give Moon time to throw, he can pick you apart with Carter and Cook. Pressure Moon, and it could be a long night for Auburn's offense.
Tennessee will need a clean game on offense to beat the Tigers. A solid mixture of Ainge and Kazee can get the job done and don't forget about Glenn Stewart in the middle. Pressure will be key on defense as well as limiting the big play ability of Wayne Carter.
This game will be a close affair. Moon will likely end up with a couple sacks and turnovers given but I can see a late drive by Moon to give Auburn the lead. The Tigers take it, 35-31.