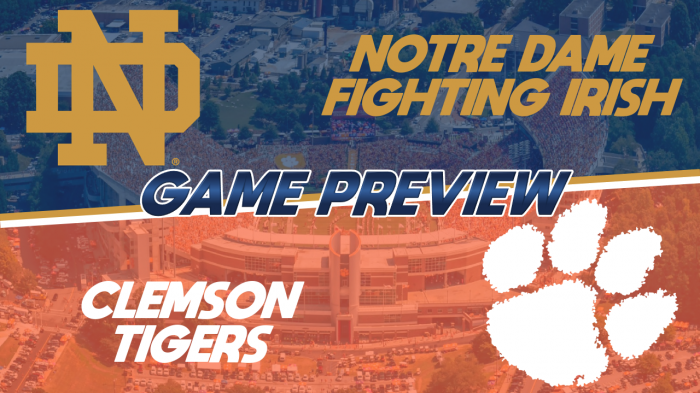 WEEK 11: Notre Dame vs Clemson Preview
By: HornsNation
South Carolina becomes a battleground tonight as the Irish of Notre Dame (6-4) heads to Clemson to take on the Tigers (8-2). Both the Irish and the Tigers have a lot to play for as the season winds down this week. Notre Dame would like to go out a winner as it will be quarterback Ty Whites final season game. Clemson, on the other hand, needs to win out in order to have a shot at the National Championship. Let's take a look at each team.
NOTRE DAME
Notre Dame's dream of grabbing another championship fell short last week in the loss to Washington, 42-35. Ty White scored two touchdowns but also committed two costly turnovers. The defense could not contain the Washington attack, allowing 76% conversion rate on third downs. On defense, strong safety Michael Jerome Pluth secured 12 tackles with two for a loss. Overall the offense and defense struggled in loss.
While the loss to Washington stings, Notre Dame still has a chance to end this season on a high note. This offense runs through Quarterback Ty White, who is playing his final regular season game in an Irish uniform. White has accounted for 7851 passing yards and 53 passing touchdowns in his career. In this game against the Tigers, it will be important for White to limit turnovers. This season White has thrown 15 interceptions. Receiver wise, the Irish have a great bunch. Out of the backfield Jacob Philhart has become a great security blanket for White, as well as Brody Bodine, Upton O'Goode and Trent Bodine. These receivers accounted for 24 catches for 268 yards last week.
Defensively is where the Irish will need to shine. Giving up almost 600 yards to Washington doesn't help much in the confidence department for the Irish, but they still boast one of the best defensive lines in the CFSL. Defensive Tackle Tyson Ali has shown his ability to take over games. The Irish will need him to pressure Moss inside in order to allow lineman Shane Razorback to crash from the outside. Linebackers Aaron White and Travathan Johnson will have their hands full against the option attack of Clemson.
CLEMSON
One week after humiliating Texas, the Tigers came back down to earth against Oregon. The Tigers lost on a last second touchdown run to the Ducks but the offense looked sluggish in a 28-21 loss. Quarterback DJ Moss accounted for another 300 total yard game with one lone touchdown on the ground. Running back Cheetah Brown ran for over 100 yards and one touchdown. What plagued this offense last week? Wideout Anthony Robertson III could only muster four catches for 17 yards.
The game last week for the Tigers seemed to be an outlier more than anything. This is an offense that is putting up video game numbers every week. The offense runs through DJ Moss, who is on pace for an OPOY award. Moss has become more of a dual threat in his second season in the league, accounting for 2596 passing yards and 1490 rushing yards. Moss also has totaled up 38 total touchdowns. While Moss has been great, it is his supporting cast that has struggled at times. Wideout Anthony Robertson III has only accounted for 663 receiving yards and four touchdowns. These receivers only accounted for 18 catches and 153 yards last week. These receivers will need to step up to support Moss against the Irish.
On defense, Clemson is playing some of their best ball. The Tigers are only allowing 26.7 points per game and are second in the league in allowing 384.5 total offensive yards. Most of that could be contributed to the stellar play of the secondary and Mike Miller. Miller, the defensive end, has made life rough for opposing quarterbacks. Miller is third in the league in sacks with 10. Free Safety Barry Allen will likely need to play in the box against the Irish rushing attack. Slow that down and Clemson could run away with it.
WHAT TO WATCH FOR
The big thing to watch for tonight is the quarterback play of both teams. Ty White of Notre Dame has been a household name for three seasons. On the other side, DJ Moss came into the league last year and has really taken on spotlight at Clemson. This could be the passing of the baton from one quarterback to another. Will White show the league in his final game that old school is the best way? Or will Moss take the reigns and show that the future is bright in South Carolina?
KEY MATCHUP
Notre Dame MLB Aaron White vs Clemson QB DJ Moss
The most important matchup of the game is this one. Moss has rushed for almost 1500 yards on the ground and it's going to take some smart decision making by Aaron White to limit Moss. Play too aggressive and get beat by the read option, play too conservative and Moss will run by you. This matchup will be exciting to watch.
STAR INTERVIEW
Notre Dame QB Ty White
What is your best memory in a Notre Dame uniform?

My best memory in Notre Dame is of course beating Auburn for that Natty.

Any regrets that you have while playing?

I regret not pushing myself to be the best qb in the league I think I could've done a little more. I wanted to win OPOY.

Who is your favorite player in the CFSL? (besides yourself)

That's hard but besides all my teammates I would have to say jmack I respect his game and think he will go far in his career.

What are your plans after the CFSL?

My plans are to hid fo the draft.. I'm working hard to go in the 1st round.

Any tips for new recruits coming into the league?

My tips are to stay active in your locker room don't give up hope. Use any negativity for motivation. There will be constant doubters but you go prove them wrong!
PREDICTION
If you had asked me about this game a couple weeks ago, I would have told you Notre Dame would have an excellent chance at beating Clemson. Unfortunately last week against Washington, the Irish gave me doubt on how well this team can play cohesively. Last week the defense was on the field nine more minutes than the offense. The offense ran almost half less of the plays that Washington ran. Key stops on third downs will be big in this game against Clemson. You do not want to fall behind the Tigers and Moss. Another key for Notre Dame to win, control the clock. The best way to keep a great quarterback from beating you is to keep him off the field. Running back Jacob Philhart will need to gain yards to keep the Tiger defense from forcing three and outs. It would not be a bad idea to allow Moss to eat, but force him to be the only player on the field against this defense.
For Clemson, the key for a Tiger win will be the receiving core. Moss can do it all, but make catches. Last week he totalled 300 total yards and they lost to Oregon. Anthony Robertson III will be key in this game. The five star recruit has had a season that has been about average. If he can show up tonight and provide the big play ability to go with Moss, lookout this Clemson team could put up 50 against the Irish.
With that all said, I think Notre Dame makes it close early. Both teams trade shots and look for the Irish to force some mistakes early from Moss. The Tigers rebound after halftime and win by a couple scores but not without a valiant effort by Notre Dame QB Ty White. Clemson wins, 48-34.