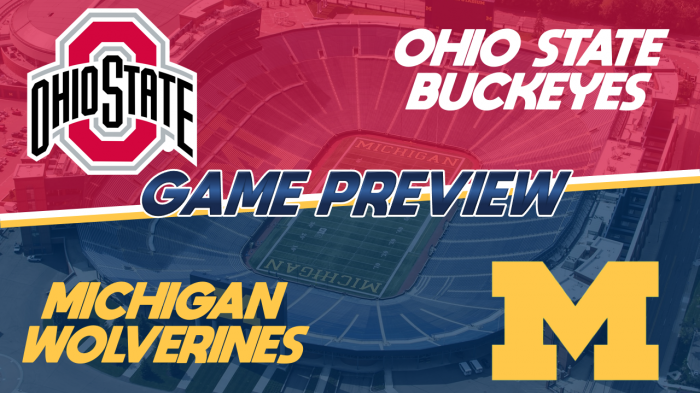 THE GAME
It's been one of the biggest stories throughout all of college football and one of the most storied rivalries. Ohio State and Michigan, one of the most brutally hostile rivalries. From Woody Hayes to "That Team Up North" to Bo Shembechler and the Ten Year War. Last year saw Ohio State claim victory in the first chapter of this historic rivalry, winning by 21 at home and taking Michigan out of the National Championship conversation. Ohio State won the Big Ten on their way to the Orange Bowl where they lost to Hawaii. This year, the Big Ten title is only on the line for Michigan, and neither team really has a shot at the National Title. But still, this is The Game, and it's all that matters.
THE NEXT CHAPTER
It was mentioned briefly, but we'll really dive into this here. Ohio State is sitting at 5-5, and Michigan is sitting at 6-4. A Michigan win, with a little help, could find the Wolverines in the Orange Bowl, but they have to win. Very similar to how it was last season for Michigan. All they had to do was beat Ohio State and they failed to do so. That game was in Columbus though, and this one is in Ann Arbor. The tables have turned this time around. The question is, can Michigan keep it that way, or will the Buckeyes ruin everything for Michigan?
THE REVENGE
Because of last season, one team has more than just victory on their mind. They want revenge. Michigan was the top dog for the majority of last season. Then they walked into Columbus and got embarrassed, losing by 21 to their heated rival. Factor in the Orange Bowl berth, the National Title implications, and the fact that it is The Game, and Michigan left angry. Now, they want revenge, and here's how they can accomplish it. But first, the road team.
OHIO STATE
Look, the Buckeyes haven't had a "big" win all season long. Their best victory came against Washington, a game where Ohio State barely survived. While the scheme hasn't seen any drastic changes for the Buckeyes on either side of the ball, the level of play has not been the same as it was last season. It's difficult to be consistently at the top in this league, and right now, Ohio State is more in the middle.
OFFENSE
If there's a bright spot to this Ohio State team,  though, it is absolutely the offense. Quarterback DeAndre Evans has put together a fantastic season in his Buckeye debut. His play has been fun to watch, including last week. Evans put up 313 yards through the air with a pair of touchdowns and no turnovers. If you add that to Evans' rushing touchdown and five yards per carry from last week and, well, he's certainly been dynamic. Then, you add in halfback Frost Carlson, who certainly has not had the season many expected or hoped for. But, he has had an impressive stretch lately. In his most recent outing, Carlson ran for over 100 yards with three touchdowns on the ground. Wide receiver Zaire Bradley hasn't been a slouch either, as he fell just shy of 100 receiving yards last week, and is on a quest to break the single-season record for receiving yards and touchdowns.
DEFENSE
Things get dicey around this subject for Buckeye fans. Especially after last week. They gave up 300 passing yards to a quarterback who is known better for his ability to run the ball, and then gave up 120 rushing yards to the halfback. Unfortunately, things get much more difficult for the defense this week. Corner Hyland Jordan did record an interception, and defensive tackle Zach Angle did record a sack. But as a unit, the defense needs to clean things up. Safety Nicholas Reynolds cannot afford to be the leading tackler. If he is, watch out Ohio State.
BUCKEYE KEYS TO VICTORY
Ohio State has been wildly inconsistent, on both sides of the ball if we're being honest. They've been far more consistent as an offense though, especially in recent weeks. The defense, on the other hand, has left something to be desired. Here's what they can do to win.
– PLAY YOUR GAME
Look, the Buckeye offense has been impressive, for a good chunk of the season. The Buckeyes just need to come out and play their game, run their offense the way they have been. Don't let the Wolverine defense scare them…too much at least.
-PICK ONE
Whatever the Buckeyes intend to do, they need to pick one dimension of the Michigan offense and then make them stick with that. If Michigan is allowed to do whatever they want as an offense, then it could be curtains for the Buckeyes.
MICHIGAN
After a slow start, the Wolverines have come back from the brink. They knocked off Tennessee, surprised Washington, and survived Iowa. However, they also fell to Oregon, Texas, Notre Dame, and Clemson, even though the Wolverines forced that game into overtime. The offense has found its groove and the defense has been lights out. Take a look at both.
OFFENSE
It was a great game last week, and I don't just mean that overall. I mean that was a great game for the Michigan offense. Quarterback Javon Mack went 30 of 38, for 306 yards, with three touchdowns, and no turnovers. His rushing stats weren't stellar, but Ezell Mack's were. Ezell had 18 carries but they went to 131 yards and a rushing touchdown. Javon doesn't need to have a major ground presence when Ezell is back there. But, Javon does appreciate the present that is Bobby Jackson, his trusty wide receiver. Jackson posted 116 receiving yards and a touchdown last week, on just eight catches. Jackson has come on as of late, and could tear apart the Ohio State secondary.
DEFENSE
This is where things are impressive. As a unit this defense has played incredibly well, as they should. But some of the standout performances by members of this defense have been slightly more impressive. From corner Buchanan Simons going on a turnover terror against Washington, to linebacker Nate Jones' record setting season. Jones was a little more quiet last week, only recording five tackles and a tackle for a loss, and Simons didn't record a turnover. But, corner Brum James did force a fumble. Somebody different stands up on the Michigan defense. It's not a matter of if or when, it's a matter of who will it be this week?
WOLVERINE KEYS TO VICTORY
The Michigan offense has been stellar as of late, and the defense has solidified. While the offense shouldn't be concerned, the defense will have their hands full.
-TWIN MACK ATTACK
Ezell and Javon have been the twin tyrants of the Wolverine offense. If they can get both going, and then add Bobby Jackson in to keep things spread out, this Ohio State defense will be left in shambles.
-EVANS PREVENT
The one thing this defense absolutely, unequivocally, cannot allow is for DeAndre Evans to get hot or find a rhythm. As impressive as this defense has been, if Evans gets going and is on a roll then Michigan will be in for a closer game than they really want to be in.
KEY TO THE GAME
Over the course of the past few weeks, Ohio State and Michigan both have rarely turned the ball over offensively. Sure, their respective defenses have come up with turnovers, but the offenses have proven adept at protecting the ball. Something has to give today though. The first mistake will alter the course of the game, but the last mistake will decide it. The question is, who's turning the ball over first, and who's turning it over last?
X-FACTOR
Michigan cornerback Brum James will likely be lined up across from Zaire Bradley. Bradley is on a records quest, and would absolutely love to help the Buckeyes beat the Wolverines for the second straight season. But James will be tasked with silencing the deep threat receiver and turning him into little more than a player with a role, not a mainstay of the Buckeye offense. If he can't, then watch out, big plays abound for the Buckeye passing game.
PLAYER MATCHUP
QB DeAndre Evans v. QB Javon Mack
On paper and by way of tape, these two have a similar skill-set. Watching these two quarterbacks, who have both put some really nice seasons together, go back and forth in this game should be a lot of fun to witness. Especially since both have a knack for big plays and big shots downfield. It's like the fourth of July has come early with how many fireworks we could see on display.
PREDICTION
Last year I did not predict this game, it was just too close to call. This year, not so much. Ohio State has the tools they can pull the upset and finish with a winning record. They really do. A couple plays from the defense would go a long way towards accomplishing that, because we know this offense is impressive. Unfortunately, that scenario is not likely. Michigan is too hungry for revenge, far too hot as of late, and are in position for the Big Ten crown. The Wolverines need this win, not just because it's The Game, but because of what's at stake. The Wolverines win it going away.
Ohio State 31, Michigan 41