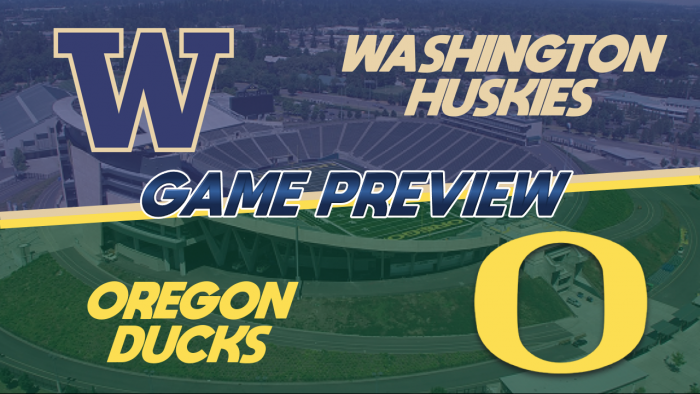 National title hopes on the line for every team in the hunt. The #1 Oregon Ducks face off against rival Washington with their Orange Bowl and National Championship hopes on the line. Oregon has been waning ever since their crushing defeat at the hands of the Longhorns, but a win last week against former #1 Clemson has given rise to the title hopefuls. The Husky players have not looked as dominant as they were when they were Rainbow Warriors. But they will have the eyes of the country upon them like the dreams of many teams ride with the outcome of this game.
Washington
Offense
With two of the most dominant players at their respective position, you start to expect more from this Washington offense. Quarterback Doug Ohle has been playing rather well. His passing numbers are average compared to the rest of the league. The other star of this Husky offense is Ron Dayne. Dayne's most feared attribute is his ability to break tackles. He is a beast out of the backfield, and it takes one's full effort to bring him down. With that being said, Dayne has been rarely used these past few weeks, only having six carries in a loss to Michigan. Tight end Derrick Gray is currently the record holder for most receptions in a game, occurring in the same Michigan game as Dayne's six carries. This offense is the catalyst of the team if they play well, the team plays well. Going against this star-studded defense, they are going to have to step up their game and control the clock.
Defense
This Washington defense is, like most of their team, average. Ranked the #8 defense, this group gets it done when they need to. Season two defensive player of the year Dejounte Wilson has had a relatively productive season but is not near the level of play he was at last season. Transfer from Texas A&M Kalu James has been balling all season. He is just two tackles from notching 100 on the season. This unit makes the key stops when they need to get the offense in position to win.
Oregon
Offense
This Oregon offense is often the detriment to the team. Quarterback Devonta Cribbs has only been doing what has been needed. Cribbs has shown flashes but he has never got it going with consistency. Halfback Speedy Love has become a hero on campus in Eugene after he ran in for a touchdown with no time remaining to upset the #1 Clemson Tigers. He has been looking better and better these past few weeks but has not reached his full potential yet. This offense gets a little pressure off after going against the vaunted Clemson defense.
Defense
Perhaps the greatest secondary in the CFSL is on this Oregon defense. The CFSL's all-time tackle leader Jack Frost has the task of stopping arguably the most bruising halfback in ROn Dayne Jr. Cornerback Israel Cassius has been all over the field picking off the poor QB's who decide to test him. The other corner on this Oregon D, Thor Odinson, has been laying the hammer on anyone who comes his way. This unit held one of the best offenses in the CFSL in Clemson to just 21. All season they have been the catalyst for this team. Oregon wins with their defense, and they will need to play big for this Oregon team to win the game today
Key Matchup
Ron Dayne Jr. vs Jack Frost
Two players who are top at their respective position face of today. Dayne has been off this past few weeks and will need to pull it together to pull the upset. Last week Frost was on another level, racking up 15 tackles, three of them for a loss. He will need a performance like that to stop Dayne.
Prediction
This game will be close throughout but I believe Oregon will pull away in the fourth quarter.
Oregon 38 – Washington 28