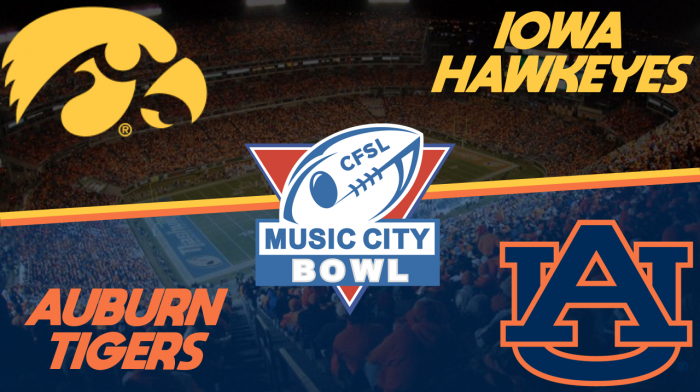 Day one of bowl season caps off with an inter-conference matchup between the Iowa Hawkeyes and the Auburn Tigers. Iowa ended up going five and six after a grueling year of pounding the rock into opposing defenses. Edging out an early season matchup against pulling out a close win against Oregon show that this team is stronger than their record. However, consistency could be considered an issue due to their end of season blowout loss to PSU. The Hawkeyes played everyone tough and look to do the same against Auburn in their second meeting. Last time, Auburn got out of Iowa City with a five-point victory off the back of Billy Carter's 150-yard rushing spectacular. Can they make history repeat itself at a neutral site? Grab some Nashville hot chicken and find your seats. This rematch is going to be a good one.
Iowa
Offense
When you think of Iowa, you think of a gritty running game with a shared load between Avery 'A-Train' Jordan and Marcos Hernandez. This twin-turbo of running prowess is exactly what makes the offense go. Jordan is more than deserving of an OPOY nomination and could bring home the hardware. Last time he faced Auburn Jordan only got 15 rushes for 54 yards. It would be criminal for this to happen again. Even if Auburn is expecting him to run the ball 70% of the time, his talent and ability to find the open field will carry him into the endzone. Marcos can perform some similar magic with the ball, but he must find the touch in the passing game. A 118-passer rating is appallingly bad in the CFSL. A 5.9 average per attempt is even worse. If Marcos can find his game, things will get rolling in a hurry.
Defense
The Hawkeyes yet another player of the year candidate in Alvin Mack. Sack master Mack managed to amass 12 total sacks on the year while getting 23 tackles for loss. Not only was he a top pass rusher, but his hands got him two interceptions on the year. Out side of Mack's outstanding performance, middle linebacker Jerry James played a key role in locking down the middle of the field during his Junior year. 74 tackles put him up there with the other sure tacklers in the league. In fact, run stopping is the key strength of this defense, allowing just 152 yards per game. Another key to this defense is the play of Othello Jones. While he only has one interception on the year, he took it right to the house on a 60-yard return. Combining these playmakers results in a defense allowing just 33PPG. Most impressive.
Auburn
Offense
The announcement of Blake Moon to go pro comes as a shock to no one as he has been a star since the day he arrived on campus. His playmaking ability is possibly the best we have ever seen in the CFSL. While Moon's rushing numbers have dipped far below his normal averages, his passing has been as crisp as usual. An explanation for his reduced rushing comes in the form of Billy Carter, an explosive runner who amassed almost 1300 yards on the year. Carter was a key piece of their last win against Iowa. Expect him to play an equally large role in this game too. Rounding out the offense is a pair of amazing receivers in Wayne Carter and Alex A Cook. These two are the cream of the crop when it comes to receiving. With these playmakers, Auburn poses a threat to any defense.
Defense
While Auburn's offense has been humming all year, the defense has made their fair share of impact plays over the season. The Tigers rarely let you convert on third down, allowing 44% of their opponents third downs to convert. In addition, the defense only allows 18 first downs a game. Ranking top four in yards allowed, finding holes is a challenge. Eric LeClear is a big reason this defense consistently succeeds. Not many players can get into the 100-tackle club, but LeClear made it on an average of 10 tackles a game. 10! The unique safety can make you pay all over the field and frequently blows up plays behind the line. Watch out for him to dominate again tonight against a team that leans heavily on the run. If he can play in the box all game, Iowa will have a hard time getting things started.
What to Watch For
Iowa Rushing vs Auburn Run Defense
It's a simple matchup, but one you will want to keep an eye on. With Avery Jordan leading the league in rushing yards per attempt, no one is more dangerous with the ball. The question for Iowa is can they get the ball moving on the ground enough to open passing lanes. If Jordan gets bottled up, the offense starts to play tight and has trouble progressing downfield. That's where the Auburn defense comes in. Auburn can really stifle the Iowa offense by shutting off the run. If LeClear gets a few rushing stops, does the Iowa offense try to take a shot with a safety playing up? Or do they fall apart on their way to three and out city? Look for 7 in the box all game with a healthy dose of pressure.
Key Matchup
Iowa DE Alvin Mack vs Auburn QB Blake Moon
Alvin Mack has been an absolute animal of a DE in the past few games. His five-sack performance sparked a new level of play throughout the rest of the season. If he can get a couple sacks today, things could look bleak for Auburn. It doesn't help that Blake Moon gets sacked at a consistent rate compared to the league average. Still, Moon is a gamer in every sense of the word. He can wriggle out of pressure with ease and still hurl the ball downfield. Mack is going to get pressure onto Moon. If he can get some good hits in, the offense could get conservative in a hurry. If Moon dodges out of some of these tackles like we have seen him do in the past, you might as well get your cameras ready for the highlight reel.
Prediction
As previously stated, Auburn came away with a close victory last time and should be favored coming into this game. However, going through both rosters leads me to believe that Iowa is going to take home the victory and bump into a winning record. A-Train is one of the best runners we have ever seen at the HB position. No matter what Auburn throws at him, there will be gaps for him to score. Expect a low scoring game with minimal turnovers. Regardless of who comes out on top, this should be a tight back and forth matchup.
Iowa 24, Auburn 21