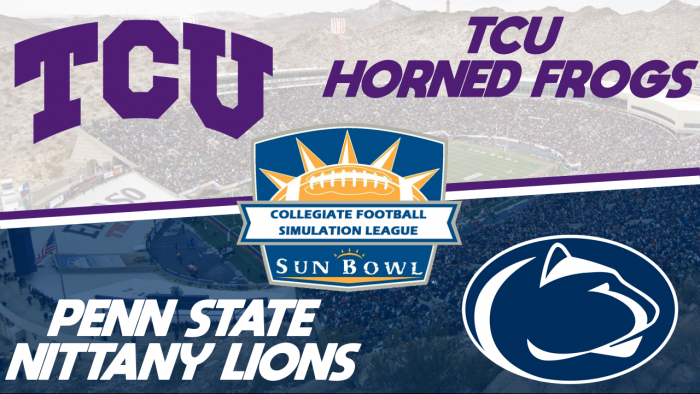 SUN BOWL PREVIEW
By: Hornsnation
Two expansion teams square off in what should be a exciting matchup in El Paso, Texas.
---
---
PENN STATE
The Nittany Lions from Penn State qualified for a bowl game after an impressive win over Iowa in Week 11. That win put Penn State at 3-8 on the season. A tough season for first year AD, TSmith, but he has a chance to build momentum with a win over the Horned Frogs.
The Penn State offense is led star freshman and top recruit, Jasper Johnson. Johnson rushed for 1172 yards and 18 touchdowns. He averaged just over 5.3 yards per game and broke over 28 tackles in the process. His backfield mate? Quarterback Aidric Berry. Berry is well known for what he did in season one, but has struggled the past two seasons. This year Berry threw for 2533 yards and 12 touchdowns. More impressive is that he threw nine interceptions, the same number as the previous two seasons. As a whole this offense ranks second to last in points scored per game and dead last in offensive yards per game.
Penn State's defense has had its fair shares of struggles over the season. The Nittany Lions defense has given up the second most points per game as well as the fourth worst offensive yards per game. Leading this defense will be MLB T.J. White. White has secured 90 tackles with 11 for a loss and one sack. Darius Bowman leads the secondary with 43 tackles, two tackles for loss, one sack and two interceptions.
TALE OF THE TAPE FOR PENN STATE: Penn State finished the year 3-8 and 1-5 in conference play. Key wins included a beatdown of Iowa as well as wins over Florida State and Texas A&M. Some key losses included a three point loss to TCU and a massive 56-6 loss to Clemson.
---
---
TEXAS CHRISTIAN
TCU had their shares of ups and downs this season and finished the year off at 4-7. The Horned Frogs come into this game on a two game losing streak, falling to Florida State, 52-31, in week 11.
On offense, TCU is one of the best passing teams. Currently ranked second in the league in passing yards per game at 365.3, you expect that first year AD Redria, to air it out with Dalton Andrews in this bowl game. Andrews, the star quarterback from Texas, had an impressive 4018 yards passing and 32 touchdowns to 10 interceptions. His biggest target is wideout Andre Gyan. Gyan caught 51 balls for 978 yards and 14 touchdowns which leads the league. This offense can score points but what about the defense?
The Horned Frog defense ranks 10th in defensive metrics. Giving up 36.5 points per game as well as 447 total offensive yards. One highlight of this defense is their ability to create pressure and sack the quarterback. TCU ranks fourth in the league in sacks with 23. Leading the defense will be standout freshman Jabril Jackson. Jackson accounted for 49 tackles, 18 tackles for loss and nine sacks. He has been one of the more consistent players on the team in an up and down season for TCU.
TALE OF THE TAPE FOR TCU: The Horned Frogs finished the year at 4-7. Some key wins came early in the season where TCU beat both Washington and Notre Dame. Close losses included a heartbreaker against Oregon in Week one as well as a disappointing loss to Auburn, 24-21.
---
---
WHAT TO WATCH FOR:
TCU's Passing Attack
There are two very good reasons why TCU can win this game. The reasons? Dalton Andrews and Andre Gayan. These two always seem to find one another in the end zone and the last time TCU played Penn State, Andrews threw for 391 yards with 137 going to Gyan.
---
---
KEY MATCHUP
Penn State CB Darius Bowman vs TCU WR Andre Gyan
As previously mentioned above, Gyan burned the wheels off Bowman in their last matchup. Darius Bowman will be looking for revenge and if he can shut down Andrews favorite target, TCU will be in trouble.
---
---
THE LAST TIME THESE TWO TEAMS MET…
TCU pulled away late with a 34-31 win. In that game Dalton Andrews threw for 391 yards and two touchdowns. Koda Adok has his best game as a Horned Frog with 124 rushing yards and two touchdowns of his own. Both Andre Gyan and Jimmy Woodward had seven catches with Woodward catching one touchdown. On defense the Horned Frogs were led by Kobe Jordan who contributed eight tackles with one for a loss.
For Penn State, it was a good offensive day but the Nittany Lions struggled on defense. Jasper Johnson rushed for 122 yards and three touchdowns and Aidric Berry added 246 yards passing and one touchdown. Linebacker TJ White led the team with nine tackles and one tackle for a loss.
Since the last meeting TCU has gone 0-2 with losses to Florida State and Tennessee. Penn State went 1-1 with a win against Iowa and a loss against Ohio State.
---
---
PREDICTION
While this bowl game is not the highlight of bowl week, it is still a very important one in terms of season success and offseason recruiting. Both teams had a rough first year in the league. TCU was the un-official number one team at point in the league and Penn State could never gain a footing in the Big 10. Winning this bowl game would do wonders for each of these AD's. The question for Penn State becomes, can they stop the pass? For TCU, can they run the ball? I think Penn State continues their winning streak and pulls out a narrow victory over the Horned Frogs. Penn State wins, 45-41.