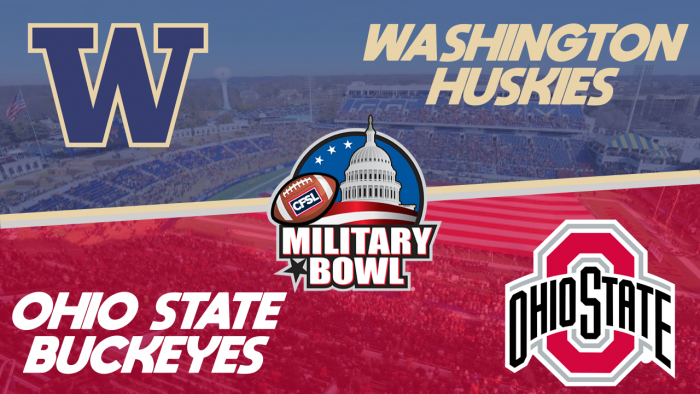 In a repeat of last seasons Orange Bowl the Ohio State Buckeyes take on the Washington Huskies in the Military Bowl. In their previous matchup, the Buckeyes got off to a hot start and never looked back, winning that game 41-38. Last week, Washington had a chance to spoil their rival Oregon's national title hopes but fell short after a few key drops. Ohio State was in a similar situation last week, trying to end archrival Michigan's Big Ten title hopes. They played a tough game, but a few key turnovers led to their downfall. This game is a toss-up either way and should leave for a great game.
Washington
Offense
With two of the most dominant players at their respective position, you start to expect more from this Washington offense. Quarterback Doug Ohle has been playing rather well. His passing numbers are average compared to the rest of the league. The other star of this Huskie offense is Ron Dayne. Dayne is most known for his ability to break tackles. He is a beast out of the backfield, and it takes one's full effort to bring him down. With that being said, Dayne has been rarely used these past few weeks, only having six carries in a loss to Michigan. Tight end Derrick Gray is currently the record holder for most receptions in a game, occurring in the same Michigan game as Dayne's six carries. The play of the offense drives the team, if they play well, Washington usually finds success.
Defense
This Washington defense is, as with the offense, average. With that being said this group gets it done when they need to. Season two defensive player of the year Dejounte Wilson has had a relatively productive season but is not near the level of play he was at last season. Kalu James has been playing at another level this season. He notched 100 tackles last season, a feat not many players can achieve. This unit makes the key stops when they need to get the offense in position to win.
Ohio State
Offense
Ohio State has taken the identity of being a passing team. Quarterback Deandre Evans has 3593 pass yards, third in the CFSL. Wide receiver Zaire "Zaza" Bradley has been torching players all season long. He is a touchdown machine, accounting for 13 touchdowns on the season. One of Evans' favorite targets is tight end Austin Jones. He always seems to get open many time every game. This offense has the game in their hands and has a great chance of being a standout in the game.
Defense
This Buckeye defense is subpar at best. To put it bluntly, they allow too many yards. Letting teams drive and chew clock on you usually leads to an addition to the loss column, but many times this team uses the bend don't break motto and finds a way. Other times, they let up 62 to a Texas team or 52 to Clemson. The two standouts on this defense are Corner Max Powers and Safety Nicholas Reynolds. In all this defense gets a break playing against a pitiful Penn State offense, who has trouble moving the ball downfield.
AD interviews
Wymreaver – AD Washington
Q1 – What is your favorite moment of the season?
A – Tennessee beating us on a Hail Mary. It isn't the crushing defeat I'll remember, it was the masterful late drive that Ohle put on followed by the reminder that even when you do it all right it can fall apart.
Q2 – What do you plan on doing this offseason to improve your team?
A – There is a good chance we will be making a slight adjustment to our schemes on both sides of the ball. That and of course, getting some talented new players into the mix.
Q3 – What are your thoughts on your opponent?
A – Ohio State is a good program. This is a rematch of last season's National Title game so I think it has a chance to be a really great and hard fought match up.
Q4 – If you could go back to the offseason and recruit one guy with no limitations, who would it be and why?
A – This is a tough one. I'd say based on the crop of freshman this season I'd have to go with Ronald McFish at Tennessee. I didn't have any 5* slots to give last offseason or I would have chased him hard after his all-star game performance.
Q5 – How do you feel about your chances today?
A – We feel confident that we can close out our season on an uptick
Key Matchup
Ron Dayne Jr. vs Nicholas Reynolds
Ron Dayne Jr. is a perfect example of a north-south runner. He is a classic bruiser who will beat you down the field and change games. Nicholas Reynolds plays the ball very well. He and Dayne will collide plenty of times tonight.
Prediction
The Huskie offense will overpower this Buckeye defense.
Washington 48 – Ohio State 35