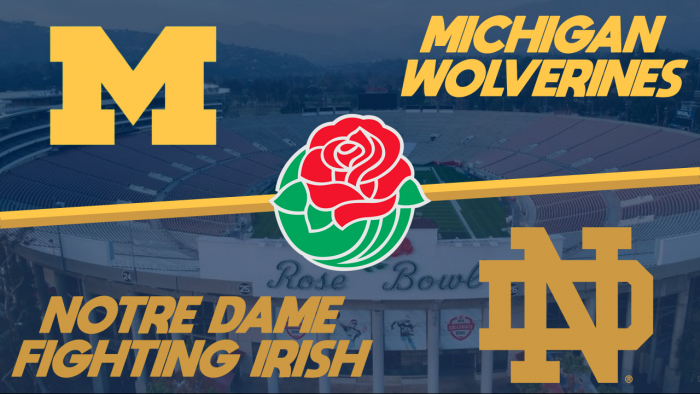 ROSE BOWL PREVIEW: Notre Dame vs Michigan
By: HornsNation
How about this for a Rose Bowl Matchup. The Fighting Irish (6-5) take on Michigan (7-4) in what should be a thrilling rematch of their Week one game. That game was won by Notre Dame 41-38 as the Irish defense forced Michigan quarterback Javon Mack into throwing four interceptions. Notre Dame quarterback Ty White accounted for over 350 total yards and four touchdowns as the Irish racked up 508 yards of total offense. This bowl matchup will be different than their first matchup. Michigan has won six games in a row, while Notre Dame has fallen two games in a row. Let's take a look at each team.
NOTRE DAME
Quarterback Ty White did not have the going away party that he was hoping for in last weeks loss to Clemson. White completed 34 of 51 passes for 290 yards and one touchdown. He also added 89 yards rushing with one touchdown. The offense struggled early, scoring only three points in the second quarter with none in the first. Only converting half of their red zone attempts, the Irish also struggled to keep Clemson off the field. The defense allowed 459 total offensive yards as Tyson Ali and Shane Razorback could not get any pressure on the quarterback. Linebacker Aaron White had a solid game with 11 tackles and two for a loss.
In order to beat Michigan, Notre Dame will need to take a page from their week 1 win. Ty White and Jacob Philhart in that game rushed for a combined 275 yards and three touchdowns. The read-option works well for Notre Dame and they also have very good recievers on the outside. Brody Bodine, Trent Bodine and Upton O'Goode, headline a solid group who can make solid catches when needed. On defense, this game will need to be Tyson Ali's best. Michigan loves to rush up the middle with the readline option, which should allow Ali plenty of opportunities to stuff out the Wolverine attack.
MICHIGAN
Michigan started the season in a funk, but have put on an impressive six game winning streak including last weeks win over their hated rivals. Big wins over Tennessee, Washington, Iowa and Ohio State have helped the Wolverines rebound from a disastrous 1-4 start. Last week Javon Mack and Ezell Mack put on a clinic against the Buckeyes, both accounting for three touchdowns each. On defense, Nate Jones continued his DPOY tour with ten tackles and one tackle for a loss. Overall the defense forced the Ohio State quarterback into three costly mistakes, one fumble and two interceptions.
In order to beat Notre Dame, Michigan will need to rely on the Mack Attack. The read-option is scary between the two as both Javon Mack and Ezell Mack are a threat to score from anywhere on the field. On defense, this is Nate "the Judge" Jones swan song. It will be his final game in a Wolverine uniform and should be his best yet. Already a lock for DPOY, Nate Jones can help Michigan go out with a bang with a win over the Irish.
WHAT TO WATCH FOR
The key thing to watch for in this game is the ground game. Both teams have the players to make this game an old fashioned run and defense type game. Leading the charge on offense for Michigan is the Mack tatum. For Notre Dame, it's all about Ty White and Jacob Philhart.
KEY MATCHUP
NOTRE DAME RB Jacob Philhart vs MICHIGAN MLB Nate Jones
One of the many premier matchups, this one is very important. Notre Dame would like to keep the ball on the group and prevent Ty White from having to throw the ball 51 times, as evidenced last week. Meeting Philhart in the middle will be Nate Jones. Jones, or the Judge, has secured 127 tackles with 23 for a loss and one sack. He has also forced four fumbles this year. If he can provide some big hits to Philhart, Michigan might be able to capitalize on some turnovers.
PREDICTION
Michigan has been on a roll the past six weeks. Six wins which include some some of the top teams in the league. Notre Dame however has lost their past two games to Washington and Clemson. Michigan in this matchup feels right. They are on a roll and their team is hot at the right time. I take Michigan 38-28.