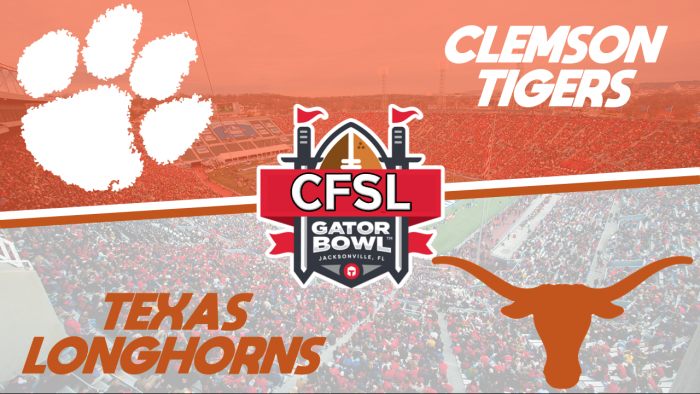 Oh boy – here we go again! Clemson beat the breaks off Texas in their last meeting when they were both at the top of the rankings. It wasn't even a contest as Clemson dominated on the way to a 32-point victory. But no two games are the same. Clemson has since taken a loss against Oregon, a team that Texas beat in convincing fashion. It's an odd situation for both teams to be in. Clemson should be favored to put on a show like they did last time, but Texas is ready to fight their hardest and pull the upset. With names like Moss, Bamba, Robertson III, Smithers, Allen, and James – Highlight plays are going to be abundant regardless of the final score. Tune in to watch a premier heavyweight SEC battle as these two continue to push their rivalry to the next level.
Clemson
Offense
Everything starts with the man, the myth, the legend, DJ Moss. The likely OPOY and star signal called for Clemson has put on one of the best QB seasons in recent memory. His passing efforts have resulted in 31 touchdowns with a 75% completion percentage and 8.2 yards per attempt. Interceptions are still an issue at 12, but not to the extent that we saw in his Freshman season. More impressive than his passing has been his ability to scramble his way to a league leading 1648 yards on the ground with 20 touchdowns. Even if you shut him down, a nice dream for Texas, Cheetah Brown will carve you up with his 5.7 YPC average. If you focus the run, star WR Anthony Robertson III will burn you in single coverage all day. Clemson has an offensive unit that is nearly impossible to stop but amazing to watch.
Defense
Clemson's offense is something to behold, but their defense is the bread and butter of how this team gets wins. Their 25.8 PPG against is the best mark in the league by 2.5 points. A lot of what makes this team special is their ability to stop the run even in pass coverage. This is a testament to what a versatile unit the Tigers boast. On the line, Mike Miller poses a threat every time he lines up. With 10 sacks and 18 TFLs, expect to see him in the backfield constantly. Linebacker duo Kobe King and Benjamin Boulder have been hitting hard since day one. Their ability to wrap up tacklers combined with 6 interceptions make this a tough group to do anything against. In the secondary, Barry Allen is a true star. His versatility comes up in all situations and makes him one of the best all-around safeties.
Texas
Offense
The Longhorn offense is a bit of a conundrum when you delve into their stats. 38.3 PPG – Good. 18 1st downs a game – Bad. 10 turnovers and 10 sacks – Good. 46% 3rd down conversion percentage – Bad. They are in the lower half of total yards gained, but not by much. As well as the team can play sometimes, it's a hard unit to call good. Individually, Geaux Bamba is a top three RB who has proven to be a workhorse down the stretch. Granted it was against Texas A&M, but Bamba put on a show with 26 carries for 257 yards. That is a stupid 9.88 YPC. Look for Texas to ride him again and get 25-30 total carries. Toss in a vintage Ray Tatum performance and this team has a mean stew of offense cooking. It's a longshot, but the talent is there to pull the upset.
Defense
Defensively, Texas brings in a group very similar to Clemson in both build and results. Their 28.3 PPG against is the second-best mark in the CFSL. However, they boast the best 3rd down percentage in the league and force punts with consistency. The one thing we would all like to see them improve on is their ability to force turnovers. 12 is a solid mark, but they have the talent to get into the 15 range that you would expect a strong defensive team to put up. Regardless, Jimbo Smithers is the shining star of this defense. After emerging near the middle of the season, Smithers has dominated opposing offenses. His total is up to 91 tackles, but he should break the 100-tackle mark today. Sack City is ready for the trip to Jacksonville, bringing his bull rush moves with him. If anyone can slow down Clemson, it's this defense.
What to Watch For
Clemson's Fake Screen Streak Play
When an AD comes out and openly bashes a play over and over, you know it's a serious problem. DJ Moss is lightning in a bottle, but a fake screen deep pass play keeps inflating his interception numbers. Both interceptions from this matchup earlier in the year were on this exact play. It may not get called often, but it's a disaster 9/10 times. On the plus side, that 10th attempt results in an amazing play. If Texas can get their hands on at least one of these passes, momentum could swing their way immediately.
Key Matchup
Texas DE Michael Sudeikis vs Clemson QB DJ Moss
Sudeikis is up for an All-American bid due to his 11 sacks on the year. DJ loves to get mobile, but Sudeikis is sneaky fast and can catch up to you in a heartbeat. It will be interesting to see if Texas goes with pressure from their line as opposed to spying on the outside. Both strategies could work, but Moss has the talent to figure it out either way. If Texas lets Moss get out of control, this game is over before it even started. But if Texas gets a sack or two from Sudeikis, Clemson's offense might slow down just enough to edge out a win
Prediction
We all know what happened last time these two teams faced. Domination. Clemson has the talent to do the same thing again tonight. Their staunch defense should eat into an iffy Texas offense and keep their scoring low. After the blowout we saw last time, it is hard to predict anything other than another Clemson win. I do believe that the game will end up closer than their last matchup, but the Tigers should win this one handily.
Texas 24, Clemson 34