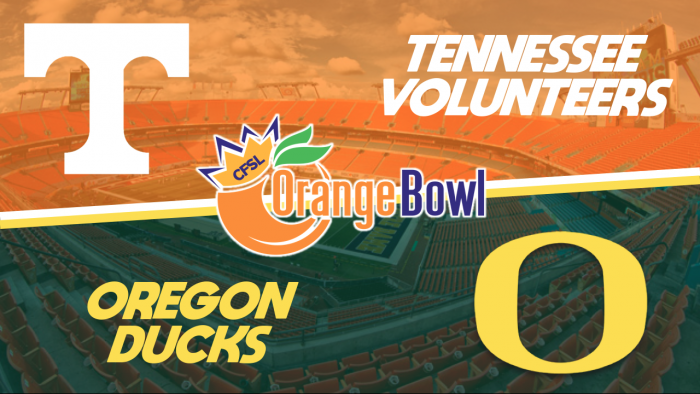 NATIONAL TITLE
This is it, the moment in the CFSL season that has culminated. The journey to this point has been absolutely insane. A season filled with ups and downs, various scenarios being pointed out and argued among players and coaches alike. The talking heads of the Inside Blitz offering their unique takes, and the reaction by the rest of the league. Teams jockeying for position and making their cases as to why their team should be voted number one when it's all said and done. Everybody trying to compare their resume so that they could be crowned the champions. But, that's not the scenario we're in unless some crazy things happen tonight. At the end of the road, it's Oregon and Tennessee going head-to-head, with the voters likely picking the winner to be the national champion. Who will that be?
TENNESSEE
We'll start with the "road" team. The Volunteers come into this game with the most crucial qualifying wins of the season taking place early in the season. They narrowly defeated both Clemson and Texas, the two teams who have been arguing for their justifying credentials. Those two wins made the difference as the Volunteers ran the SEC table, defeating everybody within their conference. It's that fact, combined with their overall record, that has Tennessee in this bowl game, and in position to be crowned Champions.
OFFENSE
Let's open things up with the Volunteers offense. Quarterback Dewey Ainge has had a few memorable games, unfortunately he's also had a few forgettable games. For the most part, though, his games have aired on the side of pretty good. After all, Ainge does have over 3,500 passing yards on the season. In last week's win over Auburn, Ainge put up 347 passing yards with two touchdowns to offset his lone interception. And then, there's halfback Donny Kazee. Kazee, like Ainge, has had his ups and downs this season, but he ended on a high note. 26 carries, 110 rushing yards, and four rushing touchdowns. That's the sort of game that can give a guy momentum, especially heading into a big game like tonight. Does this offense blow you away on paper? Probably not. Have they been inconsistent? Sure, but you better expect they'll be clicking tonight.
DEFENSE
The Volunteers defense, let's face it, is one of the more underrated units in the league. Linebacker Ronald McFish has quietly come on strong as the season has progressed and corner/safety Aaron Smith, has likewise had a decent season. Last week, McFish racked up 12 tackles with a tackle for a loss, a sack, and a pass defensed. Then, Aaron Smith tacked on 10 tackles of his own, as well as snagging an interception and taking it 24 yards. There's playmakers on this defense, and while they may give up yards and points, they find ways to come up with stops in the critical moments. Tonight, though, is where everything is on the line, and the defense is going to have to do more than make the critical stops. They need to force turnovers.
OREGON
Say hello to the Mighty Ducks. Okay, so that's more for the defensive side of the ball, but listen, there's some mighty ducks on offense too. Namely quarterback Devonta Cribbs and halfback Speedy Love. These two have been the real driving force of the offense, and honestly, it's been via the ground for the most part. Of course, the Ducks utilize the passing attack, and last week we saw what it can do if you don't respect that. Barely a play into Oregon's first drive, which came off a quick stop, and Cribbs ripped a pass over the middle to receiver Marquise Jackson who took it in for six from 49 yards out. Love and Cribbs both had over 125 rushing yards last week and two rushing touchdowns a piece. The Ducks are grounded, and nobody seems capable of stopping it. Volunteers be warned, this offense is deadly.
DEFENSE
Okay, here are the Mighty Ducks. This Oregon secondary is the nastiest in the league. Safety Jack Frost in particular has been the household name for CFSL fans. He's the career leading tackler, despite being just over 105 tackles this season. But, one can't forget corner Israel Cassius, who has had a number of interceptions cashed in for six points by Cassius himself. Then, there's Thor Odinson on the other side of the field. These three not only have incredibly ball skills, but they're also incredibly capable of lowering the boom on opponents. Makes me feel bad for the Tennessee offense. No matter what happens, Oregon will be bruising and abusing the Volunteers ballcarriers.
WHAT TO WATCH FOR
Oregon is going to run the ball downhill at this Tennessee defense. The Ducks are going to rely on the read option and are going to be aggressive about it. The Volunteers have to be aware of that and be prepared for that. If they aren't then honestly things are going to be disastrous. The Volunteers offense on the other hand are going to be balanced the only question is, can Ainge avoid making too many mistakes.
KEY MATCHUP
LB Ronald McFish v. Oregon Backfield
Some might say this is a little unfair for McFish, but I think this is the matchup that decides the fate of the entire game. If McFish can't at least slow down Cribbs and love then Tennessee is going to be in for a rough night. Now, obviously McFish isn't on his own in this venture, but he's the key to it's success. If McFish can't create broken plays and slow these two down, then things will not be going in Tennessee's favor tonight.
GUEST ANALYSIS
I spoke with an SEC AD and a Big Ten AD, and both have Oregon taking the win tonight. While both cite various aspects of what to look for and what is necessary, there a few keys worth noting, and they both surround what the Tennessee offense will do. The largest question mark for the both of them is the Volunteers offense, and I can't fault them. They've been up and down, certainly having their struggles throughout this season. Here are the quotes from the two ADs.
"It should be an interesting matchup. Tennessee hasn't really blown anyone away this season as they are a blue collar type of team. They work hard and win when they need to. Oregon has an impressive quarterback in Cribbs. The Ducks pretty much have two running backs in the backfield and they have a great pass defense. The question in this game is, will Tennessee rely on Kazee to run the ball? Will Oregon involve Cribbs in the passing game more? This game will come down to the game prep of the AD's. I think Oregon wins this one."
Michael Buck, Texas Athletic Director
"I think Oregon rolls. The Tennessee defense is pretty good but their offense is going to have to attack the Oregon secondary which I don't think can be done. I think it's a bad matchup for Tennessee. They'll have to play nearly perfect to have a shot at winning."
Tyler Hoyt, Notre Dame Athletic Director
PREDICTION
This is it. This is what the CFSL season three National Champion hinges on. The fate of the mantle and the trophy rest solely on the outcome of this game. Oregon should be favored in this one, and for good reason. Few teams have successfully cracked the offense that the Ducks are running, and even fewer teams have been able to strike this Oregon defense. Tennessee certainly doesn't have the talent of, say, a Texas offensively. The Volunteers, they're the underdogs, with the closest comparisons for them have been facing Texas and Clemson, games that the Volunteers both won. While Tennessee, won them, it was only just. I don't know if the Volunteers will be able to pull that kind of magic off for a fourth time this season. Give me the Ducks, but the Volunteers keep it close.
Tennessee 28, Oregon 31