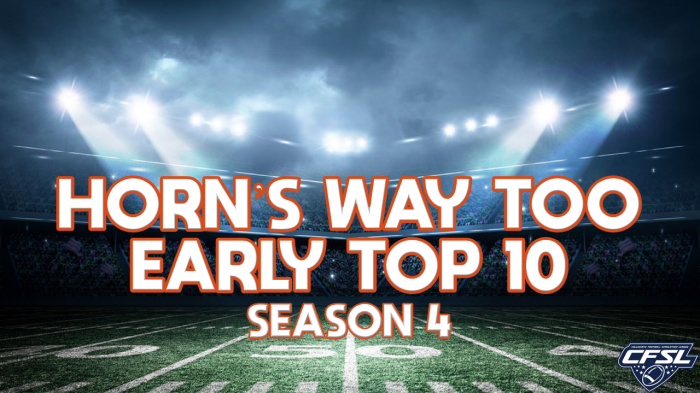 Well, that was a fun season wasn't it?
Congratulations to Tennessee on a fine season and a National Championship. The Volunteers went 6-0 in the SouthEastern Conference and ended the year with a three game winning streak.
Four new expansion teams joined the CFSL this season. Penn State, Texas, Clemson and TCU. Out of those four teams, Texas and Clemson had the most success with both teams going 9-3. Penn State made a nice push at the end of the season with a two game winning streak. All these teams should have a good full offseason with some games under their belt to be better in season four.
Let's dive into the Way Too Early Top 10 rankings.
1 TENNESSEE
The Volunteers are National Champions and deserve to come into season four as the top seeded team. On offense, Dewey Ainge, Donny Kazee and Scotty Stallworth all return to a unit that placed third in total offense. Notable key losses will be their wide receiver core. Tennessee will go into next season needing two new wideouts to catch passess from star quarterback, Dewey Ainge. Ainge threw for 3901 yards and 28 touchdowns in season three.
On defense, Tennessee returns the top recruit and one of the top linebackers in Ronald McFish. McFish secured 125 tackles with 19 for a loss and four sacks. He also forced one fumble. Key players such as Andrew Tillman, Tyler Ruano, Thomas O'Donnell as return to this unit that placed third in the league in total defense.
2 TEXAS
The two spot is a very close call between Texas and Clemson. I went with Texas based on their most recent matchup. Like Tennessee, Texas returns a solid core on both sides of the ball. On offense, quarterback Ray Tatum returns for his junior season after putting up 2691 passing yards and 29 total touchdowns. Geaux Bamba returns as well to the halfback position after rushing for 1938 yards, 24 touchdowns and 28 total touchdowns. Defensively, Michael Sudeikis returns for his junior season as well as Justin Boudreaux and Jimbo Smithers. Both offense and defense placed second in the league in both categories. Texas will need to find two new wideouts as well as corners as Jalen Davis will move to the safety spot next year.
3 CLEMSON
Clemson comes into season four at a very close three. OPOY candidate DJ Moss will return for his junior season after putting up video game numbers. Moss threw for just shy of 3k yards with 44 total touchdowns. He also rushed for 1680 yards as well. Moss returns his top two wide receivers in Cadillac Chadwick and Anthony Robertson III. On defense, Kobe King and Mike Miller return to this unit that placed in the top spot of defensive efficiency. The most important move that Clemson will need to do in the offseason is to add a running back. After starting last year with one of the top running backs, Clemson had to bring in outside help to stabilize the position. Look for Clemson to be players in recruiting for some of the top running backs.
4 OREGON
It was very tough to put Oregon at four. Any of these teams have a strong case for the top spot and you can interchange any of the top four. Oregon comes off a close Orange bowl loss. Quarterback Devonta Cribbs headlines the offense after scoring a combined 32 touchdowns. Speedy love returns at the halfback position as well as Bryce Kellogg at the receiver spot. On defense, the Ducks return a loaded secondary. Israel Cassius and Thor Odinson return for their junior years. Jack Frost should also return for his senior year after getting 115 tackles and 10 tackles for loss. Oregon will need to reload with wideouts after losing Jay Smith to graduation.
5 MICHIGAN
The Wolverines headline the top five going into season four. After a slow start to begin season three, Michigan reeled off six straight wins before getting manhandled by Notre Dame. Offensively, this team has the potential to be the top offensive team for next season. The Mack attack returns with Javon Mack and Ezell Mack returning. Bobby Jackson returns for his senior season at wideout. Defensively, Michigan is going to need some help. Nate Jones leaves after a successful two seasons in a Wolverine uniform. Transfer, Brum James, is also leaving to pursue other opportunities. Michigan will get their extra five star slot back after being sanctioned last offseason. Look for the Wolverines to target defense early in recruiting.
6 OHIO STATE
While 1-4 can be interchangeable, so can 6-10. Ohio State takes the six spot after going 6-6 last season after changing coaches mid-season. New coach TJ gets the majority of his offense back in DeAndre Evans and Frost Carlson. Zaire Bradley also returns to the wideout spot after grabbing 62 passes for 1282 yards and 16 touchdowns.  It will be interesting how well this first year AD will do in recruiting but key pieces are available to make this defense respectable.
7 WASHINGTON
The Huskies have a good case for the six spot but I am putting them at seven for the uncertainty at the wideout spot. The season two champions return Doug Ohle and superstar running back Ron Dayne Jr. On defense, the Huskies return Tarin Holyoke and Kalu James. Washington will need to find some replacements for the front seven as the majority are seniors and are not returning. If the Huskies can get their defense figured out and score a good playbook for next season, they could be the dark horse to win the championship.
8 IOWA
The Hawkeyes are heading into the offseason with a bowl victory over Auburn. But there are going to be some question marks around this team as they are losing their starting quarterback for the second straight season. Some other needs are going to be their linebacking core and safety spots. On offense, freshman Avery Jordan will return for his sophomore campaign. Jordan rushed for 1794 yards with 17 touchdowns. Make no mistake, whoever fills in at quarterback, this team is destined to run again. AD Woodsmall has made it a career in game planning to run the ball. Look for Iowa to add another quarterback early in the recruiting process, while filling out their back seven.
9 AUBURN
The Tigers are going to be a tough team to understand until the recruiting season is over. AD Matt Pack will need to find another third person quarterback as legendary Blake Moon leaves campus for the NFL. Also leaving with Blake Moon will be wideout Alex A. Cook and MLB Tony Bryant. All three of these players played a major role in Auburn's 6-6 season. Returning to the Tigers will be star wideout Wayne Carter. Carter accounted for 1042 yards and 11 touchdowns receiving. Matt Pack is a stellar recruiter and it will be interesting to see who he brings in to make another run at a championship game.
10 Florida State
HOT TAKE ALERT! There could be the case for TCU or Penn State here but I went with Florida State. The Seminoles have the playmakers on offense to really score in this league. I believe their drawback was their playbook selection that limited those players as well as not having a coaching staff. I believe that this season AD Brocco will get it right and select a playbook that fits his star players. The Seminoles have arguably the best receiving core returning in Jared Tetonis and Trevor Golinar. Both players have shown to take over games when Kovach is able to get them the ball. Their AD will really need to work on this defense to keep them in games but if everything flows right, the Seminoles could be a top 10 team.
There you go. Digest these rankings, make comments and I look forward to season four in the CFSL for which will be the best season yet!
*Rankings are based on current players on teams now and are not subject to transfers or recruitment.