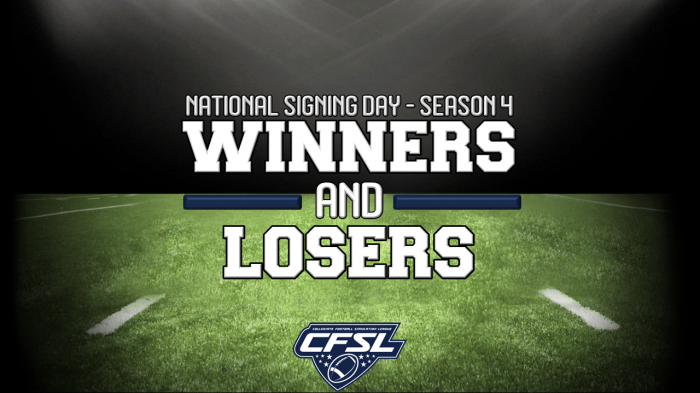 Winners and Losers of National Signing Day
By: HornsNation
Well, the five star national signing day has begun. Teams made their last pitches before the circus of commitments started at 2pm CST today. Let's look at the winners and losers of today!
WINNERS
Auburn
Woah. Matt Pack, the Auburn Athletic Director, showed that he has not lost a step with this impressive haul. Losing his top quarterback, wideout and other various positions, the Auburn Tigers look like the team to beat in the SEC. The Tigers were able to pull in the top safety in the class with Ollie Peters. Joining Peters is the 2nd ranked safety in Rian Chambers. Adding to their impressive defensive backfield is top corner recruit Jesus Kitchens. On offense, Auburn replaced longtime quarterback with 4th ranked quarterback recruit, Griffin Jelkic. Auburn has finally built a defense to contend in the SEC, look out.
Texas
How do you improve the 2nd best offense in the CFSL? By adding two 5 star wide receivers. The Longhorns lost their wideouts after Hunter Lewis, Jeremy Conley and Ricky Stedman left after one season. Replacing those wideouts are Vincent McCoy, the 2nd wide receiver recruit and 5th overall, and Scooby Lewis, the 4 wide receiver recruit and 19th overall. Quarterback Ray Tatum has never had this much firepower on the outside and should improve a passing offense that ranked 10th in the league last season. Oh yeah, the Longhorns still carry Geaux Bamba. If this offense can click together, look out, points will be scored in bunches.
Notre Dame
The Irish needed to rebuild after graduation and early departures after season three. Their star defensive tackle left for Clemson, leaving their AD in a tough position to go out and ace recruiting. Well he did. Landing the top quarterback and prospect in the class in Jose Bueno, the Irish AD also secured the top running back and 3rd overall prospect in Joe Pantoja. Adding to that was highly ranked wideout Skyler Schnee. This gives Notre Dame one of the top QB-RB-WR combinations in the league and they should contend for a Big 10 title right away.
SEC
Speaking of conferences, what a day for the SEC. Not only did Clemson, Texas and Tennessee get better, but Auburn blew everyone away with their focus on defense. Florida State reloaded on offense while hype is beginning to build in College Station with Texas A&M. Overall this conference schedule is going to brutal and winning this conference will not be easy.
---
---
LOSERS
Ohio State
Well you have to wonder what is going on over in Columbus. The Buckeyes are currently only bringing three players from season three into season four and needed to make a splash in recruiting to rebuild. Unfortunately for Ohio State, their AD seemed MIA for most of the day. There were no announcements from players and excitement seems dull from the team in Ohio. There is still hope for Ohio State with the 4star signing day coming up as well as the ADs ability to gameplan. All is not lost for the Buckeyes just yet, but we will have to wait and see.
Penn State
Going into 5star signing day, Penn State had a lot of holes to fill. Returning just two players from last season, Penn State also needed to make a splash in recruiting. Unfortunately, the Nittany Lions were only able to sign one player, halfback Robert Davis. Davis will join senior Aidric Berry as the only starters on offense with Malcolm Kennedy returning on defense. 4star signing day will be highly important for Penn State to continue to fill out their roster. If they strike out, it could be another bad season for Penn State.
BIG 10
This was a tough call. While Oregon, Michigan, Iowa and Notre Dame all recruited successfully, Penn State and Ohio State struggled on the recruiting trail. The SEC provided more excitement, with the majority of top recruits heading south. There seems to be a division now between the top teams and the bottom teams in the Big 10. Oregon is listed as favorites to repeat at Big 10 champions but may run into the buzzsaw of the SEC champion. If the top teams in the Big 10 are able to really push the limit of being elite, this division would be tougher. But unfortunately in terms of strength of schedule, having Penn State and Ohio State on your conference schedule does not do you favors.
**This list is created with the players that have announced already. Any future announcements of 5stars or QB's and HBs, will be updated accordingly.