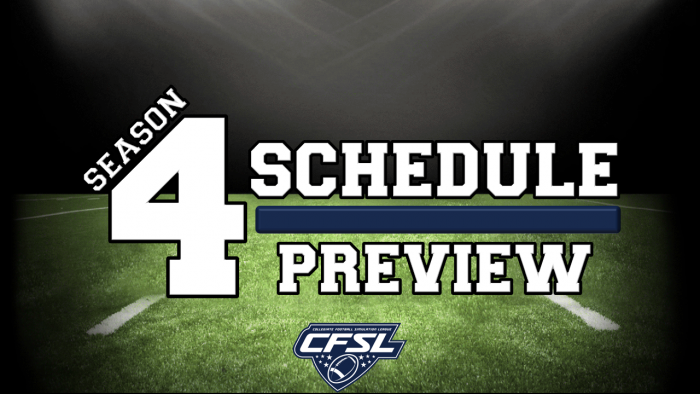 It's finally here! The schedule is out and you know what that means, we get to start looking ahead, anticipating the matchups of the coming season. Like last season, things played out and made things incredibly interesting for weeks. All the way to the final week of the season, something was at stake, games mattered beyond pride. Rivalries were solidified, formed, and heated all throughout the season. There were close calls, surprises, and no lack of excitement for weeks.
So here we are, a new season, a new schedule, and a ton of games to get excited about. While the league did not expand this past season, it's nothing to get too upset over. After all, there's a lot on the line for a few teams this season. As teams are excited with the new schedule and the upcoming season, there's some things worth noting as we move ahead in the season. So without further ado, let's get into the breakdown.
1) WELCOME TO THE NEUTRAL SITE
You, the fans, asked for it and the league office heard you. Four neutral site games were introduced, three of which take place in week one. Week one is always exciting, but this might be the best week one to date. Tennessee and Oregon start things off in the Chick-Fil-A Kickoff in an Orange Bowl rematch which essentially decided who was crowned as the National Champion. But, that's not the only neutral site game in week one. Clemson gets their first look at the new Iowa team, in the Cowboy Kickoff while Texas and Michigan open things up in the Texas Kickoff. Week two will see the last neutral site game until the bowl games at the end of the season. Auburn and Notre Dame will take a trip up to Chicago's Soldier Field in a rematch of the season one National Championship game, and the talk in chat has been loud and heated.
2) TOUGH LOVE
Look, it's no secret that as a team, you are to beat the teams on your schedule, and you can be in the conversation for the voters. That said, not every team has their tough opponents evenly spaced out and that's just the way scheduling works sometimes. Nothing wrong with that, no malice, just the way the pieces fall into place. For this season, there are six teams who, at some point in their schedule, are going to find themselves in a grind. Oregon, Iowa, Florida State, TCU, Texas A&M and Tennessee all find themselves in a spot where they have a few weeks of brutal games. For Oregon, Iowa, Florida State, and TCU they will see some combination of the following teams: Tennessee, Texas, and Clemson. That's in a three or four game stretch. Texas A&M will see Oregon, Tennessee, and Clemson for three straight weeks. Tennessee will have to face Clemson, Texas, Auburn and Notre Dame to end their season. Enjoy!
3) BEGINNING TO END
Every game is important, but as I mention the ending, the way you end your season is pivotal and the way you begin is exciting. You can get out to a hot start, but if you can't close you're in trouble. Likewise, you can have a slow start, but as long as you can close out the season and come on strong late, you could be in good shape. Ohio State and Penn State have their first three games of the season on the road, and of those two teams only Ohio State ends their season at home, against That Team Up North. On the other hand, there's Florida State, who ends their season on the road for four straight weeks. Joining Penn State is Texas A&M and Auburn. Their similarities? All three teams start and end their seasons on the road.
4) REVENGE TOUR
Revenge in the CFSL can be a fickle thing. Texas got revenge on Clemson in the Gator Bowl last season and Michigan evened the series out with Ohio State. But not everybody has that opportunity. Here are the big revenge games to keep an eye on this season.
CHICK-FIL-A KICKOFF: TENNESSEE v. OREGON
Orange Bowl rematch, National Title hopes, revenge. It's all on the line. Oregon self-proclaimed themselves as the best all season before falling short to Tennessee. Kicking off their season with revenge would be great, but Tennessee wants to prove the victory wasn't a fluke. It's only fitting that this game kicks off the new league year.
IOWA v. TEXAS
The week two matchup, which ironically mirrors last season, has significance for the Longhorns. They argued for their claim to the National Title, and little did they know that the one point loss to Iowa would play a role in their inability to reach the Orange Bowl. Meanwhile, the Hawkeyes have upgraded and reloaded on offense and defense respectively. Keep your eyes on this one.
CLEMSON v. MICHIGAN
Last season, the Wolverines marched into Death Valley, and fell behind quickly. It looked ugly, hopeless, and like the Wolverines were going to get blown out in the fifth week of the season with only one win on their record. To be fair, they still only had one win when they left Clemson, but not without storming back. The Wolverines rallied, with some help from Clemson's quarterback, to force overtime. The Wolverines couldn't close the deal then, but they need to now.
NOTRE DAME v. TENNESSEE
Triple overtime. That's how this game ended last season, with Notre Dame rallying back from almost 20 points down. The Fighting Irish then took things to three overtime periods before leaving victorious. It didn't hurt the Volunteers in their quest for a National Title, but still, they led for the majority of that game. Can't help but feel like they want to finish what they started last season and blow the doors off of Notre Dame.
AUBURN v. CLEMSON
The game where Auburn came out and set the world on fire. Where it looked as though Blake Moon had reclaimed his throne. Where the Auburn offense appeared to be a juggernaut, totally unstoppable. A 21 point comeback later and the Clemson Tigers claim victory. It was the game that got away, the one where Auburn would beat teams, but unable to contend with the big dogs of the SEC. But they look different and ready to contend. This game, in the final week of the season, has the potential to have an Orange Bowl berth at stake for both teams.
5) WHO'S YEAR IS IT?
If you've been around the CFSL for the past three season, you know that nobody has ever repeated. Notre Dame won season one, Hawaii-turned-Washington won season two, and Tennessee was the National Title victors last season. It raises the question though, with the schedule and the roster, who will win it this year? Can Oregon be the first team to even make a repeat appearance in the Orange Bowl? Can Tennessee? Their schedules won't be easy and they each have some really rough stretches. Or is there a dark horse? That maybe the schedule favors them based on when they play who and the timing of their own performance? There's so many variables at hand here that it's incredibly difficult to say. One thing is for certain, these teams are on the list: Oregon, Michigan, Washington, Notre Dame, Tennessee, Clemson, Texas, and Auburn. You shouldn't have to guess who the four favorites are.
READY?
So, we've covered a big chunk of the groundwork, but what's crazy is that's not even half of what we could discuss. New quarterbacks, different defenses, new schemes. There's so much more that could be discussed, but those are the major things that needed to be addressed, I think, as we approach the new season. The playbook draft and spring games are on the horizon, the season approaching quickly. There's tons of chatter, a lot of it being trash talk, there's tons of storylines, and a lot of great games on the season. Which leaves us with only one question. How ready are you for season four of the CFSL?