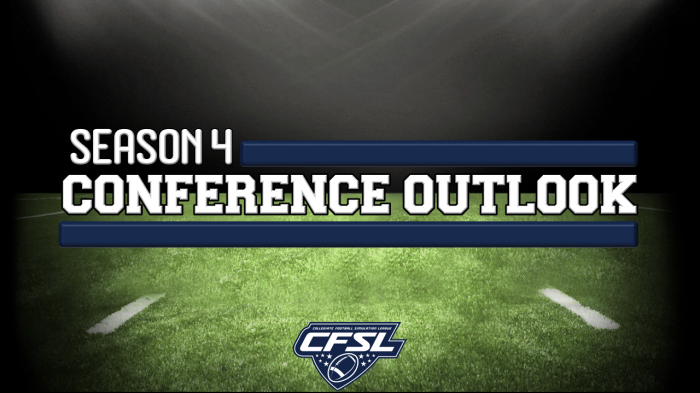 The CFSL season is starting to take shape as most recruits have signed and spring games are almost upon us. Many are starting to speculate how season four will turn out, and I am here to give my thoughts on who will end up meeting in the Orange Bowl in just a few months.
SEC

Favorite – Tennessee Volunteers

How could I not pick the season three SEC and National Champions to repeat this season? After finishing with an undefeated 6-0 conference record in season three, the Vols are in prime position to take the crown again. They found ways to win games in every way possible, whether it be capitalizing on fumbles or last second hail marys. With new additions in 3-star cornerback Shabazz Topaz and 5-star wide receiver Nick Bagg, the Vols are looking to be an even better team then they were last season and the clear favorite as of now.

Biggest Competition – Auburn

Season three left a lot to be desired for the Tigers. They went into week nine with a shot at the Orange Bowl, but fell in a crushing blowout to Texas and a heartbreaking game against Tennessee. Over the offseason, Auburn's focus in recruiting was on the defensive side. They picked up three 5 star defensive backs, safeties Rian Chambers and Ollie P. Peters and cornerback Jesus Kitchens. On top of that, they acquired the ever talkative Micah Myers and four star corner LaRoi Sanders. They brought in Griffin Jelkic to replace the Temple of Greatness, which are some big shoes to fill. Now, you may ask, why won't they win the SEC with all this talent? I believe that they won't have the offensive firepower to overcome some of these defenses.

Sleeper – Texas A&M

Last season, Texas A&M had an abysmal 1-10 season with their AD leaving in week 5 and losing two 5-stars over the course of the season. With that being said, they have been rebuilt by new AD Superwoman and is shaping up to be a force in the CFSL. With a few returning starters, plus Aaron White transferring from Notre Dame, they have established and experienced player to teach a young class. The two key additions TAMU acquired were the QB-HB duo Walker Mills and Jimmy Tickle. These two will be the leaders of the squad and Texas A&M's season lies on their shoulders.

Big Ten

Favorite – Oregon

Again I am going with the season three conference champ to win again. This team has improved in almost every facet of their team. They brought in one of the top wide receivers in Dijon Swann, who will bring a vertical aspect to this team who uses the ground more than the air. The No Fly Zone known as the Oregon secondary added another safety in Shane James. I can see this team reaching the Orange Bowl and this time they have the weapons to win it all.

Biggest Competition – Michigan

Meanwhile, Michigan comes into this season with high hopes. Their sophomore season in the CFSL was disappointing compared to their incredible inaugural team. But they come in with a chip on their shoulders and will be one of the most talented teams we've seen. Quarterback and season two OPOY Javon Mack looks to become the player he was in season two. They used the quality over quantity adage when recruiting this offseason, bringing in three 5-stars and a 4-star. Michigan has always favored the running attack, and with two 5-stars in their backfield, it is bound to be the key for this offense. Defensively the Wolverines added MLB Jake Lake, corner Joshua Priest Jr. and Safety Elliot Wells.

Sleeper – Ohio State

Then, there's Ohio State, the Cinderella story in the making. Especially, after new AD RussellMania took over just one day before National Signing Day, he turned Ohio State from a ruined team to a contender. This team is almost completely different from the one we saw last season. Quarterback Xavier Garcia-Phillips will be tossing the ball from the quarterback spot and, like Walker Mills, will need to be a strong leader if Ohio State wants to have any chances this season.