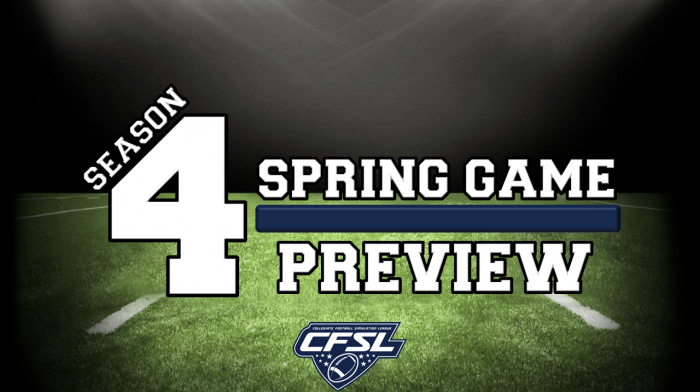 The spring games are finally here, and you know what that means. The new season is just around the corner. But, we've got to get through these spring games first, and everybody is filled with excitement to get their first look at their favorite players in their school unis for the new season. Others will get a first look at the new recruits and what they can offer. It's a lot to take in but don't worry, I'll break it all down for you right now.
BIG TEN
OREGON
The Ducks couldn't close the deal in the Orange Bowl last season, but don't think they're washed up. Oregon has reloaded, adding some much needed talent to the offense. There's still some questions though. Can Cribbs get some chemistry built up with new wide receiver Dijon Swann? More importantly, will this ground game still be as dominant as it was last season? Speedy Love looked impressive, but no one on this offense really had an OPOY caliber performance. Can this offense show us a glimpse of a different outcome?
NOTRE DAME
The Fighting Irish had quite the hill to climb, even though they pulled off the comeback upset against Tennessee in triple overtime late in the season. Still, gone is the consistent threat of Ty White and enter Jose Bueno. The man has his work cut out for him to be able to unseat Oregon. However, he's not the only new face to the offense. In fact, this offense is brand new, with the exception being wide receiver Upton O'Goode. The Fighting Irish are going to have to gel offensively, and fast, because they have an interesting couple of weeks.
MICHIGAN
A slow start for the Wolverines ended in a resounding finish. They beat their heated rival out of Columbus, which was part of their six game win streak. Then, they, got beaten down by Notre Dame (see above), in the Rose Bowl, losing by 28. Not pretty. So there's a couple questions. How does quarterback Javon Mack bounce back? He was the OPOTY in season two, and looked good last season but wasn't nearly as dominant as many expected. But here's the more pressing question. Will linebacker Jake Lake fill the shoes of Nate Jones for the Wolverine defense?
OHIO STATE
A tumultuous season led to Ohio State being in the position they are right now. A totally new roster with a totally new AD, marking the second AD change, and the third in Ohio State's CFSL history. Halfback Frost Carlson is back, with a new offensive cast around him. It begs the question, can Carlson establish himself the way many thought he would last season? Will we see a glimpse of that in the spring game?
WASHINGTON
So, uh, that's one way to come off a National Championship season. Must have been the move from Hawaii to Washington. From 10-2 to 5-7, that's the difference for quarterback Doug Ohle and halfback Ron Dayne Jr. What makes it even worse is the fact that they lost to Ohio State, the same team that faced them in the Orange Bowl nearly two seasons ago in the fight for the National Title. So, here's the question, can this offense find a balance between run and pass, and will they show it to us in the spring game?
IOWA
A new quarterback, Joe Kane, enters the scene for the Hawkeyes, something that Iowa fans are getting sick of. The good news is, halfback Avery Jordan is still in town, and the guy was dynamite last season. In fact, this is by far the best offense that the Hawkeyes have had in their four CFSL seasons. But, with that comes lofty goals and expectations. Because of the offense, this defense is clearly not as top-tier talent heavy. But, they are solid. The only question is, are they good enough to compete with the top offenses?
PENN STATE
Aidric Berry returns for his senior season, and while the roster on paper won't blow you away, there is a big three. Berry is paired with halfback Robert Davis and wide receiver Ronald Fields. Berry hasn't had an offense this promising since he was at Boise State in season one. This front seven is strong for the defense too. We'll see if they can make up for the weak secondary, or if Penn State will wait to have that exposed in the season.
SEC
TENNESSEE
The Volunteers have upgraded at receiver and reloaded on defense. Good news, the Volunteers look poised to make another run. But, this spring game, though, is big for quarterback Dewey Ainge to be able to get some chemistry with wide receiver Nick Bagg going and for this defense to gel. There's only one concern, will it be enough to keep the rest of the SEC at bay?
TEXAS
Ah, the Longhorns, the team with the most explosive start, and the most explosive finish. They put up big numbers to open their season, and got revenge on Clemson in a big way to end the season. The offense looks a bit different from last season, with some major wide receiver threats for quarterback Ray Tatum. So, we'll see how Geaux Bamba fits into this offense and how they distribute the touches. Here's the other aspect to consider. How many points will get put up on this Texas defense?
CLEMSON
It's weird when the undisputed CFSL powerhouse doesn't make the Orange Bowl. Even weirder when they get knocked out of the National Championship conversation. They tied with three other teams for the best record, 9-3. Quarterback DJ Moss showed his running proficiency, but have since upgraded at halfback and reloaded on defense, including the monster of the middle, defensive tackle Tyson Ali. There's only one question, what DJ Moss will be shown to us in the spring game? The one who runs or the one who will surgically take apart your defense?
AUBURN
Say hello to the all-new Auburn Tigers. New quarterback in Griffin Jelkic who has access to some serious firepower. And the defense that has been claiming to be the best secondary the CFSL has ever seen. So, the question is, will Auburn try to prove the doubters wrong about the offense? Or will the Auburn Tigers back their claim about their defense in the spring game? Guess we'll find out next Wednesday.
TCU
The Horned Frogs had a great start, going 3-1. Unfortunately, they won just a single game after that. This offense got figured out in a hurry and their defense wasn't enough to combat that. Since there hasn't been any major roster changes to note, that leaves us with one question for the spring game. What system will they roll with? They had a pro-style offense last season, but does that change? If so, what's it going to look like?
TEXAS A&M
Well, the Aggies are under new leadership, all across the board. A new AD, a new backfield, and a defense that has seen some major upgrades. Will Walker Mills, the new quarterback, be able to gel with Christian Barnes and Jay Wells, the Aggie wide receivers? More importantly, though, how much better will this Aggie defense be? The spring game should be able to point us towards an answer, as long as the right scheme is utilized.
FLORIDA STATE
A team that fought and scrapped through everything, trying to keep games close, now comes in with a new perspective. Quarterback James Kovach is surrounded with impressive talent, all five stars around him offensively at the skill positions. The defense has a nice secondary. Can Kovach make use of these weapons, and can this secondary cover for the front seven? Those are the questions we should be asking heading into the spring game.
So, there you have it, those are the biggest questions for each team heading into their spring games. All that's left to do is sit back and see if these questions will be answered, and more importantly, enjoy the CFSL action. So, season four is just around the corner, which leaves me with one last question for you the reader. Are you ready?