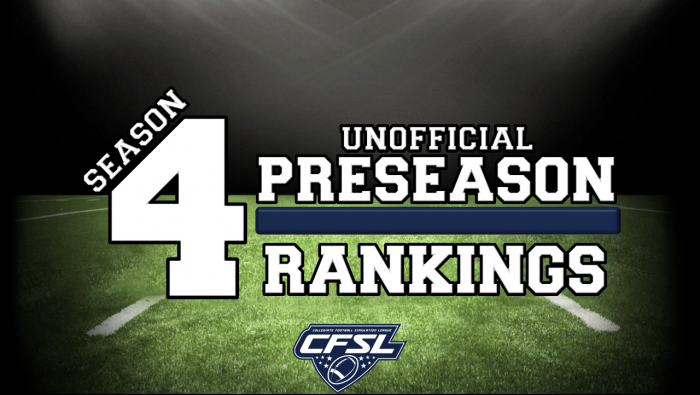 By: HornsNation
Its the most wonderful time of the year! This week kicks off an exciting week of spring games, which will then lead us into the beginning of Season 4 in the CFSL!  Let's take a look at the unofficial rankings after an exciting offseason.
1 AUBURN
After a disappointing end to season three, the Tigers went out and completely reloaded in their secondary. Additions include CB Jesus Kitchens and safeties Ollie Peters and Rian Chambers. Add in returning starter Eric LeClear, this secondary is not one to mess with. On offense, Griffin Jelkic takes over for the departed Blake Moon in a spread offense that should allow Wayne Carter more opportunities to make plays. Auburn has the firepower to run the table this year.
2 TENNESSEE
Returning most of their starters, the Volunteers shocked the CFSL world when they selected West Virginia as their playbook. The Air Raid system should suit these Volunteers well as Ainge comes off an impressive freshman campaign. Adding wideout Nick Bagg should only make Ainge better and possibly break some passing records this year. Buster Bates adds a very good secondary piece to this Tennessee team. The Volunteers could be the first team to repeat as champions if they can escape the SEC gauntlet.
3 TEXAS LONGHORNS
Another SEC team tops this list with the Texas Longhorns. After an impressive bowl victory over Clemson, Texas has flipped the script by placing focus on an offense that ranked number two last season. Additions include Scooby Lewis and Vincent McCoy as wideouts. This pair, nicknamed the "Texas Two-Step" provide Ray Tatum with his best-receiving core in years. With Bamba leading the charge in the backfield, this offense will likely finish number one. The defense might need some work up front but the Longhorns could be a dark horse for the National Title.
4 CLEMSON TIGERS
Now I know what you are saying, "biased for the SEC!" but honestly the top half of the SEC are loaded with great teams. Clemson adds to this list after getting possibly the best defensive tackle ever in the CFSL in Tyson Ali. The defense should stand out well, but questions could arise on the offensive side of the ball. OPOTY DJ Moss returns but with a different look. Running a spread system, Moss will be required to pass the ball more to his receivers. Look for WR Anthony Robertson to be an early bounce-back player of the year candidate.
5 OREGON DUCKS
After the top 4, things start to get a bit murky. Oregon comes off a national championship loss last season and comes in after a successful recruiting campaign. Dijon Swann adds another layer to this offense by giving Cribbs a much needed deep threat. Cody Betts also gives Cribbs another good receiver in addition to running back Speedy Love. On defense the Ducks remain loaded in the back seven with Cassius, Odinson and Frost all returning. My only concern is the lack of linebackers. Only Noah Lopez returns which can cause issues if teams decide to run the ball against this Duck defense. The Ducks are early favorites for the Big 10 crown.
6 IOWA HAWKEYES
The Hawkeyes are close to crashing the top five party. New additions in Joe Kane and Bo Bodine headline their recruiting class. Iowa returns wideouts Darren Pegues and JJ Meis in what should be a high scoring team with the playbook of Auburn. Iowa is the favorite darkhorse this season for the National Championship.
7 TEXAS A&M
Making this list for the first time will be the Aggies. The new AD, superwomen, impressed with a great recruiting class. Walker Mills and Jimmy Tickle should be household names this season along with Ace White on defense. Transfer Aaron White provides defensive leadership after coming over from Notre Dame. Sky Taylor gives the secondary a much-needed boost and these Aggies look like they will be a tough out this season.
8 WASHINGTON HUSKIES
The Huskies return after a disappointing season in season three. Getting their championship-winning playbook should do wonders for Ohle and crew. Additions such as Lord Helix and Erik Langston should provide stability on both sides of the ball. Can Washington recapture that magic that won them the championship in season two? The Big 10 is open for the Huskies to make a late run.
9 NOTRE DAME FIGHTING IRISH
The Irish, or known in the offseason as Transfer U, lost some key important players to transfers. But don't count out these guys out, Jose Bueno comes into South Bend after a great performance in the rookie game. Joe Pantoja and Skyler Schnee are his weapons in what should be a high scoring offense. Along with Washington, Notre Dame pulled their championship-winning playbook in the pistol form of Clemson. Can Notre Dame overcome a dropoff on the defensive side of the ball to make a run?
10 MICHIGAN WOLVERINES
Rounding out this list is the Wolverines of Michigan. Michigan surged late last season only to come apart to the Notre Dame team in their bowl game. No one is worried in Ann Arbor as new recruits Jake Lake and Joshua Priest Jr. join this defense. Another addition in transfer Randy Charles, this team could surprise people defensively. One big question is the offense. Only four members carry the offense this season, Michigans worst in their two seasons in the CFSL. Can the Wolverines ride the Mack attack, or will teams force Javon Mack to find some walk-ons to catch passes?
HONORABLE MENTION:
OHIO STATE BUCKEYES
Both Michigan and Ohio State can swap out in the ten spot. Ohio State was given a new AD a day before recruiting opened up. No worries, new AD Russellmania secured a top quarterback in Xavier Phillips. Royce Mills provides an early weapon for Phillips. Juan Cantu and Kevin Brackett lead excitement around Columbus that has been missing a couple of seasons. Ohio State could surprise some teams with their spread option attack.