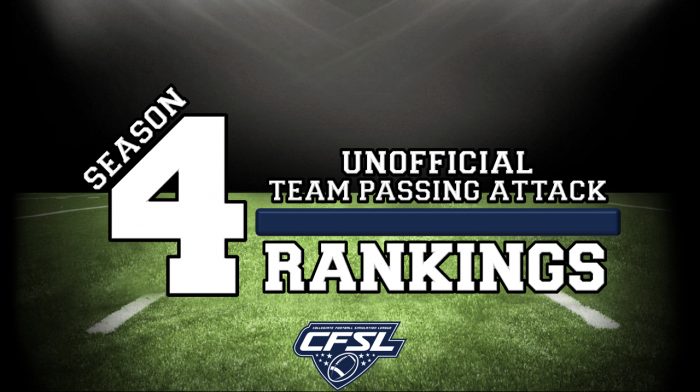 By Jacobo,
With the spring games just now starting, it is time for yet another unofficial ranking. This time, we will be ranking all 14 teams based on their passing attack. It was hard to rank each team because each team is so different. But without further ado, here are my team passing attack rankings for Season 4.
1. Iowa
Iowa brings one of the most skilled offenses to the table this year. With only one player on their offense that is not a 5 star, Iowa's offense could have the potential for some awards. Make sure to watch them this season.
2. Texas
With several key players leaving last year, some were left wondering how Texas could recover. Well, those questions were answered when Texas got two new 5-star freshman wide receivers to commit to them. Alongside their already stacked offense, Texas will have a deadly passing attack.
3. Texas Christian University
TCU returns several key players to their offense this year. Their quarterback, Dalton Andrews, held the record for most passing touchdowns last year. Alongside Andrews was Andre Gyan. Gyan held the record for receiving touchdowns last year. The combination of these two could make for a scary offense.
4. Florida State
The only thing keeping Florida State from being number one on this list is the fact that FSU is the only team in the league to have a 4-star quarterback. However, they make up for that with three 5 star wide receivers. This combination could easily make them one of the most feared passing attacks this season.
5. Ohio State
Surprise! The big shocker in this list is definitely Ohio State. After OSU's AD left, many believed that they would not have effective recruiting. However, their new AD proved them wrong creating an elite offense that will be sure to be a Big 10 contender this season.
6. Washington
Washington is returning star quarterback Doug Ohle. Ohle is accomplished by an amazing group of wide receivers including Lord Helix. With this group of elite receivers, Washington could be a threat on the gridiron.
7. Tennessee
Tennessee, the Season 3 national champions, bring back a great offense this year. Dewey Ainge will have to try to continue to lead this team to another winning season. Tennessee should be one to watch.
8. Auburn
It was a tough decision on whether to put Oregon, Notre Dame or Auburn first. what ultimately decided it was the number of players returned by each team. Auburn had several experienced players return for Season 4. They should be a contender in the SEC.
9. Notre Dame
Notre Dame is not feeling the love even though they recruited some of the best offensive players in the country. Their lack of experience is what put them this low on the list. However, I believe Notre Dame has the potential to be an offensive force this year.
10. Oregon
Oregon returns several key players that helped to lead them to a successful season last year. Their star QB is ready to rock the show again. It should be an exciting year for Oregon.
11. Michigan
The lack of offensive players is what lead Michigan to be this low on the list. Because if that issue, quarterback Javon Mack could end up having to rely on either two receivers or the running game. This could be an issue for Michigan.
12. Clemson
Unfortunately for Clemson, they recruited (in my opinion) average players this year. The lack of talent is what put Clemson this low. D.J. Moss can be the most amazing player there ever was, but without talented receivers, Clemson won't do well.
13. Penn State
Penn State suffers from the same problem that Clemson does. They have a talented quarterback, but with only one talented wide receiver, Penn State will be forced to rely on that receiver. When passing lanes get blocked, Penn State will have to rely on their running game. This could end up being scary for Penn State fans.
14. Texas A&M
Although TAMU had a great turn around from last season, they have a lack of experience on their they reconstructed team. They have potential, but I believe it will take a season or two.
Overall, it was difficult to choose which teams would be ranked higher than others. So many factors apply and it was almost impossible to choose between some teams. Each team has potential this year and I am excited to see where this goes.