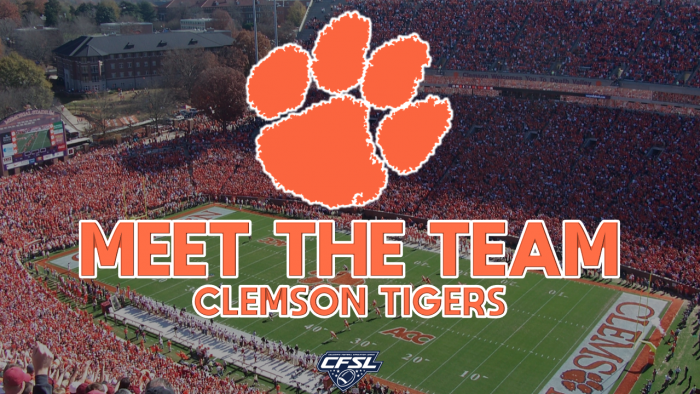 Our Beat Writer has been hard at work and has gathered some information on a number of your favorite Clemson players on some questions that fans are burning to have answered! Unfortunately, a few of members on the team declined to comment.
The Questions are:
What is your Major?
Obtainable Goal for the Season?
Lofty Goal for the Season?
Favorite Video Game?
Favorite Food?
Random fact about yourself?
Best Album Ever Made?
Best Movie Ever Made?
Cats or Dogs?
Keith Blazer                   
Wide Receiver        
Freshman
Major: Business Administration
Obtainable Goal for the Season: 24 TDs
Lofty goal for the season: OPOY
Favorite Video game: Need For Speed
Favorite food: Fast Food
Random Fact about himself: Read >1000 words per minute
Best album ever made: Van Halen – Cant Drive 55
Best Movie ever made: Gone in 60 Seconds
Cats or Dogs: Cats
Tyson Ali                 
Defensive Tackle        
Senior
Major: Poli-Sci
Obtainable Goal for the Season: 10 TFL
Lofty goal for the season: 10 Sacks
Favorite Video game: Madden
Favorite food: Pizza
Random Fact about himself: "Shoot in the 80s"
Best album ever made: Illmatic
Best Movie ever made: Star Wars
Cats or Dogs: Dogs
D.J. Moss                  
Quarterback         
Junior
Major: Psychology
Obtainable Goal for the Season: CFSL National Champions
Lofty goal for the season: 50 total touchdowns
Favorite Video game:  NCAA 14
Favorite food: Pizza
Random Fact about himself: Decline to State
Best album ever made: Decline to State
Best Movie ever made: Frozen
Cats or Dogs: Dogs
Mike "Money" Miller                  
Defensive End        
Sophomore
Major: Sports Management
Obtainable Goal for the Season: Lead the League in Sacks
Lofty goal for the season: All-Time Sack Leader
Favorite Video game:  Madden
Favorite food: Pizza
Random Fact about himself: I love History facts
Best album ever made: Anything by Bob Marley
Best Movie ever made: Godfather (Part 2)
Cats or Dogs: Dogs
Jordyn Hall                   
Strong Safety         
Senior
Major: Computer Science
Obtainable Goal for the Season: National Championship
Lofty goal for the season: Leading the league in tackles and being DPOY candidate
Favorite Video game:  Madden
Favorite food: Thai Food
Random Fact about himself: Decline to State
Best album ever made: Decline to State
Best Movie ever made: Decline to State
Cats or Dogs: Dogs
Anthony Robertson III                 
Wide Receiver      
Sophomore
Major: Petroleum Engineering
Obtainable Goal for the Season: National Championship
Lofty goal for the season: 20 total TDs
Favorite Video game:  NCAA 14
Favorite food: Chips and Salsa
Random Fact about himself: I like turtles
Best album ever made: Kid Cudi – Man on the Moon
Best Movie ever made: Black Hawk Down
Cats or Dogs: Dogs
Ricky Cortez                   
Tight End         
Senior
Major: Aviation
Obtainable Goal for the Season: Simply have more reception this year than last
Lofty goal for the season: "Outscore AR"
Favorite Video game: At the moment Sekiro
Favorite food: Sushi
Random Fact about himself: Middle name is Smooth
Best album ever made: Rebirth of Kirk Franklin
Best Movie ever made: Interstellar
Cats or Dogs: Dogs
Barry Allen                 
Free Safety        
Sophomore
Major: Sports Management
Obtainable Goal for the Season: National Championship
Lofty goal for the season: National Championship
Favorite Video game:  Always been a fan of shooters so the Call of Duty games Halo… Mass Effect is probably my favorite single player game
Favorite food: Italian food.. love pasta and pizza
Random Fact about himself: Decline to State
Best album ever made: Encore or The Eminem Show
Best Movie ever made: Remember the Titans
Cats or Dogs: Dogs
Stratton Mowry                
Cornerback       
Junior
Major: Architectural design
Obtainable Goal for the Season: Win defensive player of the year
Lofty goal for the season: National Championship
Favorite Video game:  NCAA Football
Favorite food: Pizza
Random Fact about himself: 4.0 GPA
Best album ever made: If I know me
Best Movie ever made: End of watch
Cats or Dogs: Dogs