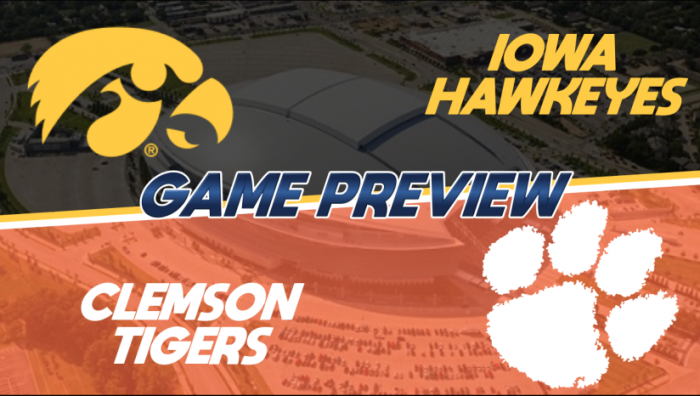 COWBOYS KICKOFF: Iowa vs Clemson
By: HornsNation
Dallas is the scene today as season four, week one continues! The Iowa Hawkeyes are coming off a disappointing season three, where they finished 6-6. Clemson, on the other hand, enters season four after going 9-3 in their first season in the CFSL. Both teams added some new key players during recruiting as well as a new playbook. Can Iowa shock the CFSL with a win over a championship contender, or will Clemson pick up where they left off?
IOWA
The Hawkeyes return seven starters off of last years 6-6 squad. Running back Avery Jordan returns for his sophomore year after rushing for 1642 yards and 17 rushing touchdowns. Also returning on offense are the two five star receivers, Darren Pegues and JJ Meis. Both receivers combined for 611 receiving yards and two touchdowns. Both will look to improve those numbers as Iowa bring in a new quarterback from Texas. Joe Kane, who attended Southlake Carroll, won three straight state titles and threw for over 7500 yards during his high school career. Kane was named Gatorade player of the year his senior season and will look to bring his playmaking ability up north to Iowa. Kane will need to work on improving this offense after Iowa finished 11th in total offense and points per game. Having Jordan, Pegues and JJ Meis should help Kane in the transition to the college ball system.
On defense, the Hawkeyes welcome a couple of new playmakers to a team that finished 5th in total points allowed and 6th in total offense allowed. Mohammad Dmour takes over for Alvin Mack and will look to make an impact early on. Marcin Olesniewicz and Bo Bodine will be some key names on defense if Iowa wants to contend in the SEC. Jerry James, Othello Jones, and Neal Mason all return in season four for the Hawkeyes. The big question will be if Dmour can get to the quarterback as well as his predecessor. Last season Iowa led the league with 29 sacks.
CLEMSON
The Clemson Tigers return to action in season four after a successful 9-3 first season. The Tigers will be led on offense by the season three OPOY winner, DJ Moss. Moss tossed for 2999 passing yards and 24 touchdowns but did most of his dirty work on the ground. The star quarterback rushed for 1680 yards and 20 touchdowns. Moss gets a new backfield mate in running back Mike Chadwick. Returning as Moss's number one wideout will be Anthony Robertson III. Robertson had a disappointing season, only catching 52 passes for 774 yards. He should be able to increase his workload this season as Clemson moves more to a balanced spread attack.
The defense will be the Clemson calling card this season. Highly recruited transfer, Tyson Ali, joins the front line for his senior season. Ali stats included 54 tackles, 20 tackle for loss and 10 sacks last season. Returning for his sophomore campaign will be Mike Miller. Miller also secured 10 sacks last season and will give Clemson the best defensive line in the league. The Tigers return Kobe King, Barry Allen as well as both of their cornerbacks from a season ago. This team improves defensively after finishing last season number two in offensive yards allowed and points per game.
MATCHUP TO WATCH
Iowa QB Joe Kane vs Clemson's Defense
What a way to start your career. The number two ranked quarterback from Southlake will get his first taste of the CFSL against a nasty Clemson defense. These are the games that will define your career and Kane will need to be perfect and make quick decisions. Iowa is going to need to get Kane comfortable moving from the pocket because of Ali and Miller. It could be a long night if the young Iowa quarterback struggles.
KEY PLAYER
Clemson DT Tyson Ali
When a player as distinguished as Tyson Ali transfers, it turns heads. Ali joins a defense that disrupted offenses last season. The star defensive tackle has increased his sack totals every year. He currently has 146 tackles, 53 tackles for loss and 24 sacks in his three years in the league. Look for Ali to kick off his final season off with a bang tonight.
PREDICTION
There are some questions that will be answered today. Can Moss repeat his performance from a season ago in a new playbook? Will Joe Kane live up to the hype? Can this Hawkeye defense improve after losing Alvin Mack? This game feels like Iowa should win. The Hawkeyes need to make a statement and there is no better way than to beat a top team from a year ago. But, Clemson is even better than last year on the defensive side. DJ Moss is still DJ Moss and Anthony Robertson III will be the X-factor tonight. Look for Clemson to win by a couple scores, 44-24.