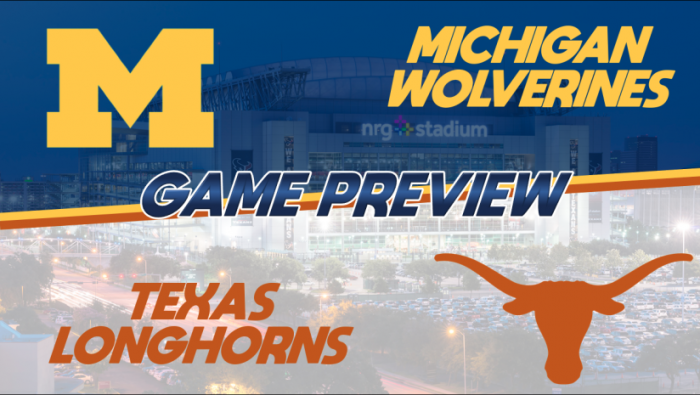 TEXAS KICKOFF: Michigan vs Texas
By: Hornsnation
Week one continues as Michigan and Texas both head to Houston for this early season battle. Michigan is looking for revenge after losing to Texas in week three, 52-42. Both teams are coming off winning records last year. Michigan finished the year at 7-5 and a blowout loss in the Rose Bowl to Notre Dame. Texas comes in this season after finishing 9-3 and a blowout of their rival Clemson in the Gator Bowl. Both teams looking to gain an early edge this season and this game should be a good one.
MICHIGAN
The Mack attack returns this season in a new playbook after finishing fourth in total offense last season. Javon Mack threw for 3197 yards and 26 touchdowns and nine rushing touchdowns. The other Mack, EJ Mack, begins his freshman year complimenting his older sibling. Wideout Bobby Jackson enters his senior season after catching 77 passes for 1109 yards and nine touchdowns. This Wolverine team was about average in terms of rushing and passing. Last season Michigan ranked 6th in rushing and 7th in passing. It will be interesting to see how the new Mack attack fairs this season in a new offense.
On defense, the Judge is gone and replaced by Jake Lake. Lake comes to Michigan from Virginia after being a two-sport athlete in high school. Joining Lake on this Michigan squad is Joshua Priest Jr. at cornerback. Another addition is Randy Charles V, who transferred from Texas to Michigan in the offseason. One thing to watch for is Michigans ability to create turnovers. Last season the Wolverines finished tied for first with 17 turnovers. Can they force this Texas offense into some turnovers tonight?
TEXAS
The Longhorn's first season in the CFSL was a success after finishing 9-3 and a big win over Clemson in the Gator Bowl. Texas is once again led by star QB, Ray Tatum. Tatum took a step back in the passing department last season as he threw for 2691 yards and 17 touchdowns. Returning as his backfield mate is Geaux Bamba. Bamba rushed for 1938 yards and 24 touchdowns, including over 1614 kick return yards and four touchdowns. Three new receivers join this team as Texas will look to be more balanced on offense this season. Vincent McCoy and Scooby Lewis headline this wideout squad as the "Texas Two-Step". Joining these two wideouts will be Dedric Scaliso. TightEnd, and fan favorite, Jackson James returns as well after catching 66 passes for 645 yards. This offense finished 10th in passing last season and will look to improve those numbers.
The defense of the Longhorns finished near the top of every category last season. First in points per game allowed, third down completion percentage and third in total offense allowed. The majority of the starters remain for another top-five finish. Human wrecking ball Jimbo Smithers returns after a 100 tackle campaign in season three. Justin Boudreux enters his senior season in the league and was voted defensive captain in the offseason. New additions of Howard Cook and Terrance Top give the Longhorns a great shot at slowing down some of these star running backs.
MATCHUP TO WATCH
Michigan QB Javon Mack vs Texas FS Jimbo Smithers
Javon Mack has been labeled a running back by the majority of the league and it will be on Jimbo Smithers to play quarterback spy. Mack last season rushed for 645 yards and nine touchdowns and will likely put up bigger numbers this season in the multiple book. Jimbo "Smothers" Smithers has a habit of knocking quarterbacks back a couple of yards and will need to slow down the read option attack.
PLAYER TO WATCH
Texas QB Ray Tatum
Last season, Ray Tatum worked more on his handoffs than passes downfield. This season, that trend should change with Texas moving to a Run and Shoot look. With two new shiny receivers on the outside and big target Jackson James in the middle, Tatum should put up better numbers than his first season at LSU. That year he threw for 4920 yards and 32 touchdowns. Ray "Voodoo" Tatum can kick off his junior year by taking advantage of Michigans secondary.
PREDICTION
Michigan and Texas square off in a matchup that features two balanced offenses. Michigan fields a revamped defense after struggling at times to stop opposing offenses last year. They lose Nate Jones to the NFL draft, but add highly touted Middle Linebacker, Jake Lake. They gained much needed secondary help with CB Joshua Priest Jr and FS Eliot Wells, as well as Texas transfer SS Randy Charles V. Texas returns much of their feared defense from a season ago. They replace Charles V with SS Zachary White. They also add solid pieces in OLB Cook and CB Top. Hopefully Cook can fill the void left behind by Sudekis. However, the big additions for Texas are WRs McCoy and Lewis. As high powered as both these teams are on offense, I have to give a slight nod to Texas. Bamba now has two 5 star WRs on the outside to keep defensive coordinators guessing. Both teams have lost serious pieces on defense, but have still improved. This one should be closer than some think.
Texas wins 35-31.