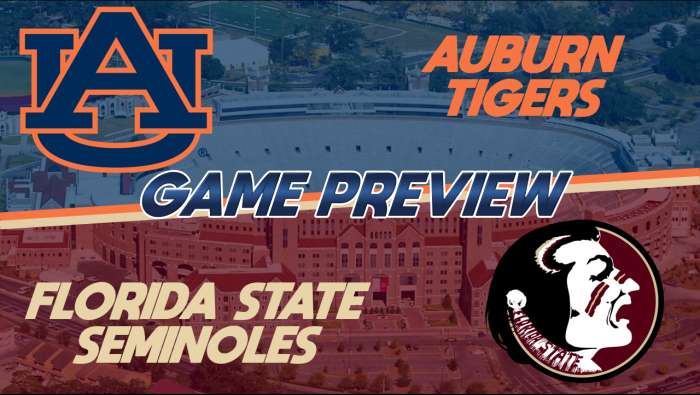 Tallahassee is the stage today as week one continues! The Florida State Seminoles are coming off a disappointing season three, where they finished 0-12. Auburn, on the other hand, enters season four after going 6-6 in their third season in the CFSL. Both teams added some new key players during the off season. Can FSU restart after a horrendous season? Or will Auburn show the CFSL that they could be number one this season?
AUBURN
Auburn returns to action, and with it some new faces. Back is halfback Billy Carter, tight end Chris Bullard, and wide receiver Wayne Carter. The most notable change is the emergence of quarterback Griffin Jelkic. Jelkic brings a different kind of versatility to this offense, but it remains a change at the helm. Jelkic is the first new quarterback Auburn has had since Blake Moon arrived, meaning that things are about to get very interesting for the Auburn Tigers. How this offense will tie together live, compared to the spring game, is going to be incredible to watch.
Defense is a different animal entirely. With safety Eric LeClear returning, he suddenly has new friends. Corners Jesus Kitchens and LaRoi Sanders man the perimeter, while LeClear is assisted by safeties Ollie P. Peters and Rian Chambers. The front seven is also bolstered with linebackers Jack Law and Micah Myers, joined by defensive end L.E. Uchia. LeClear has proven himself to be responsible for some big games as an Auburn Tiger, but now he has all kinds of new friends, and this defense will undoubtedly be tested.
FLORIDA STATE
The Seminoles have a total of four, five-star players on their new team. Running back Adam Croft returns for his sophomore year after rushing for 735 yards and 13 rushing touchdowns. Also on offense are the three five star receivers, Jared Tetonis, Giorgio Pipino, and Albert Saenz. They will look to improve/start those stats. Quarterback James Kovach has thrown for over 4183 yards during his collegiate career. Kovach will need to work on improving this offense after Florida State finished near the bottom in total offense and points per game.

On defense, the Seminoles see safety Nathan Tetonis return to the stronghold, a man who had 120 tackles last season, one of the best totals in the league. He's joined now by corner Dale Higgenbottom and fellow safety Ray-Ray Washington. The question marks, though, lie among the front seven. Defensive ends Indiana Fant and Marlon Davis with linebackers Vinny Maddox and George Tetonis. If they can't do their parts, then Nathan Tetonis will see another high tackle season. And that is not good news for Florida State's defense.
WHAT TO WATCH FOR
Alright, so here comes Auburn with a secondary that has been so highly touted to the league, the question hangs in the air, can it be proven? Florida State with their surplus of offensive firepower will aim to test exactly that given their air raid scheme. So, what gives up first, the Florida State receivers or the Auburn Secondary?
PLAYER MATCHUP
CB Jesus Kitchens v. WR Jared Tetonis
The barking in the league chat has been crazy. All the talk, all the jabs, it all finally comes to a head. Each game is pivotal and Florida State's best chances of moving the ball run through the wide receiver who has been the best for the longest time. Jared Tetonis had over 1,2oo receiving yards last season and 11 touchdowns. He wants another big outing, but the only one standing in his way is an Auburn secondary with Kitchens as the corner to likely stare Tetonis down all night. The winner of this battle will go a long way in determining who wins this game.
PREDICTION
So, Auburn's secondary is here, and whether or not the offense can back it up is the question. They've certainly got the means no doubt. Then there's Florida State. Their offense is potent, but their defense is suspect, despite Nathan Tetonis and Dale Higgenbottom. So the question, which weak link is the weakest link. Honestly, I don't know if Auburn's offense will be stopped enough times by this Florida State defense, especially if the Auburn defense can force a couple turnovers. It's tough to see Auburn losing this one. Give me the Tigers by two scores.
Auburn 45, Florida State 31