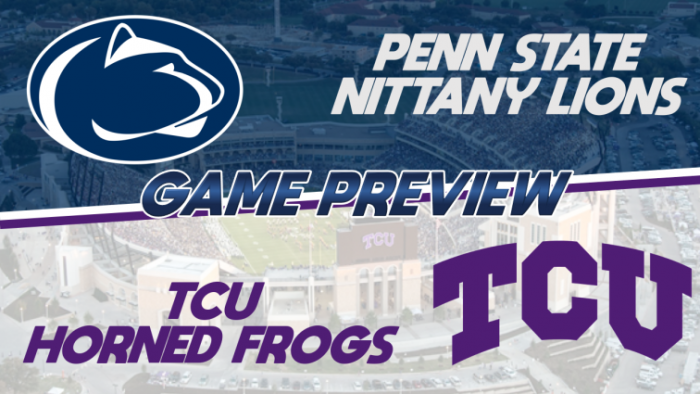 A new season dawns upon the CFSL, as two teams with some history battle it out tonight. The TCU Horned Frogs started their inaugural season off hot. So hot that many believed them to be the unofficial number one team. But, that early success seemed to go to their head after they starting falling mid-season. Key losses led them to a Sun Bowl berth. Penn State had the opposite progression. They started poorly, but as the season progressed they started to be in more and more games. This culminated ina Sun Bowl birth against the Horned Frogs. This game wasn't even close and led to TCU getting their socks knocked off to the same Penn State team who lines up against them tonight. These teams look to get off on the right foot to have a successful season
Penn State
Penn State is a team who has a lot to look forward to. The Sun Bowl gave them hope that they will be a new and improved team. Senior quarterback Aidric Berry is looking to start his final season off right. The season one OPOY runner-up has struggled the past two seasons but has been looking better is recent starts. Freshman 5-star halfback Robert Davis looks to make his mark on the CFSL. He has big shoes to fill replacing Jasper Johnson. Along with Davis, they added 5-star WR Ronald Fields, who should be able to help Berry stretch the field.
Defensively, Penn State has overhauled this entire defense. They may have the best front seven the CFSL has ever seen. On the line, they added defensive tackles Drew Ekstrum and DeAngelo Montgomery, along with freshman defensive end Barry Morgan and returning senior Malcolm Kennedy. The linebacker corps includes freshman 5-star Jack Tyler and 3-star Alexsandr Senaviev. Where this team lacks is in the secondary. With only one defensive back, this team will allow a lot of pass yards. This means trouble this week as TCU loves to pass the ball.
TCU
While TCU did not have the greatest recruiting class, they filled the positions they needed. One area that needed attention the defensive back. With only one on the roster, they needed a lot of players to fill those spots, and they did just that, picking up two corners and a safety to fill out that secondary.
This offense has always been a pass-first offense. Dalton Andrews now has a new target to find, other than touchdown machine Andre Gyan and sure-handed Horace Lynch. His name is Ray Conley. Running on the opposite side of Gyan, this passing offense will be even more fearsome. On the other hand, the running attack was lacking all season. Koda Adok has shown flashes but needs to play at a consistent level to elevate TCU to the next level.
On the other side of the ball, TCU features the three-headed monster of Aaron Davis, Kobe Jordan, and Jabril Jackson. These three players are one of the nest at their respective positions and are getting a lot of help from this recruiting class. TCU has added corners Erick Gibson and O.J. Davis, safety Vonn Harris, and perhaps best of all 4-star linebacker Xavier Benjamin Colõn. This defense will surely be a step up from last season.
Key Matchup
Aidric Berry vs Aaron Davis
Berry is a quarterback who likes to scramble and will be face to face with one of the best linebackers in the CFSL in Aaron Davis all game long.
Pregame Quotes
Tsmith2211, AD Penn State – "After last seasons bowl win against TCU we are looking to go out and start the season the same way we ended it. With a win against TCU."
Redria, AD TCU – "PSU is a great test to start the season, we have an improved offense and defense and we're looking forward to playing a great program."
Zeo, MLB TCU – "So long as we (TCU) Crush them (Penn State) I don't care be it 70-0 or 21-10 I'm happy I want nothing more than to embarrass Penn State and expose them. Go ahead and tell them I said that it won't matter."
14rdavis, HB Penn State –
"We want to come out and establish our tempo from the beginning and get a great season-opening win!"
Prediction
I think this will be a close scoring game but Berry and Penn State overcome this very good defense.
Penn State – 34
TCU – 31