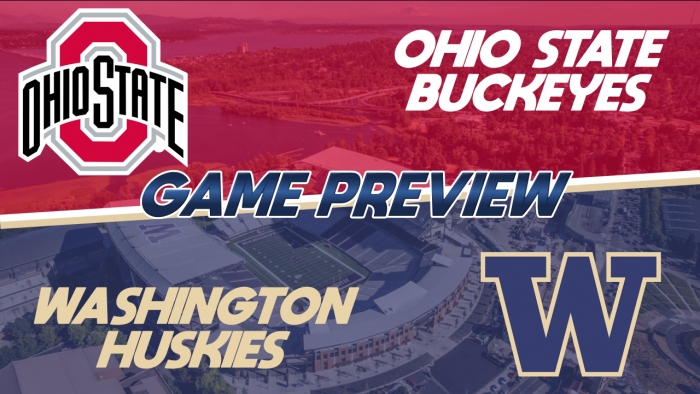 In the 200th game in CFSL history, we get a repeat of the season two Orange Bowl as the Washington Huskies battle the Ohio State Buckeyes. Washington looks the rebound after a disappointing season three. Coming off a national title, many expected them to do the same. They, however, seemed to struggle in a few games and ultimately finishing 5-7. Ohio State, on the other hand, has a completely new team after losing almost all of their players last season. In season three, they looked average, finishing with a 6-6 record. These two teams ended season three playing each other, where Ohio State managed to defeat the Huskies 38-31

Washington

Washington's offense is led by its two-headed monster Doug Ohle and Ron Dayne Jr. These guys the one of the best at their respective positions season in and season out. Doug Ohle has the ability to take you deep, or beat you with his quickness, and Ron Dayne Jr. is a bruiser and can break free from almost every player his way. The new addition that should make this Husky offense even better is Lord Helix. Helix showed off in the Army-Navy game, making spectacular catches left and right. Ohle will have himself a deep threat who can make huge catches and open up running lane for Ohle and Dayne.

The Husky defense has made some major changes. Adding key names such as Eric Langston, Austin Johnson, and Freddy Pett, this unit has a chance to be one of the best. Last season they didn't have many lockdown corners, but this season they add those two 4-stars mentioned, and 3-star Winston Schmidt. 5-star linebacker Eric Langston should be incredible to watch. He had a decent showing in the spring game and looks to make his mark on the CFSL. With all these new guys, they are still returning Kalu James and season two DPOY DeJounte Wilson. All in all, this defense should up near the top of the rankings by the end of the season

Ohio State

Ohio State is a Cinderella story in the making. Especially, after new AD RussellMania took over just one day before National Signing Day, he turned Ohio State from a ruined team to a contender. This team is almost completely different from the one we saw last season. Quarterback Xavier Garcia-Phillips will be tossing the ball from the quarterback spot and will need to be a strong leader if Ohio State wants to have any chances this season. Alongside him will be Frost Carlson. Carlson had a few decent games but should be one of the best in this new spread option scheme. The fruit of Wisdom Royce Mills is lining up to be one of the top receivers in the game.

Defensively, the Buckeyes needed a huge boost from recruiting. And they did just that. They got three 3-star linebackers in Scottie James, Joe Clark Jr, and David Berry. They also went heavy on the secondary, acquiring two 5-star defensive backs Juan Cantu and Kevin Brackett. With all this talent, surely they will have a great defense, but will it be enough to stop this incredible Husky offense?

Key Matchup

Ohle and Dayne vs OSU LB Corps

With two of the best runners in the game, this entire Ohio State team, not just the linebackers, will have to step up to stop them and have a chance at victory.

Pregame Quotes

RussellMania, AD OSU – "I think we have an excellent shot at starting this season off with a win. While Washington boasts both a championship pedigree and an AD that has as much knowledge as anyone in the CFSL, we have a unique set of weapons at Ohio State that gives us a shot every time we take the field. I specifically believe that Xavier Garcia-Allen is going to surprise people with his all-around game and top end speed. Defensively, our secondary is our strength and I expect them to show it tonight. We're more than ready to open this season with a bang."

AJohnPerez, MLB WASH – "All this talk heading into the season, now it's time to separate the men from the boys. "
"Our defense is locked in and ready to crack some heads."
"The OSU offense better be ready cause we are!!!"

pjh-SPA, QB OSU – "I have been waiting for the opportunity to be a part of a program like this my whole life. We feel ready to surprise many this season."

Brackett, FS OSU – "I think, that as an organization Ohio State has been underrated. We were left out of the media's top 10 preseason rankings.
We're ready to show we belong, we're ready to show that this team won't back down from a challenge.
I personally am excited to get out there and leave it all on the field.
The Landshark is looking to leave his impression, I'm looking to begin my college legacy. It all starts on Thursday. My path to the NFL, I'm ready. My Question is,
Is Washington?"

BozOU44, QB WASH – "the football field looks good", "My throwing motion feels good", "I like my chances" also "I have nothing but the utmost respect for "insert this weeks opponent" I expect a good game"

Prediction

This rushing attack of Washington will beat this star-studded defense of Ohio State. Washington wins…

Washington – 42

Ohio State – 35