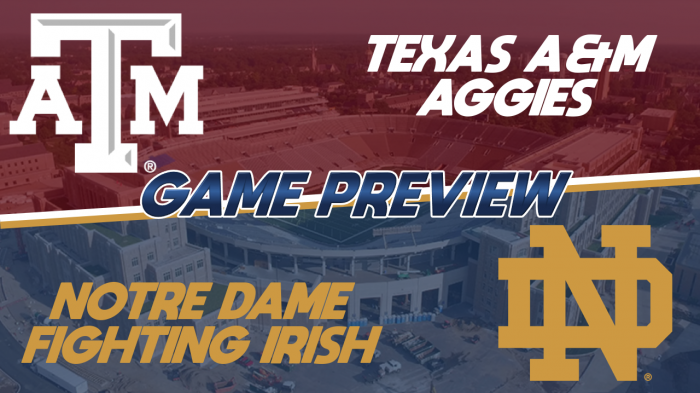 Tonight, we have a quarrel between two highly successful teams in the off season. Texas A&M goes into the game with one of the best QB-RB combos in the league. On the other hand, Notre Dame has one of the, if not the best secondary in the league. Who will prevail in tonight's game?
NOTRE DAME
Notre Dame starts the season with, in my opinion, the best QB-RB combo in Jose Bueno and Joe Pantoja. Alongside Wide Receiver Skyler Schnee, this should be an elite offense. Added to their new playbook, Notre Dame should have the offensive side of the ball under control.
On defense, Notre Dame is even better. With Team Captain Shane Razorback at DE, there should be a couple of sacks tonight. However, the secondary is the most impressive part about Notre Dame's defense. In the spring game, the secondary combined for 3 interceptions, 53 tackles, and 2 punt deflections. Notre Dame's Defense will be an extreme force in tonight's game.
TEXAS A&M
Texas A&M had an amazing offseason recruiting several key players. Quarterback Walker Mills looks to lead his team to a successful season after last seasons 1-11 record. Alongside him is Running Back Jimmy Tickle. The combination of the two will make for an amazing QB-RB duo.
On defense is where Texas A&M really shines. Zay Manning looks to make a difference to Texas A&M on defense. Manning, who had 3 tackles and an interception in the spring game, is also the team captain for A&M. With his leadership, Texas A&M could be an elite defense in this game.
KEY MATCHUP
HB Jimmy Tickle vs. DE Shane Razorback
Jimmy Tickle is the key player in Texas A&M's offense. With Shane Razorback breathing down his neck, we will have to see if he will be able to be the same player he was in the spring game.
PREGAME QUOTES
"Tamu will be ready and we are a different team looking to make an statement" -Superwoman, TAMU Athletic Director
"At the end of the day, we just want it more than they do and that will show in the finished product" -BMillz, ND Quarterback
"We're excited to get back on the field tonight and play against someone other than ourselves. Texas A&M has built a strong team so we know tonight will be a battle but we are well prepared. We have to come out and execute our game plan and we will be fine" -NightHawkTH32, ND Athletic Director
"For those about to rock, we salute you" -Dong, TAMU Running Back
"Every person on my defense is looking amazing from our first string to our third string. Everyone is on the right track and we should be a force to reckon with" -titanicky123, TAMU Defensive Coordinator
"I'm excited for tonight's game! Our secondary is going to bring some heat!" -Jacobo, ND Cornerback
PREDICTION
I think it will be a close game. TAMU really built up after last season and ND is an elite squad. My final prediction is:
Notre Dame 49, Texas A&M 21