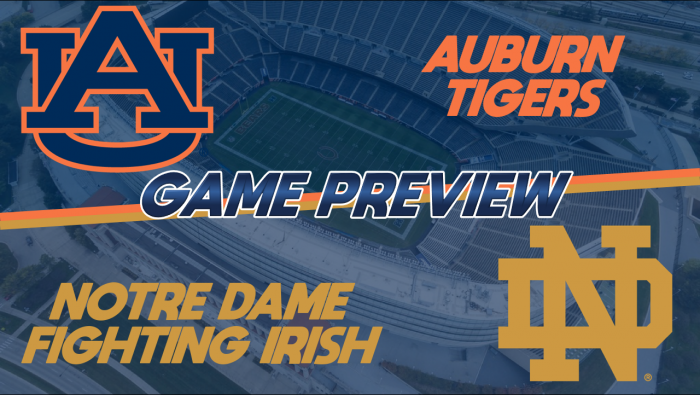 It's week two, and it's starting off with a bang. Auburn and Notre Dame head up to Chicago in a matchup that has been highly touted since the spring games. Both teams have been jawing and trashing for weeks, and it finally reaches a boiling point. Not only is the pride on the line, but somebody is going home with their first loss of the season, so that's at stake too. That leaves us with a major question, who's coming out on top? Let's break it all down.
AUBURN
The Tigers looked impressive offensively a week ago. Quarterback Griffin Jelkic may not have had major passing numbers, only throwing for 135 yards with no touchdowns, but he put up numbers running. Jelkic's 16 carries went for 103 yards and three touchdowns. What's crazy, though, is he didn't even feel like the mainstay of the offense. Halfback Billy Carter exploded onto the scene with 35 carries for 270 yards and two rushing touchdowns. Jelkic's job was pretty simple last week with Carter leading the way, but will Auburn place more on Jelkic's plate tonight as they head into Chicago?
As for the defense, well, they're nasty. The entirety of the Auburn secondary combined for 25 tackles, but safety Ollie P. Peters led the way with seven tackles and a pass defensed. Linebacker Micah Myers added six tackles to the total, and among those six tackles, Myers had a tackle for a loss and a sack. Oh, and corner LaRoi Sanders had three tackles with two passes defensed. All this Auburn team needs to do now is find a way to force turnovers. They've got the tackling part down for the most part.
NOTRE DAME
The Fighting Irish didn't quite have the week one debut they expected. Sure, they got the win, but it took some heroic efforts to overcome a 14 point deficit. Quarterback Jose Bueno had three rushing touchdowns after picking up 99 yards on 12 carries. He put up 182 passing yards, but didn't score through the air. Halfback Joe Pantoja added 19 carries of his own but for 110 yards and he didn't score. Essentially, Bueno had to carry the team to victory a week ago from an offense perspective. Notre Dame can't afford to ask him to do that again this week.
In fairness, the Notre Dame offense had major help from the defense. An interception and a fumble recovery by safety LaQuarius David made a big difference, as did defensive end Shane Razorback's three sacks. This defense was able to step up in big ways and make big plays, of which the offense was able to capitalize and bounce back from 14 down. This defense will need to try and replicate that if the Irish hope to win tonight.
WHAT TO WATCH FOR
Look, last week both Auburn and Notre Dame showed off their ability to run the ball, the question is, will we see that tonight? Or, will either of these teams try to go in a different direction. Neither quarterback had a passing touchdown last week, are both teams going to try to change that? They've each got weapons, will they use them? Tune in to find out.
KEY MATCHUP
QB Jose Bueno v. Auburn Secondary
Look, this shouldn't come as a surprise to anyone. Notre Dame's Jose Bueno is going to have find a way past this secondary, and I don't just mean passing wise. This secondary can hit, and loves to do so. Corner Jesus Kitchens will remove one side of the field, and that's not necessarily comforting to Bueno. He's going to have to find a way to make plays against this defense, or Notre Dame is in for a long night.
PREDICTION
Alright, put on your objective caps. Look, Notre Dame had to pull some strings to nail the 14 point comeback last season, and it was certainly impressive. Auburn's game was closer, and they only won by three, but it's hard to deny that they looked to be in control for a better part of that game. It's hard to know if the teams will switch from their run heavy approach a week ago to a more pass-friendly look tonight. If that happens, Notre Dame's got the disadvantage. If they stay run heavy, I have to think Auburn's in more of a disadvantage. Expect Auburn to try airing it out, and Notre Dame staying grounded. Long Notre Dame drives compared to some quick plays by Auburn, means a close game. From there, game-planning and talent will be the difference. Give me Auburn with the slight edge in talent.
Auburn 34, Notre Dame 31