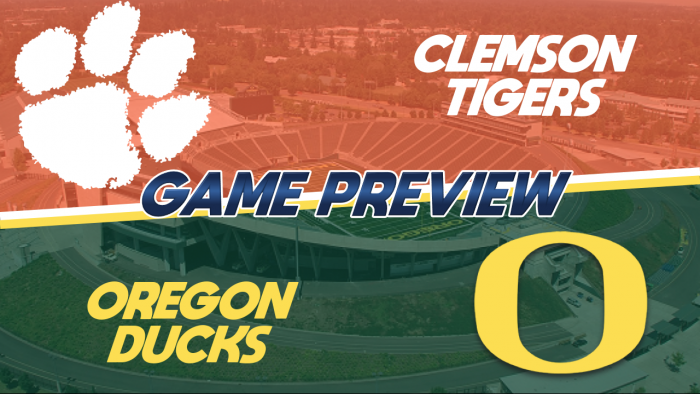 Clemson and Oregon meet for the second time to continue week two in the CFSL.
Last season, the Ducks came away with a win late with Speedy Love rushing for a touchdown with no time remaining. That touchdown effectively ended Clemson's hopes at a National Championship in season three. Can the Tigers get revenge? Or does Oregon have their number?
CLEMSON
The Tigers come into this game on the heels of a 26-17 victory over Iowa. Clemson started off slow but was able to pick up steam as the game entered the second half. Trailing by one point at the half, Clemson's defense stood tall as the Tigers outscored the Hawkeyes 13-3 in the second half. Leading the way on offense was season three OPOY DJ Moss. Moss contributed 267 yards passing and surprisingly only 12 yards rushing. He did account for only two touchdowns. Mike Chadwick added 133 yards and one touchdown of his own.
While the offense sputtered out of the gate, it was the defense that held the Hawkeyes to just 271 total yards. Mike Miller and Tyson Ali proved that Clemson has the best defensive line in the CFSL. Both Ali and Miller had multiple tackles for loss and three sacks combined. Both will be leaned upon to defend against the Oregon rushing attack.
OREGON
Speaking of Oregon, the Ducks were able to get revenge by beating Tennessee to open up season four. Devonta Cribbs passed for 317 yards and two touchdowns. Speedy Love added 149 on the ground as the offense ran out the gate with 465 total yards. Dijon Swann and Humphrey Wells were Cribbs best targets of the night, combining for 17 catches and two touchdowns.
On defense, Jack Frost led the way with double-digit tackles and corners, Israel Cassius and Thor Odinson, combined for 11 tackles. While Oregon boasts one of the best passing defenses, their rushing defense only allowed 62 yards. That will be a noteworthy stat for tonight. Can Oregon's secondary play to their ability to slow down this Clemson passing offense?
WHAT TO WATCH FOR
Oregon last week went 3 for 10 on third downs and only converted 3 out of 5 in red zone attempts. Against a tough front of Clemson, the Ducks will need to work on converting their attempts. Clemson can score quickly and empty trips on third down and Redzone will hurt Oregon's chances of staying in this game.
For Clemson, it is all about revenge. As previously stated, Oregon ended Clemson's bid for a National Championship. In that game, Anthony Robertson could only muster four catches for 17 yards. This week is not any easier with the Duck secondary but Robertson needs to have that one game where he lives up to the recruiting hype. Can he do it against Oregon?
KEY MATCHUP
OREGON WR Dijon Swann vs CLEMSON DB Andrew Fuller
Last week, the "Mustard Bird", caught seven passes for 101 yards and a touchdown. While those are not bad numbers, more is expected from the top wideout of this recruiting class. Swann has the talent to embarrass defensive backs and tonight should give him the stage to prove his number one ranking.
PREDICTION
In a rematch of last season's game, this game should live up to the hype. While the CFSL has been focused on the matchup between ND and Auburn in week two, this game is equally important if not more. Both Clemson and Oregon were title contenders last season and came into this season highly ranked. Both won their first game of the season, and while this may not matter much at the end of the season, this game is important for bragging rights. Clemson has a strong defensive front and questions remain about their offense. Oregon has one of the top secondaries in the CFSL but gave up 362 yards to Tennessee last week. Both teams are still attempting to find their settings and this could turn into a defensive battle. Look for Oregon to pull away late thanks to some key turnovers. Oregon wins 41-28.